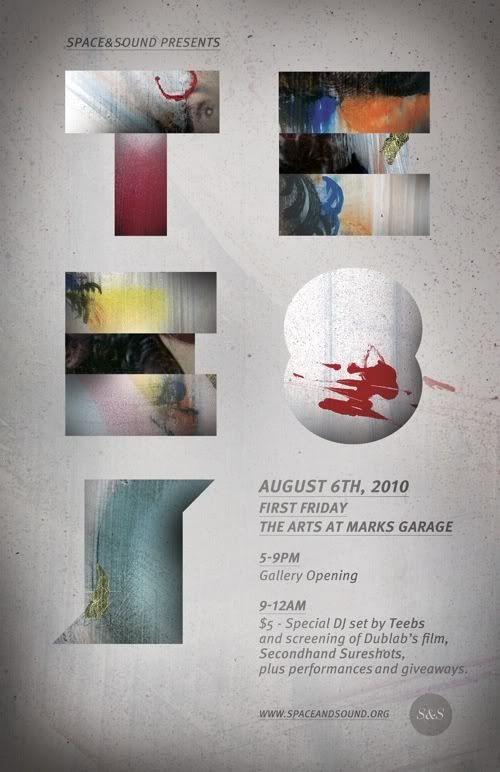 FRIDAY, August 6th
Space&Sound Present First Friday The Arts at Mark's Garage featuring TEEBS
Space&Sound presents artist and producer, TEEBS from Los Angeles. From his beginnings as a skateboarder and graffiti artist, TEEBS, aka Mtendere Mandowa, has developed his street art style and blended it with the music and culture he is inspired by.
First Friday August 6th, 2010 will feature the OPENING OF THE EXHIBIT with new pieces by TEEBS, MyCryptonauts, B3AK03, Vivo, Gary Saito, and other local artists.
Music will be provided by DJ's Oliver Twist, DJ Observ, Kavet The Catalyst, and Trav15.
After 9PM – cover of $5 – there will be a screening of DUBLAB.COM's short film, SECONDHAND SURESHOTS, Live beats sets from Vezzen and a special performance from TEEBS.
The performance is one night only, but the exhibit will run until September 4th.
Gallery Opening: FREE / 5-9PM
Performances & Film: $5 / 9-12AM
The Arts at Marks Garage
1159 Nu`uanu Avenue
Honolulu, HI 96817-5121