This Saturday, March 10th, dublab is presenting an expansive experience in space-focused sound & vision under the West Texas desert skies of Marfa, Texas. Tonalism is coming to El Cosmico. Please find the full, (incredible!!!) line-up and event information below. We hope you can make it. If driving or teleporting to Marfa is not an option you can listen to the live Tonalism broadcast online from 7pm-7am CST on dublab.com & marfapublicradio.org. Here's a collage of jingles by Matthewdavid to get you in the spirit…
Podcast (mp3): Download
If you dig the collage above you can create your own, custom version by shuffling up these individual jingles in your audio player.
Download Matthewdavid's Tonalism Jingles: 1 / 2 / 3 / 4 / 5 / 6 / 7
Sonic expansion master 
J D Emmanuel has created this Tonalism promo drop to further tingle your mind > DOWNLOAD.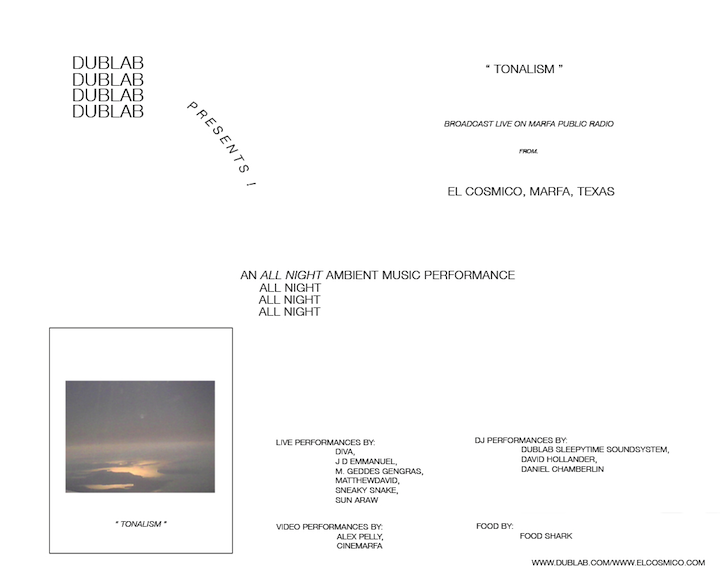 DUBLAB, El Cosmico & Marfa Public Radio present:
TONALISM

an all night ambient music happening
Under the desert skies of Marfa, Texas at El Cosmico.
Live performances by:
Diva
Gangi

J D Emmanuel
M. Geddes Gengras
Matthewdavid
Rene Hell
Sneaky Snake
Sun Araw
+ More
DJ sets by:

dublab sleepytime soundsystem
Common Synth (Nicolas Miller & Anthony DeSimone)
David Hollander
Daniel Chamberlin
+ More
Film projections by:

Alex Pelly (dublab & the Masses)
CineMarfa
Teepee Visual Installation by:
Adam Bork
Lighting by:
Rob Crowley
Food & Drinks: Food Shark will be set up and selling food at Tonalism from approximately 6pm – 10pm. El Cosmico will also have a bar with beer, wine, and other beverages. No outside alcohol will be permitted. Complimentary tea will be served throughout the night.

All attendees are urged to bring pillows, blankets, beanbags, sleeping bags, cushions, lay down and listen.
Tickets:
Music ticket only: $20
Kids 12 and under: $10 at the door
Music ticket + Saturday night camping pass: $32
Purchase tickets here.
NOTE: No tickets will be mailed for this event. All camping and music passes will be held at Will Call at El Cosmico. For additional nights prior or beyond Saturday, March 10, please call to book through the front desk at 432-729-1950. Yurts, Teepees & Trailers can be booked through the front desk based on availability, and all bookings will include admission to the event. To make your reservation call 432-729-1950.
Information for Campers:
Camping tickets are one per person, not one per tent, which means that each person camping must present a camping ticket at the entrance regardless of whether you are sharing a tent. El Cosmico does not provide any camping gear. You will need to bring all gear with you, and note that there are limited resources in Marfa, so you won't be able to buy camping gear in town. We do provide land to sleep on, a giant night sky to sleep under, basic bathroom facilities, and some barbecues for grilling food if you choose. Due to a fire ban, we will not allow campfires or any open flame.
El Cosmico is a natural terrain that can contain bugs, snakes, cacti, and other thorny plants, and all kind of other things you find in the high plains desert. We recommend boots, flashlight, sunscreen, and a hat. It tends to be warm in the day, but the temperatures fall dramatically at night, so bring layers and warm things to wear and to cover up with.
This happening is the weekend prior to SXSW so if you're headed to Austin from the west coast come join us on the way!
For more information please visit:
 dublab.com / elcosmico.com / marfapublicradio.org
Lots of love to our supportive friends at: Ballroom Marfa & Marfa Book Co.
Tonalism is s dusk-to-dawn event inspired by La Monte Young's "Dream House" as well as the work of musicians and composers such as Terry Riley, Yoko Ono and John Cage. Tonalism combines harmonious textures in a surround sound system with visual elements to create an atmosphere where the audience is encouraged to bring pillows, cushions and sleeping bags to lay down, listen and watch for an extended period of time. DJs, live musicians and video artists play and perform throughout the night; starting at sunset and ending at sunrise. Complimentary tea and water are provided to all who attend.
Open wide to a new world.  Expansive radiance awaits in this environment of elevation.  We have entered a glowing landscape of transformative tones.  The horizon line fades and every edge softens.  Natural laws dissolve as we float on pure sound particles.  Vibration has become the new vision and your being beams brightly, blurring into harmonic hum with the universe.  "You" and "I" are no longer.  This is all together.  Transformation complete.