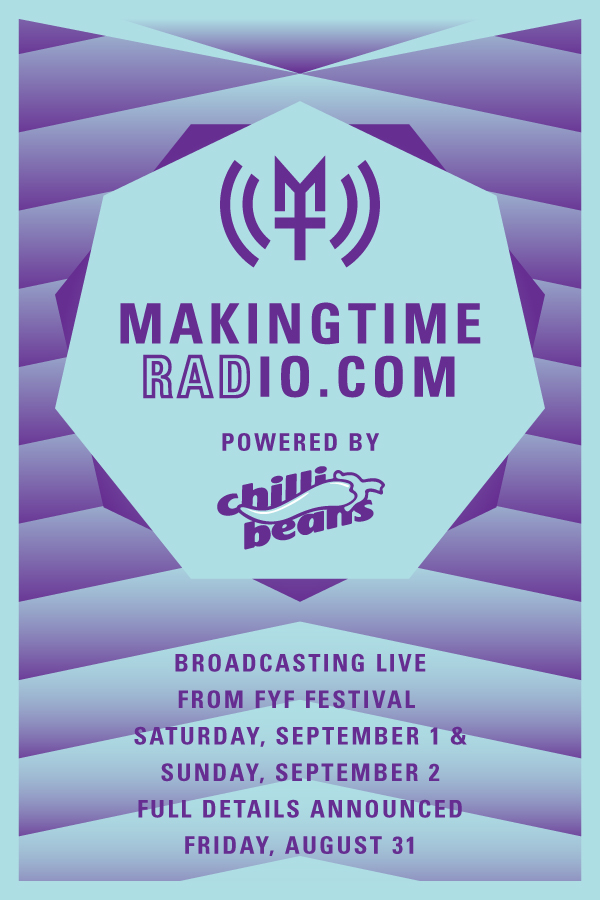 dublab is thrilled to bring you an incredible radio experience this weekend from the most musically activated hot spot on the planet. Chilli Beans has partnered with L.A.'s premiere indie music festival, FYF Fest to host a slew of awesome activities on-site, including live-streaming of Making Time RADio from backstage with host Dave P.
Tune-in to the live simulcast of Making Time RADio from 1pm-8pm PST this Saturday and Sunday on dublab.com to hear everyone's favorite international good vibes guy Dave P chat, play records and host live on-air sets with some featured FYF Fest bands who are much loved by dublab ears. Tycho, Ceremony, Liars, Tanlines, Gold Panda, Tiger & Woods, Health, Nick Waterhouse, Pains of Being Pure at Heart among others will drop by for DJ sets and interviews beaming live from the Chilli Beans / Making Time RADio mobile studio. The full schedule and more details can be found at makingtimeradio.com.
About Chilli Beans:
With over 500 stores in Latin America, Chilli Beans is one of Brazil's biggest brands and recently expanded to California with four stores (and counting!) in the L.A. area. Made for fun, Chilli Beans is passionate about providing a platform for creative expression and is excited to give FYF festival-goers an action-packed experience. See additional details below.
About Making Time RADio:
Dave P's infamous Philadelphia dance parties (of the same name) and festival hotel after-parties have become legendary amongst indie music fans all over the world. Since 2000 Dave P has presented Philly's Making Time events which have hosted performances from some of the raddest bands from around the world. This May Making Time celebrated TWELVE years of radness. Dave P co-runs the label RVNG Intl out of New York. He is a producer and remixer along with production partner Adam Sparkles and has produced original tracks including Sunday Night in Glasgow, Hoover Apprentice, Delaze and Tuesday's Gone and have remixed Bloc Party, Klaxons, Holy Hail, Pin Me Down, Of Montreal and many others. He's been the touring support DJ for Soulwax Night Verision & Simian Mobile Disco on their American and European tours. Download the free Making Time iPhone app and tune-in on the go.
Chilli Beans' FYF Collection + The Chilli Truck
Chilli Beans releases up to 10 new styles per week, and has partnered with FYF to create an eclectic, limited-time sunglasses collection inspired by the fest. In addition to being available in all four Chilli Beans L.A. locations, these new styles and others will be also be sold at FYF via Chilli Beans' mobile store, the Chilli Truck, that will be cruising around the festival all weekend. After its FYF debut, the Chilli Truck will be visiting music festivals around the country over the course of 2012 and 2013.
Attending FYF? Stop by or let us know where you are!
Twitter/Instagram: @ChilliBeansUSA
Facebook: ChilliBeansUSA