DUBLAB PRESENTS WEEKEND TAKEOVER at Ace Hotel & Swim Club
Sunday, May 6 2018
12:00 PM - 11:59 PM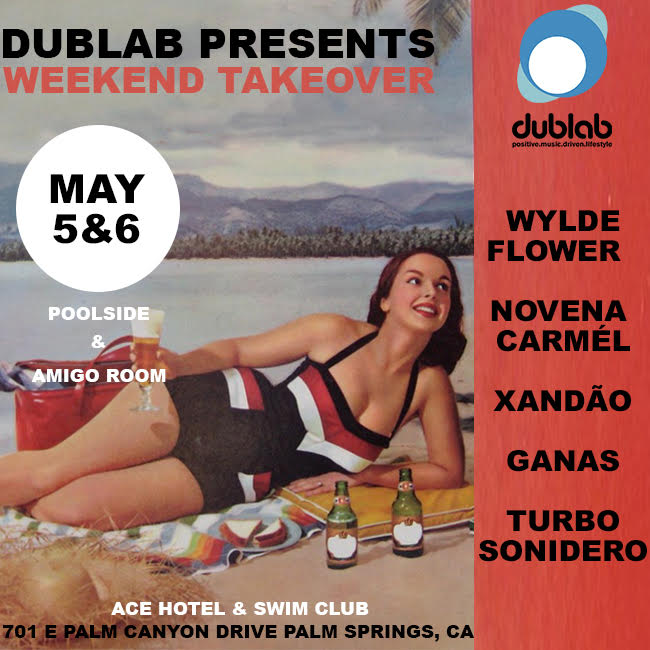 Swim Club Pool – Noon to 6pm
Free to hotel guests & Swim Club Members
Amigo Room – 9pm to Midnight
Free. 21+.
Turbo Sonidero is a music producer hailing from San José, CA who blends Rap/Hip-Hop with Mexican Cumbia Sonidera to create a new sound he calls "Tumbia." In 2010, he moved to his father's hometown in Puebla, Mexico to immerse in the Cumbia Sonidera culture, where he played and toured the country. He is a member of Sonido Clash and Grupo Jejeje, a cumbia editada collaboration.
Ganas is a visual artist and DJ. His monthly show at dublab, Más Éxitos con Ganas, traces the connections between the music made on both continents of the Americas by exploring the various migration patterns through sound via vinyl and tape. Think of it as a National Geographic documentary on music and sound that will take you from the Andes of Peru, to the tianguis of Tepito, to the East Side of Los Angeles.
Xandão is a DJ, anthropologist and dance-floor ethnographer. She produced and curated ¡Un Saludo! Mexican Soundsystem Cumbia in LA, a compilation which highlights how Discos Barba Azul, a small music shop and label in downtown LA, became a hub of border-crossing cumbia sonidera in the United States. Her work has been featured in the NYT, FADER, and the LA Times among others.
Ace Hotel & Swim Club
701 E. Palm Canyon Dr., Palm Springs
See more events at this location »
Get Directions: