Sleepless: The Music Center After Hours
Friday, March 24 2017
11:30 PM - 03:00 AM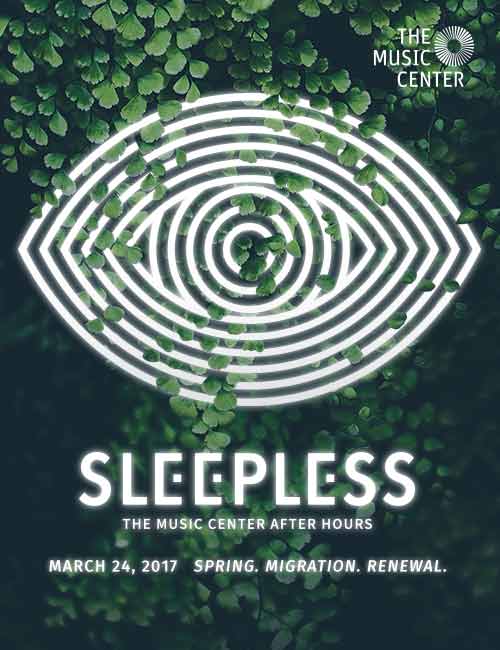 Spring. Migration. Renewal.
Emerge anew from winter hibernation into a springtime Sleepless: The Music Center After Hours. Drawing inspiration from renewal, migration, change, and growth, The Music Center's Dorothy Chandler Pavilion blossoms into lush ground for nighttime exploration and discovery. Shake off the cold and awaken the senses at the ultimate after-hours experience. Tickets on sale March 20!
SLEEPLESS LINEUP:
> Multi-media artist Sean Hellfritsch reimagines The Music Center Plaza with large scale oceanic projections and ambient music.
> Seasons change, dreams don't. Jot down your dreams for the future as artist Peggy Hasegawa helps you fold them into handmade origami cranes archived in a special Sleepless time capsule. Open in 50 years! Dublab digs into The Music Center archives for a curated set list from events past.
> Enter a floral meadow and make real flower crowns with The Crown Collective as live sitar accompanies an enchanting space designed by Martin Vallejo. Tickets required, to be distributed onsite beginning at 11:30 p.m. First come, first served, while supplies last.
> Flock to the Lower Lobby to discover a whimsical installation surrounded by musical compositions performed by professional whistlers, led by Molly Lewis.
> Witness Stern Grand Hall transformed into a vine forest with music curated by Zebulon Café and sets by Low Leaf, Mia Doi Todd and Gabby Hernandez. Projections by Kate Parsons and space designed by Martin Vallejo.
> Pass through the Light Lock Corridor as the Irv Teibel Archive and Numero Group present a sound installation of newly remastered recordings from the Environments Series and LED laser lights transform the space into a buzzing nighttime garden.
> Catch the upbeat at the Founders Room dance party where Dub Club spins the best in classic Reggae, Dub and Dancehall featuring DJ Tom Chasteen and MCs Tippa Lee, Jah Faith, Incient Rootsman, and special guests.
> If plants could talk, what would they say? Talk to the Plant in the decommissioned Phone Booths and get to know more about regional plant varieties as voiced by local expert gardeners.
> Join in on a virtual reality experience designed by Kate Parsons comprised of abstracted textural video made up of images from discarded cemetery flowers and featuring ambient music by Miguel DePedro.
> Migrate to the 5th floor and lounge on signature Sleepless beanbags amid Chris Kallmyer's integrated performance of film and live musicians that explores the date growing process of Indio farmers.
Cocktails and small bites available for purchase.
Dorothy Chandler Pavilion
135 N Grand Ave, Los Angeles, CA 90012
See more events at this location »
Get Directions: