Don't Come to La at Resident
Wednesday, July 18 2018
09:00 PM - 02:00 AM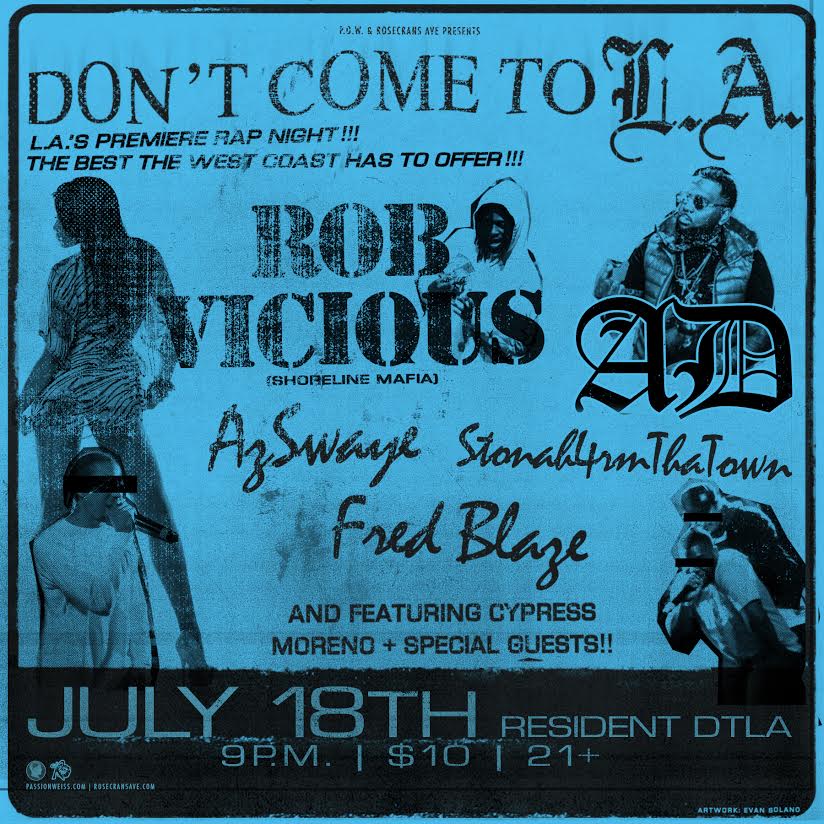 RESIDENT DTLA // WEDNESDAY,  JULY 18 // TICKETS & INFO
"Don't Come to LA" is a monthly party from POW (passionweiss.com) and Rosecrans Avenue (rosecransave.com), founded on the principle that this is the new Golden Age of LA rap. It features the best rappers, DJs, and producers to inhale smog and exhale smoke.
For the fourth volume, we have Rob Vicious of Shoreline Mafia ("Shoreline Mafia is leading LA's unruly rap renaissance – The Fader"), who just dropped his excellent debut project, Traplantic last Friday. Expect surprise guests too.
There's Compton's AD, who I described in the pre-Vichy LA Weekly as "if one-dimensional stereotypes portray gangbangers as cold-blooded killers, AD exemplifies the nuanced portrayal much closer to the truth. He certainly doesn't shy from his roots in a Crip set on the west side of Compton but is also a devoted father and aspiring film critic."
We have AzSwaye, who we at POW described as "bringing a sharp lyrical focus to a genre and generation that often favors sounds and vibes over words."
There's rising talents Fred Blaze and Stonah4rmThaTown opening up too — alongside the city's best young rap DJ without question, Cypress Moreno.
As always, strictly locals only, keep that outta town shit outta town.
Resident
428 S. Hewitt St., Los Angeles
See more events at this location »
Get Directions: