Come Together Projekt presents…A Letter To L.A. – Pt.II (Köln, Germany)
Saturday, August 18 2012
03:00 PM - 03:00 AM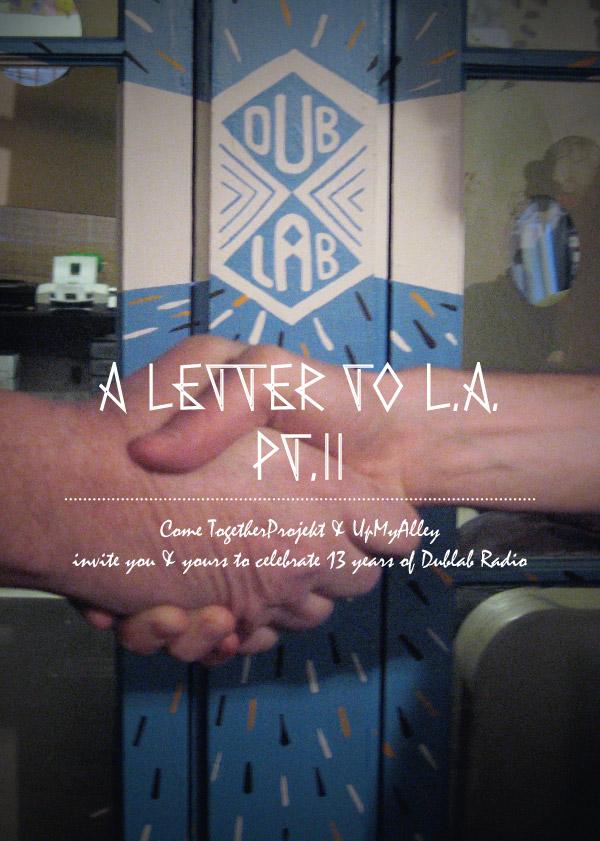 ComeTogether Projekt, UpMyAlley and KölnCampus
invite you & yours to celebrate 13 years of dublab on a beautiful summer day in Cologne.
We are sending "A Letter To L.A. – Pt.II"
A fundraiser for dublab.com who have been independently broadcasting since 1999
Sat. August 18th 2012 / 3pm-Late UTC +02
(Broadcast starts Saturday, August 18, 2012 at 6AM PST)
3:00pm -10:00pm @ Kulturdeck am Aachener Weiher
(Hiroshima-Nagasaki-Park, Köln)
10:30pm – late @ Club Subway
(Aachener Str. 82-84, Köln)
–
Our musical guests:
Radio Love Love
James Pants (Stones Throw / RBMA)
Pedo Knopp (Analog Afrika Soundsystem) & Casey Keth (Vocals)
TBRCK (MPM / UpMyAlley)
Matias Aguayo & Korkut Elbay (Cómeme)
Dip Some (UpMyAlley / ComeTogether Projekt)
Hermes Villena (ComeTogether Projekt)
Damiano von Erckert (Ava)
Both events will be streamed live; all music played will be recorded and later broadcasted in one giant Mix. More great things soon.
3:00pm in UTC+02
–
A Letter to L.A. is presented by KölnCampus and StadtRevue
Links
dublab.com
upmyalley.net
koelncampus.com
musicacomeme.com
avarecords.de
cometogetherprojekt.de/blog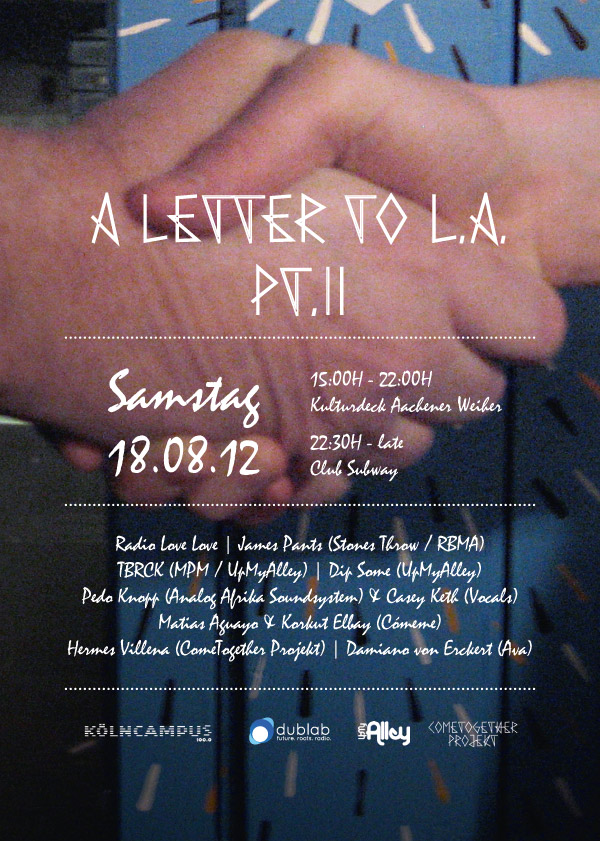 Kulturdeck Aachener Weiher
, Köln
See more events at this location »
Get Directions: