Mount Analog Grand Opening
Saturday, July 14 2012
12:00 PM - 10:00 PM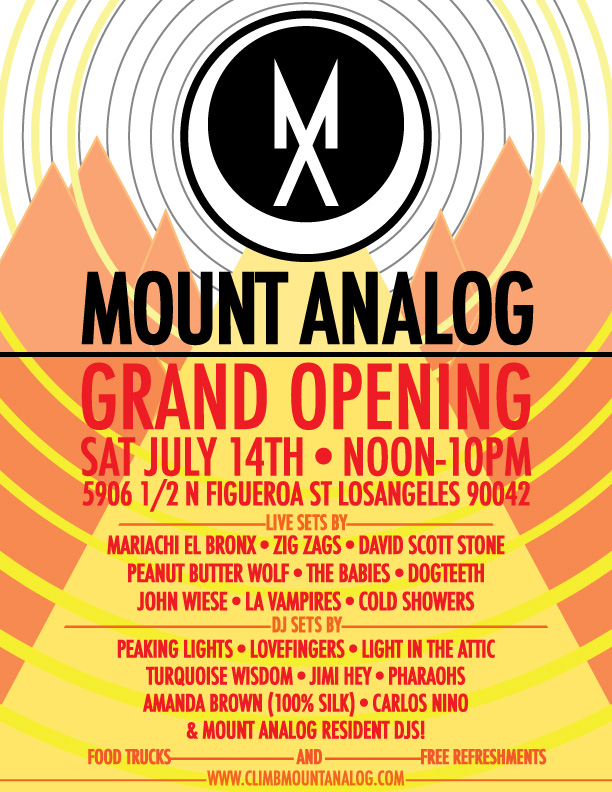 Mount Analog is a new shop in Highland Park, Los Angeles, specializing in new and used vinyl records, cassettes, books, cult/foreign film, posters, audio gear, original artwork, and clothing. We're also an event space gearing up to host pop-ups and some of the most cutting edge live and visual artists of today (and yesterday!)
Come celebrate our grand opening with us! Its a FREE event!
* with free refreshments of the alcoholic kind
* food trucks (featuring the super tasty NO TOMATOES truck and PALAZOLLO gelato truck)
***** PERFORMERS, DJs and SET TIMES ******
12-1 Mount Analog DJs
1-130 Carlos Nino (DJ Set)
130-2 The Babies
2-230 John Wiese
230-245 Dogteeth
245-315 Jimi Hey (DJ set)
315-345 David Scott Stone
345-415 Turquoise Wisdom (DJ set)
415-445 Zig Zags
445-530 100% Silk DJ set (Pharaohs / Amanda)
530-6 Cold Showers
6-645 Peanut Butter Wolf & Vex Ruffian
645-715 LA Vampires
715-8 Peaking Lights DJ set
8-845 Mariachi El Bronx
845-915 Light In the Attic DJ set
915-close Lovefingers + Travis 'TK' Disko
email mahssa@climbmountanalog.com for questions
Follow Mount Analog!
Twitter and Instagram:
@MountAnalog
Mount Analog
5906 1/2 N. Figueroa St., Los Angeles
See more events at this location »
Get Directions: