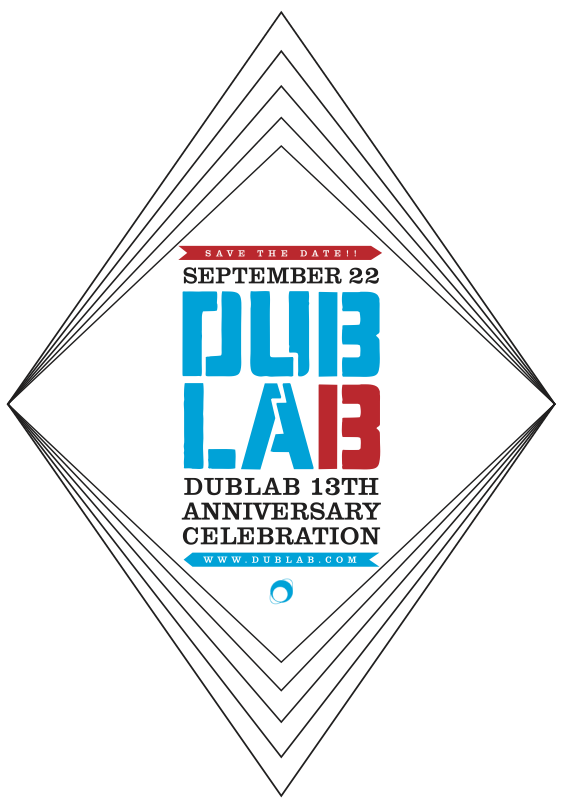 We're super excited about the dublab 13th anniversary celebration this Saturday! Our friends at Red Bull Music Academy Radio will be broadcasting the event live. click here to listen from 8pm-2am PST. To help get your ears prepped for the action that will occur they have also assembled a dublab station featuring sets from some of the artists performing at our party as well as others close to our hearts. Thanks to RBMA for their love. Listen here…

DUBLAB 13TH ANNIVERSARY CELEBRATION
MUSIC:
8:00pm: dublab dj tagteam
9:00pm: Danny Holloway
9:30pm: Mas Exitos
10:30pm: Dntel
11:00pm: Teebs
11:30pm: Matthewdavid
12:00am: Peanut Butter Wolf (video mix)
12:30am: Super Special Surprise Guest!
1:00am: Daedelus
+ More special guests!
BROADCAST:
This will be broadcast live on dublab.com from 8pm-2am PST.
T-SHIRT SCREEN-PRINTING:
Choose your favorite designs to make a customized dublab t-shirt. Bring your own shirt to have it screen-printed for free by HIT+RUN or purchase one on the spot to help support dublab.
VISUAL PROJECTIONS:
FOOD:
Yummy Bánh mì sandwiches for sale by Mandoline Grill.
TICKETS:
FREE / 21+
VENUE:
The Echoplex
1154 Glendale Blvd.
(Enter through the alley)
Los Angeles, CA 90026
SPECIAL THANKS TO:
This happening is generously supported by our friends at: Ableton, AIAIAI, Odyssey, Reed's Ginger Brew & Sticky Rick's for generously supporting this happening.
Extra special thanks to Architects + Heroes, Freak City, HIT+RUN, Lagunitas, SAE Institute Los Angeles, Scion and TOMS for their generous sponsorship.

Flyer by: Brandy Flower