Adventure Time's long awaited space-themed album Of Beyond will be released on the newly formed Rings label on November 19th. To celebrate, we proudly unveil a video created by dublab's own Alex Pelly and a team of talented friends. Thanks to JF Chen for allowing us to transform their beautiful showroom into a starry scene. Enjoy this launch into deep space!
More about Adventure Time's Of Beyond…
Adventure Time is the duo of sonic explorers Daedelus and Frosty.  Having met in the music-geek haven of the University of Southern California's student radio station in the mid 1990's, they quickly forged a friendship.  These pals carried on their companionship past college and helped found the non-profit Internet radio station dublab.com in 1999.  After many years of shared moments seeking vinyl gems in vast secondhand record bins, they started to collaboratively create collages from excavated records.  Their musical experiments were based on out-there audio affinities grounded in beauty, humor and rhythm.  Adventure Time's mission has always been focused on the creative recycling of found sounds into newly formed moments of action-packed audio delight.
Adventure Time have returned from an epic journey into deep space and want to share their celestial expedition with you.  Before diving into the intergalactic exploits let us return to our last encounter with this duo riding the high seas.  Their album Dreams of Water Themes, released in 2003 on the groundbreaking Los Angeles label Plug Research, found them charming mythic creatures in a wild spray of maritime melody.  In the midst of this aquatic action, a thunderbolt clapped and a whirlpool wormhole opened in the waves to teleport Adventure Time to another galaxy. 
Of Beyond is the story of Adventure Time's journey through cosmic portals.  It's a hopscotch across time and space that strings together astral scenes in a symphony of swirling stardust.  Adventure Time have opened their radio telescope wide in order to transmit far-flung fragments from the vast universe.  Through their lens we catch layered glimpses of wondrous worlds that glow in unison.  We hear rhythms streaking like comets still bright with the energy of time's dawn.  We hear melodies buoyant with glee, floating gravity free.  This is music in motion, spinning and flashing with the essence of wide existence.  Of Beyond is a cosmic map in which dreams and visions merge into vibrant medleys of now.  This may be the first we've heard from Adventure Time in awhile, but their tones ring loud and clear.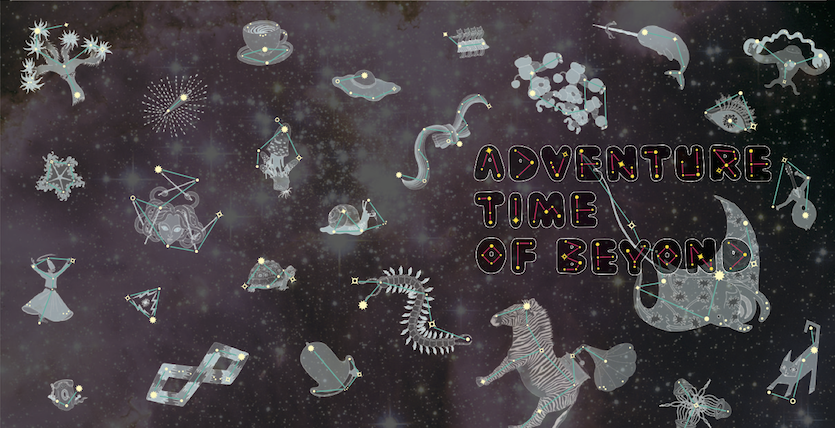 Adventure Time is: Daedelus & Frosty
Album Artwork: Kozyndan
Designer: 中澤耕平(ASYL)
Mastering Engineer: Jake Viator
Coordinator: Hashim Bharoocha
Special Thanks: Hara Masaaki, dublab, The Cosmos & YOU for listening!