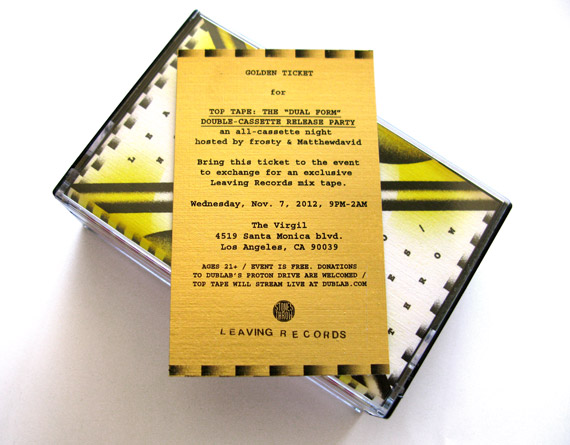 Top Tape is co-presented by our brethren in sound, Leaving Records. For this recurrent happening the dublab tape team dig up their favorite cassingles, mixtapes, and cassette spooled albums for a night of magnetic music. This evening of super saturation is hosted by Frosty + Matthewdavid and features an all-tape tag-team rotation of amazing djs. VHS visions are mixed live on the big screen by Alex Pelly and occasional inspired video heads.
This is an archive of a special Top Tape installment celebrating the collaborative Stones Throw x Leaving Records double cassette compilation DUAL FORM. The night featured all-tape sets by Peanut Butter Wolf, Matthewdavid, M. Geddes Gengras, White Rainbow, EMV, Knxwledge, Large Cats, Cat 500, Sun Araw and many more! Dual Form "Golden Tickets" were dropped at local record stores and lucky winners received a limited edition Leaving Records mix tape cassette by Matthewdavid. High energy was truly in the air for this night. We hope you enjoy the archive!
MIX:
DOWNLOAD
Click here to watch the Top Tape video archive featuring 111% VHS visions mixed live by Alex Pelly.