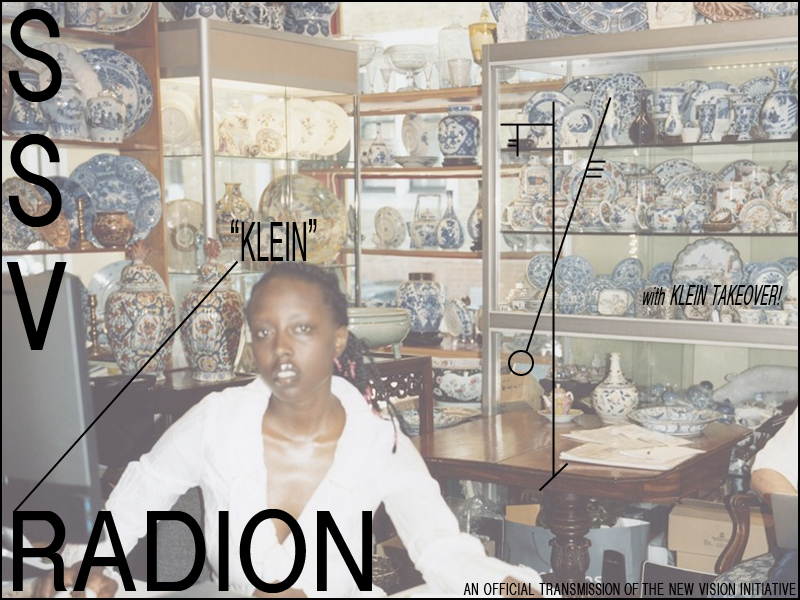 "A project of the NEW VISION INITIATIVE, a monthly stakeout involving a complex filtration system including but not limited to tunes, talks, texts, and video." – Sun Araw
While she may borrow from R&B and pop, Klein's output has more in common with the abstract impressionism of Jackson Pollock. Such intensity makes Tommy a difficult and even exhausting listen, despite a running time of just 25 minutes. But as Captain Beefheartand the Shaggs have shown in the past—and as Klein demonstrates now—stepping off the musical path that leads to standardized perfection can prove hugely rewarding." PITCHFORK
"Listening to experimental producer and vocalist Klein's debut album Only is like taking a trip to a destination unknown; her empyreal vocals, her warped ambient sounds and clashing so-wrong, so-right rhythms are the only signposts" – i-D MAGAZINE
South London based musician Klein is an artist who's neoteric vision has seen her quickly become one of the UK's most intriguing and unpinnable producers and performers. Her often playful and restive approach to composition is instantly alluring. Samples of obscure Nigerian B-Movies clatter into jagged beats. Distant piano loops lurk in the haze whilst beguiling vocals fade in and out of the sensory World she has created.
This year has seen the release of her debut album Only, self released online and then on heart shaped diamond USB stick by DIY label Howling Owl Records, and more recently the Lagata EP that has led her to be featured in Dazed and Confused, Wire, and i-D magazine; the latter of which premiered the beautiful Akinola Davies JR directed video for Marks Of Worship – a stunning five minutes piece of murky ambience dominated by a Whatsapp sermon sent from a Nigerian Aunt. You would expect nothing less from Klein.
Following some ear-catching manoeuvres across last year's releases, which gained her early fans like Bjork, Laurel Halo and Dev Hynes, Tommy marks Klein's deepest plunge yet into the 'deep, dark ocean' of her musical imagination on her Hyperdub debut.
Sun Araw w/guest Klein – Second System Vision Radio (11.17.17)
DOWNLOAD
KLEIN SET
brian mcknight – anytime
ramzi – For Vanda
jlin – holy child
muqataa-tanafur
klein – december 13th
klein – wray break (unreleased)
boubacar traor -Mbadehou
dwele -whoop interlude
dwele – timeless
india arie – get it together
l'atrelle – infauated
klein + jacob samuel – bitches anthem
klein ft big tc dloc – sky meltdown
fally ipupa – champ
tekno – pana
b2k – the other guy
larry b – hit it right
kelly price – its gonna rain
double dutch interlude
klein – mad love (unreleased)
qualitymusicfreak – adultson
808ink – dssy
fekky + dizze rascal – still sittin here
tommmy wright 3rd – meet yo maker
nidia minaj – limite
mabel – finders keepers
s4u – isle of dogs
mun sing – nicki minaj remix
yo gotti ft nicki minaj – rack it up
bbymutha – rules
gangsta boo – nasty trick
chino amobi – black boy moving out the city
james massiah + everything is recorded – snippet
korn – freak on the leash