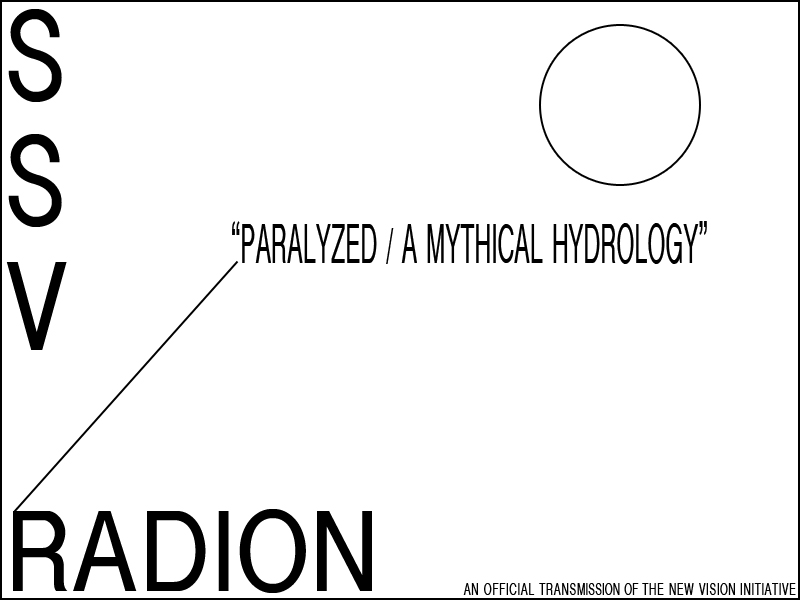 Second System Vision Radio is part of a large-scale project by a completely fictitious made-up hokem organization called the NEW VISION INITIATIVE investigating "nascent digital vision" which is the very simple idea that when you see a new thing you have just a fraction-glint-hair-sliver of moment before it gets reduced to an old thing, and so there's a infinitesimal chance that if your hands are on the proper levers a real lightning bolt of a "re-cognition" could land you on an unfamiliar tarmac. And then you can ask it questions. The idea started with tiny, obscure digital photographs from an old cellphone, but now it also includes videos and radio shows, and this part is the radio show part. Frequently there are trusted guests who come and squint and try to "re-cognize" the new things, because it's fun in a group!
Sun Araw - Second System Vision Radio (01.16.15)
DOWNLOAD
POEME ELECTRONIQUE – EDGAR VARESE
PARALYZED – THE LEGENDARY STARDUST COWBOY
MEAN OLD DEVIL – BRUCE HAACK
LUUNG – TRIAD GOD
NANISORE – FOODMAN
PRESENT JOYS – ALABAMA SACRED HARP SINGERS
ANCIENT MARINER – BRUCE HAACK
A MYTHICAL HYDOLOGY WITH IVAN ILLICH
A FLOCK DESCENDS IN THE PENTAGONAL GARDEN – TORU TAKEMITSU
HEAVENLY VISION – ALABAMA SACRED HARP SINGERS
STAND UP LAZARUS – BRUCE HAACK
CALL AND RESPONSE – ANDREW CYRILLE & MILFORD GRAVES
RETURN AGAIN – OKEH ATLANTA SACRED HARP SINGERS
MY MULE – ABNER JAY
DUET WITH SELF/HARD TIMES – BISHOP PERRY TILLIS
ME AND THE DEVIL – CHENARD WALKER
THE DEVIL'S COACHMAN – ROBYN HITCHCOCK & THE EGYPTIANS
THE MARK OF THE BEAST – WILLIE HUTCH
THE FIRST TURNING OF THE WHEEL (FOR BOB GRAETTINGER) – SUSAN ALCORN
JUST A SONG AT TWILIGHT – BRUCE HAACK
WHEN THEY RING GOLDEN BELLS – BUD TUTMARC
SECOND ACT OF A – CECIL TAYLOR
GOOD LIFE GOOD LIFE – BRUCE HAACK
UNTITLED – NUNO CANAVARRO
LOVE IN SIDE – OTIS G JOHNSON
GASTRONYMIPLENTIFICATION – BRUCE HAACK
THE TOUGHEST – COCOA TEA
MARATHON RUNNER – OTIS G JOHNSON
NOONDAY SUN – BRUCE HAACK
LOVE DUB WHISPER – ??????
MOONLIGHT & ROSES – BRUCE HAACK
22ND CENTURY – NINA SIMONE