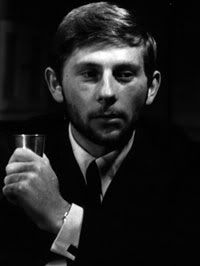 TUESDAY, NOVEMBER 9TH
Roman Polanski Shorts (w/ brand-new live scores by Sza/Za!)
Before making beloved classics like Chinatown, Rosemary's Baby and Repulsion, Roman Polanski cut his teeth on a series of short films shot in the late '50s and early '60s, produced mostly at the renowned Lodz Film School in Poland. From the playful filmmaking exercises Murder and Teeth Smile (1957), through the metaphorical Break Up the Dance (1957) and Mammals (1962) to his award-winning graduation film Two Men and A Wardrobe (1958), these films reveal Polanski's surreal and dark style, his masterful storytelling ability, and the restless search for the truth about human nature — however crooked and evil it would turn out to be. A key ingredient to the genius of these shorts is their unpredictable music scores, often written by Polish jazz pioneer Krzysztof Komeda. We'll highlight this legendary alchemy by presenting this evening of Polanski's early works in 35mm with live accompaniment by the Polish electroacoustic duo Sza/Za — whose use of clarinets, violin, analog loopstations, subtle effects and interaction with the audience both pays tribute to the work of the late Mr. Komeda, and takes these seminal films in intoxicating new directions!
DJ Carlos Niño (dublab, KPFK's Spaceways Radio") will be here to spin tunes before and after the films!
Roman Polanski: Shorts with Live Music by Sza/Za is presented by Cinefamily and the Polish Cultural Institute in New York, in association with Unsound Festival. Additional support provided by Trust for Mutual Understanding and Janus Films.
$14/$10 for members (general admission), $50 2-person couch, $75 3-person couch / 8pm
The Cinefamily
611 N. Fairfax Avenue
Los Angeles, CA 90036