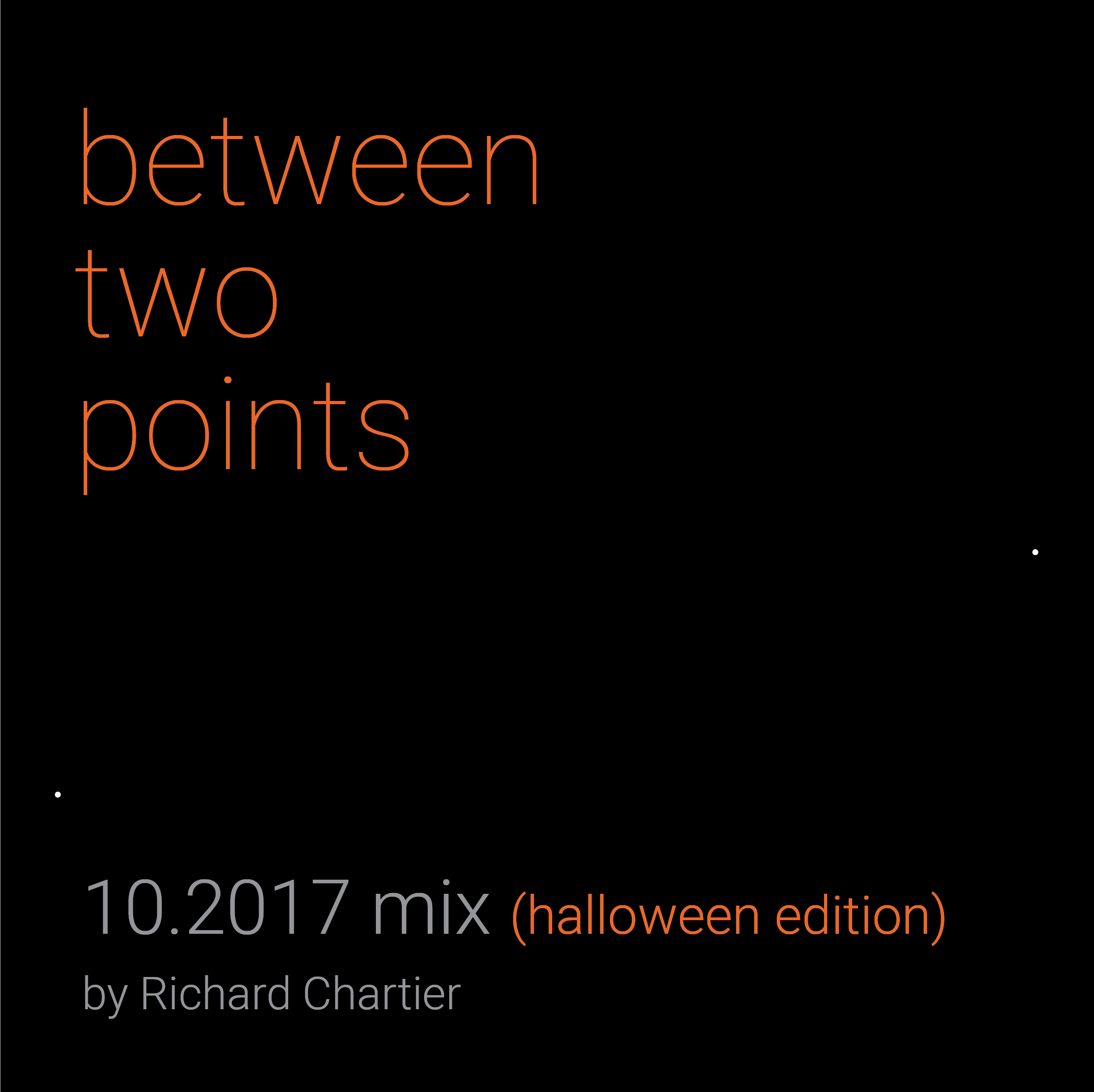 Between Two Points is a monthly transMIXion by Los Angeles based sound artist Richard Chartier for Dublab.
SPECIAL HALLOWEEN EDITION!
A beginning, an end and the layered transitional sonic flow enclosed, 'between two points' explores textures, tones, place, and space, featuring experimental, avant-garde, ambient works from the mid-20th century through to our current time. A mysterious progression unfolding for your ears.
–
Richard Chartier (www.3particles.com) is a Los Angeles based artist, considered one of the key figures in minimalist sound art. Chartier's works explore the inter-relationships between the spatial nature of sound, silence, focus, perception, and the act of listening itself.
Chartier's critically acclaimed sound works have been published since 1998 on a variety of labels internationally including Room40 (Australia), Editions Mego (Austria), Important Records (US), Ash International (UK), Raster-Noton (Germany), Spekk (Japan), Trente Oiseaux (Germany), NVO (Austria), Farmacia901 (Italy), 12k (US), and his own imprint LINE (US).
He has collaborated with composer William Basinski, sound artists ELEH, CoH, France Jobin, Robert Curgenven, Taylor Deupree, AGF, and Yann Novak, and German electronic music pioneer Asmus Tietchens. In installation form, he has created works with multimedia artists Evelina Domnitch and Dmitry Gelfand, visual artist Linn Meyers, and projected light artist Anthony McCall. Under his guise Pinkcourteseyphone, an ambient project restarted in 2012, he has collaborated with Cosey Fanni Tutti, Kid Congo Powers, harpist Gwyneth Wentink, AGF, and thereminist Evelina Domnitch.
Chartier's sound works/installations have been presented in museums and galleries internationally including the Whitney Biennial and the influential sound art exhibit Sounding Spaces at NTT/ICC in Tokyo. His performances have occurred live across Europe, Japan, Australia, and North America.
Since 2000, Chartier has curated his influential recording label LINE (www.lineimprint.com), publishing nearly 100 editions documenting the compositional and installation work of international sound and video artists who explore the aesthetics of contemporary and digital minimalism.
Chartier (often as Pinkcourtesyphone) began DJing in 1991. He currently co-hosts Procedure, a monthly evening audio parade (with Ale Cohen, Maria Minerva, and special guests) at ETA in the Highland Park neighborhood of Los Angeles on the last Thursday of each month, 9pm-1am.
for more mixes visit:
www.mixcloud.com/richardchartier
Richard Chartier – Between Two Points (10.24.17)
DOWNLOAD
tod dockstader – seance
slow walkers – carrier
misogyny stone – drone gold
bernard herrmann – the office
lustmord – primordial atom (excerpt)
the caretaker – emptiness
nana april jun – sun wind darkness eye
baudouin oosterlynck – suite for bondage room
slow walkers – procession
lustmord – primordial atom (excerpt)
cindytalk – arrival
conrad schnitzler – black nails
holger czukay + david sylvian – plight (the spiraling of winter ghosts)
the house in the woods – half glimpsed
michel rubini & denny jaeger – sarah's transformation
kiyoshi mizutani + kiyoharu kuwayama – interlude 2
bernard herrmann – the dream / the syringe
demdike stare – the stars are moving
eliane radigue – transmorem transmortem
carlos peron – shooting the dark
david lynch + dean hurley – the air is on fire: III. grey
blixa bargeld – blackout music
richard h kirk – thermal damage
william fowler collins – ghost choir
klaus schulze – satz: gewitter
ekin fil – before a full moon
deathprod – dead people's things
louis & bebe barron – graveyard / a night with two moons
lethe – catastrophe point #1
mica levi – drift
coil – the box theme
suum cuique – intonation
pinkcourtesyphone – lure / beyond exactly
andres lewin – creeper