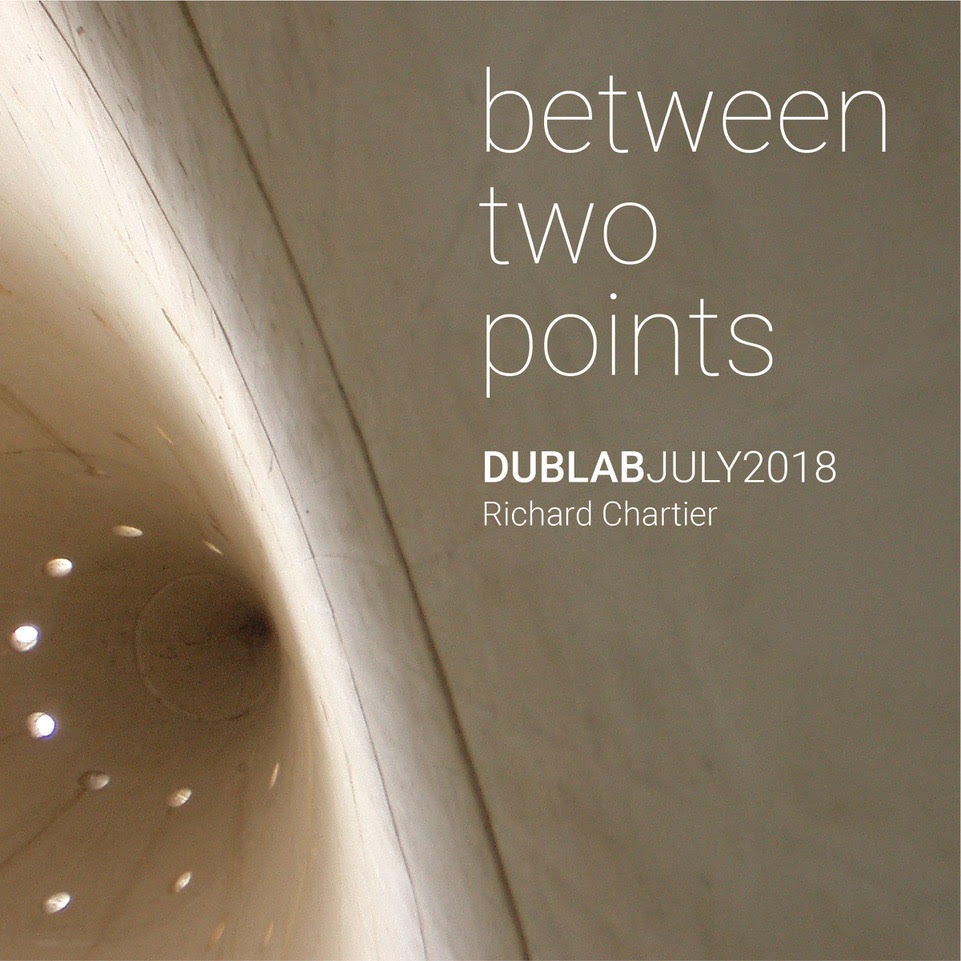 Between Two Points is a monthly transMIXion by Los Angeles based sound artist Richard Chartier for Dublab. A beginning, an end and the layered transitional sonic flow enclosed, 'between two points' explores textures, tones, place, and space, featuring experimental, avant-garde, ambient works from the mid-20th century through to our current time. A mysterious progression unfolding for your ears.
–
Chartier's critically acclaimed sound works have been published since 1998 on a variety of labels internationally including Room40 (Australia), Editions Mego (Austria), Important Records (US), Ash International (UK), Raster-Noton (Germany), Spekk (Japan), Trente Oiseaux (Germany), NVO (Austria), Farmacia901 (Italy), 12k (US), and his own imprint LINE (US).
He has collaborated with composer William Basinski, sound artists ELEH, CoH, France Jobin, Robert Curgenven, Taylor Deupree, AGF, and Yann Novak, and German electronic music pioneer Asmus Tietchens. In installation form, he has created works with multimedia artists Evelina Domnitch and Dmitry Gelfand, visual artist Linn Meyers, and projected light artist Anthony McCall. Under his guise Pinkcourteseyphone, an ambient project restarted in 2012, he has collaborated with Cosey Fanni Tutti, Kid Congo Powers, harpist Gwyneth Wentink, AGF, and thereminist Evelina Domnitch.
Chartier's sound works/installations have been presented in museums and galleries internationally including the Whitney Biennial and the influential sound art exhibit Sounding Spaces at NTT/ICC in Tokyo. His performances have occurred live across Europe, Japan, Australia, and North America.
Since 2000, Chartier has curated his influential recording label LINE (www.lineimprint.com), publishing nearly 100 editions documenting the compositional and installation work of international sound and video artists who explore the aesthetics of contemporary and digital minimalism.
Chartier (often as Pinkcourtesyphone) began DJing in 1991. He currently co-hosts Procedure, a weekly early evening audio parade  at Zebulon, in Atwater Village every Wednesday from 5-8pm.
More info on Richard here.
Richard Chartier – Between Two Points (07.08.18)
DOWNLOAD
Strië – man with the thick glasses
Ilja Zeljenka – study 0, 3
Toshimaru Nakamura – NIMB 53
Ryoji Ikeda – Data.Vortex
Geneva Skeen – Live at Human Resources
Uon – Solaris
Space Afrika – dred
Akio Suzuki – Analapos C
Porya Hatami + Arovane – ceill
Triac – Departure Five
Grouper – Breathing
Olivier Alary – Piscine
France Jobin – scene 4
Jim Haynes – cerise cerise
AGF – Zinaida Gippius 1869-1945 feat KPT
Angelo Badalamenti – dark space low
Óscar Vargas y David Espejo – Cometa
Lucy Railton – for JR
Fabio Perletta + Asmus Tietchens – Deflecting 7
Celer – All Rejection of Reality
Lovesliescrushing – Gloscein
Lucretia Dalt – Atmospheres Touch
Norman Westberg – Drops in a Bucket
Mika Vainio + Ryoji Ikeda + Carsten Nicolai Movements 7
Tomoko Sauvage – In Some Brighter Sphere
Chris Carter – Tones Map
Yves De Mey – Mika
Fossil Aerosol Mining Project – v broadcast (closed circuit)
Omit – Locknut shadow
De Leon – A3