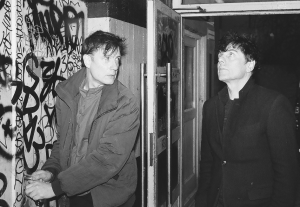 We are proud to give your ears with this special mix, and chat between Mouse on Mars and Zach Condon of Beirut:
Mouse on Mars – Dimensional People info:
Mouse on Mars, the Berlin-based duo of Andi Toma and Jan St. Werner, will release their new album, Dimensional People, on April 13th. Originally premiering as a spatial composition using object-based mixing technology that plays with possibilities of sonic design and collective musicianship, Dimensional People expands upon these ideas. The album makes clear how Mouse on Mars' craft is of discovering new contexts for places, sounds, memories, sensations, ambiences, technologies, relationships, and of course, people. It features collaborations with Justin Vernon, Aaron and Bryce Dessner (The National), Zach Condon, Spank Rock, Swamp Dogg, Eric D. Clark, Lisa Hannigan, Amanda Blank, Sam Amidon, Ensemble Musikfabrik, and more. Each participating guest was given a platform to imprint the album as whoever or whatever they wanted to be: a narrator, a perfect moment, a jam, an ensemble member, an abstract sound, a multiple persona, a mood, a soloist.
Mouse on Mars – guest session (04.10.18)
MIX:
DOWNLOAD