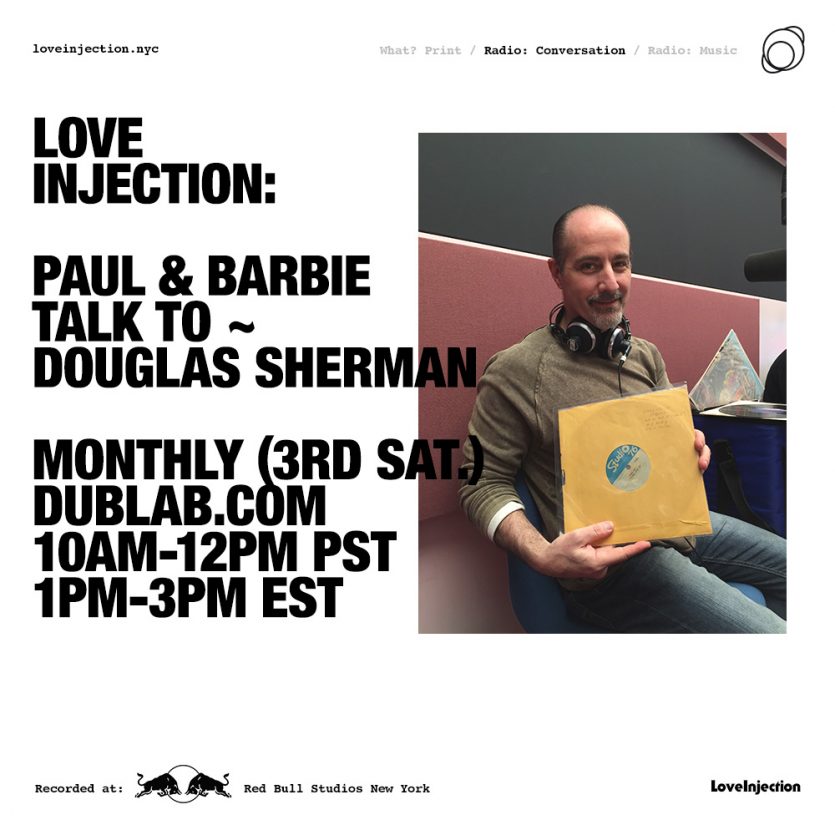 Love Injection: ​Conversation is the sonic extension of the print fanzine out of New York. Paul Raffaele & Barbie Bertisch host roundtable discussions, interviews and invite friends to discuss music and the culture surrounding it. It's pre-recorded at Red Bull Studios in New York and airs the third Saturday of each month from 10am-12pm PST (1pm-3pm EST) on Dublab.
Two hours of music and conversation with ​Douglas Sherman, ​musical host at NYC's Joy party and today's incarnation of The Loft,​ ​the gathering​ ​that David Mancuso started back in February of 1970.
In hour one, you'll hear the records Doug inspired and excited him growing up, including a one-off acetate of his parents singing a duet (!!!). In hour two we get into the records that meant the most to him in the context of The Loft with examples of David's theory on building up and bringing down a night of music. Recorded at Red Bull Studios, New York.
Love Injection Conversations with guest Douglas Sherman (09.17.16)
MIX:
DOWNLOAD