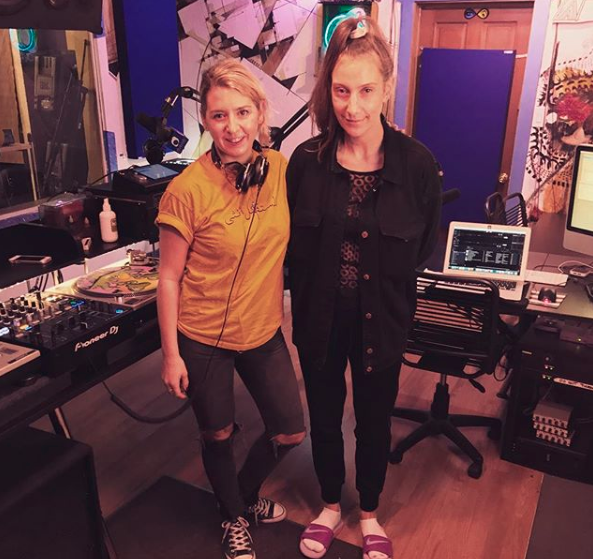 A Little Moore is made up of British DJs Victoria aka Little Boots and Lottie Moore. Following a decade in London and Barcelona respectively, torn apart by Brexit the pair decided to relocate to sunny Los Angeles and seek their fortune. As Little Boots, Victoria has released 3 critically acclaimed albums and toured the world both as a live act and a DJ, performing everywhere from Coachella to Ibiza. She is also a Grammy nominated songwriter and runs the alternative pop label On Repeat Records. Lottie, better known behind the decks as Tottie, co-founded the highly successful Track Family weekly radio show on Barcelona City FM, and has spent the last 6 years DJing Barcelona's hippest parties and events. She recently created a special show for Sonar Festival focusing on pioneering female creative talent, a theme both are passionate about. Together, the pair's musical taste is upbeat and eclectic, and their sense of fun is infectious. Expect a selection of disco, house and balearic beats from both across the pond and closer to their new home, plus exclusive tracks and mixes from friends, some very special guests and tip top chat. Tune in to get your Friday night started and follow the girls' journey as they navigate life in LA and everything that comes with it.
Joining Lottie on A Little Moore this month is the highly rated Swedish newcomer Bella Boo who is visiting the US this month. Her eagerly awaited debut EP Music Playing is out at the end of this month on Third Try Records and a further highly anticipated EP from this artist will be out next year on Studio Barnhus.
Looking forward to hearing the sounds from yet another badass lady as well as speaking to her about her journey in the music industry as a producer and mother.
Lottie:
Harry Roy & His Orchestra – My Girl's Pussy
The Project Club – El Mar Y La Luna (Lovefingers Remix)
S'Express – Theme From S'Express (Tuff City Kids Remix)
Roberto Rodriquez – Mustat Varjot (Original Mix)
Francis Inferno Orchestra – Go Easy On Me Girl (Original Mix)
Opal – Ain't No Way
FYI Chris – House Dog (Original Mix)
Hammer – Canna (Original Mix)
Lindstorm – Tensions (Original Mix)
Honey Dijon – 808 State of Mind feat. Shaun J Wright. Alinka (Original Mix)
Baldo – Its A Zanzibar Thing
Honoree – Pearls (Original Mix)
Bella Boo:
Bella Boo – Lyn (Kassandra vocal mix)
Martinou – Dawn Whip
Move D – Jus House
Drake, Black Coffee, Jorja – Get It Together
Okalumkoolkat, Tellaman – Drinks & Music feat. Okmalumkoolkat
Dan Kye – Tolle
Yaeji – Raingurl
Samo DJ & Pedro dollar – Rusty Acid Edit
Machine Woman – Camila From OHM Makes Me Feel Loved
Four Tet – SW9 9SL
Ishivu – Gryning (Matt Karmil remix)
Paul Hardcastle – Loitering with Intent
Tryckare (Bella Boo remix) – Basutbudet
Little Boots and Lottie Moore w/guest Bella Boo – A Little Moore (11.17.17)
MIX:
DOWNLOAD