DUBLAB HAPPENINGS
WEDNESDAY, January 19th
HIT+RUN, VTech, Earnest Endeavours and Protein present
Kutmah "Two Soups & A Honeybun" Art Show & After Party
Art show runs January 19-February 13th at Protein 18 Hewitt Street London.
After Party on Wednesday 19th January, 9pm – 1am.
Kutmah DJ Sketchbook / Hit+Run / Dublab | LA
Dorian Concept LIVE Kindred Spirits | Vienna
Teebs LIVE Brainfeeder | LA
Jams LIVE Earnest Endeavours | LA
Patchwork Pirates DJ Earnest Endeavours | LDN
Hit+Run LIVE SCREENPRINTING
with exclusive designs by Kutmah
Secret Hoxton Location TBA. Look here for updates.
£8 adv. Tickets from Ticketweb.
£10 door. Ticket Price includes*
*Bespoke Hit+Run live screenprinted Kutmah tee
*Ltd Edition Jams F Kennedy x EE "A Heart-Breaking Work of Swagger & G Ness " mixtape
*Ltd Edition Kutmah x Hit & Run "The New Error" mixtape
*Mad H+R / Kutmah / EE stickers and merch
Available on the night will be the "Two Soups & A Honeybun" London exclusive print series, sold in a set of 3, 18" x 24" prints, 150 limited edition sets and printed by OBEY GIANT
kutmah.com
thehitandrun.com
earnestendeavours.com
music.vtechphones.com
FRIDAY, January 21st
LEAVING RECORDS PRESENTS…
Matthewdavid
Asura
M. Geddes Gengras
DubKnowDub(BK)
with video by Thumbs Up Machine
$5 donation / 8pm-11pm
Public Fiction Gallery
749 Avenue 50
Los Angeles, CA 90042
SUNDAY, January 30th
Space 15 Twenty Record Fair #2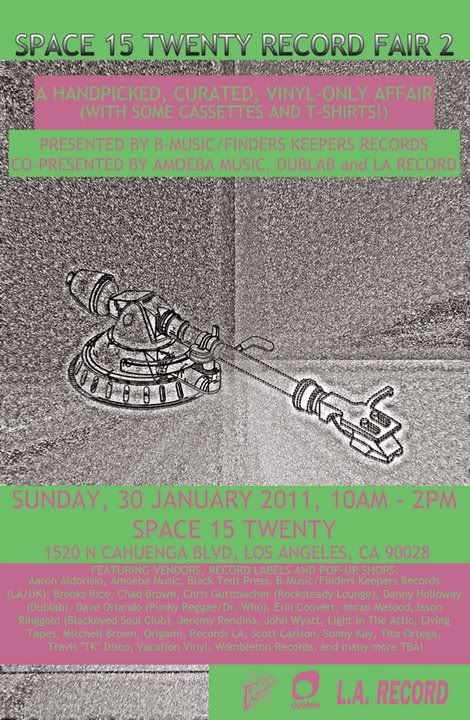 Its back!
The last one was incredibly successful, lets make it happen again!
Coinciding with the Hollywood Farmers Market in the courtyard of Space 15 Twenty…. a record fair, free admission ! Come hang out and check out all the awesome vinyl and rock shirts for sale.
"A handpicked, specially curated, vinyl-only affair"
(with some cassettes and t-shirts!)
Presented by B-Music/Finders Keepers Records
Co-Presented by Amoeba Music, Dublab and LA Record !
Featuring vendors, record labels and pop-up shops:
Aaron Aldorisio
Amoeba Music
Black Tent Press
B-Music/Finders Keepers Records (LA/UK)
Brooks Rice
Chad Brown
Chris Guttmacher (Rocksteady Lounge)
Danny Holloway
Dave Orlando (Punky Reggae/Dr. Who)
Dublab
Erin Coovert
Imran Masood
Jason Ringgold (Blackeyed Soul Club)
Jeremy Rendina
John Wyatt
Light In the Attic
Living Tapes
Mitchell Brown
Origami Vinyl
Records LA
Scott Carlson
Sonny Kay
Tita Ortega
Travis "TK" Disco
Vacation Vinyl
Wombleton Records
….. and more TBA !!
10am-2pm
Space 15 Twenty
1520 N Cahuenga Blvd
Los Angeles 90028
SUNDAY, February 20th
dublab presents…A LABRAT MATINEE 9 : our minds align
Open your pupils wide and join us for rarely seen music videos, new dublab VisionVersion films, comedy clips, out-there animation and other eye-melting magic. After the films stick around for a musical mind alignment party featuring a live performance from one of dublab's favorite bands plus Labrat djs playing soundtrack selections on the Spanish Patio. Don't miss these visions burning bright!!!
All Ages / 7:30pm
Arrive early to see an exclusive intro film by Dugan O'Neal!!!
$12 general or $8 Cinefamily members. Click HERE to buy advance tickets.
the Cinefamily
611 N Fairfax Avenue
Los Angeles, 90036
323.655.2510
RECURRENT EVENTS
EVERY SUNDAY
Resident DJs:
Michael Stock
Benny Shambles
$5 / 18+ / 10pm-2am
the Echo
1822 Sunset Blvd.
Los Angeles, CA 90026
EVERY MONDAY (LIVE BROADCAST EVENT)
dublab & Yowie request your attendance at the Monday Music Meeting. You will be briefed on dublab's audio agenda with a survey of new songs presented by the Labrat office squad of Ale, frosty & Lavenders with a special guest appearances by dublab djs.
Tune into the dubstream from 11am-1pm PST or better yet visit Yowie's special Monday Music Meeting page to listen, see the live video stream, and join the chat action.
EVERY WEDNESDAY
(((the most exciting sounds on the planet collide every wednesday night)))
w/ residents:
DADDY KEV, NOBODY, THE GASLAMP KILLER, D-STYLES, NOCANDO
$10 guests, $5 members / 18+ / 10pm-2am
the Airliner
2419 N. Broadway
Los Angeles, CA 90031
Every THURSDAY
FREE!
Cinespia DJs: Hair, Boss Harmony Dina J, Mahssa, and Carlos Niño!
All dance music, all styles, all night!
FREE / 21+ / 10:00pm – 2:00am
Short Stop
1455 Sunset Boulevard
Los Angeles, California 90026
213.482.4942
Love to Cinespia, Dr. Who, dublab, and YOU!
EVERY FRIDAY
DUBLAB WEEKLY SOUND EXPANSION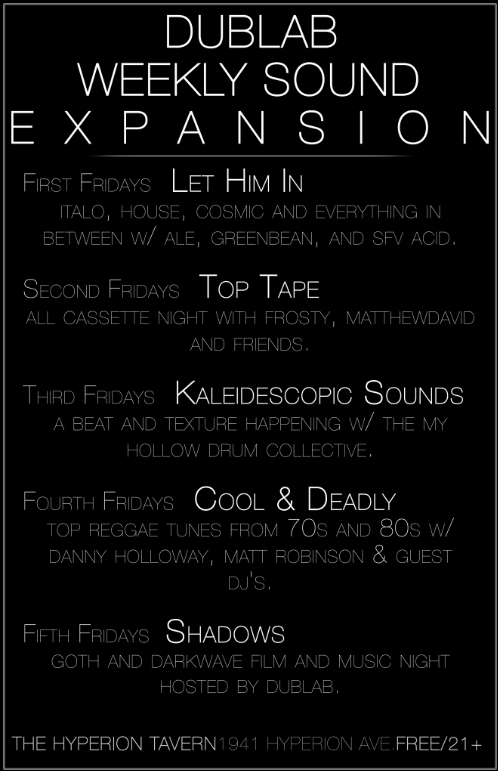 dublab takes over Fridays at the Hyperion Tavern with a lineup of diverse and highly-themed, weekly happenings!
1st Fridays: "Let Him In" Italo, acid, cosmic and everything in between with Ale, Green Bean, SFV Acid and Suzanne Kraft.
2nd Fridays: "Top Tape" all cassette night with frosty, matthewdavid & friends.
3rd Fridays: "Kaleidescopic Sounds" a beat and texture happening with the My Hollow Drum collective.
4th Fridays: "Cool & Deadly" Top Reggae Tunes from 70's and 80s w/ DANNY HOLLOWAY, MATT ROBINSON & guest DJ's.
5th Fridays: "Shadows" a goth and darkwave film and music night hosted by dublab.
========================
FREE / 21+ / 10pm – 2am
The Hyperion Tavern
1941 Hyperion Ave
Los Angeles CA 90027
EVERY SECOND FRIDAY of the month
dublab presents…TOP TAPE
The dublab tape team have dug up their favorite cassingles, mixtapes, and cassette spooled albums for a night of magnetic music. Come enjoy the sounds of super saturation, hosted by frosty + matthewdavid and featuring an all-tape tag-team rotation of amazing djs. VHS visions mixed live on the big screen by Alexandra Pelly.
FREE / 21+ / 10pm – 2am
THE HYPERION TAVERN
1941 Hyperion Ave
Los Angeles CA 90027
Part of dublab's Weekly Sound Expansion series.
EVERY THIRD FRIDAY of the month
MY HOLLOW DRUM presents: KALEIDOSCOPIC SOUNDS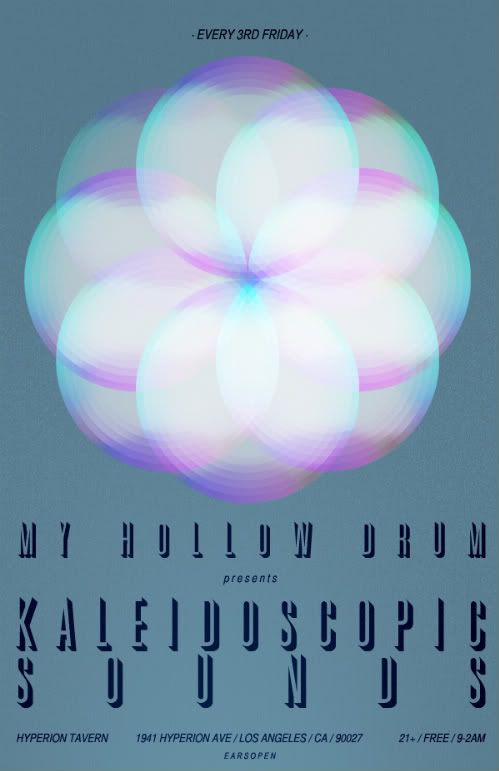 FREE / 21+ / 10pm – 2am
The Hyperion Tavern
1941 Hyperion Ave
Los Angeles CA 90027
Part of dublab's Weekly Sound Expansion series.
EVERY FOURTH FRIDAY of the month
LOVERS ROCK
LOVERS ROCK = Romantic Reggae.
The term LOVERS ROCK was coined in England in the mid 70s to describe melodic love tunes over an easy, hypnotic reggae rhythm.
DENNIS BROWN & GREGORY ISAACS are masters at LR.
LOVERS ROCK is a style so strong SADE paid tribute by naming
an album after it.
Bring your spoon partner.
or meet one here.
w/ DANNY HOLLOWAY & FRIENDS.
FREE / 21+ / 10pm – 2am
The Hyperion Tavern
1941 Hyperion Ave
Los Angeles CA 90027
Part of dublab's Weekly Sound Expansion series.
EVERY FIFTH FRIDAY of the month (starting in October)
SHADOWS a goth and darkwave film and dj night hosted by dublab.
FREE / 21+ / 10pm – 2am
THE HYPERION TAVERN
1941 Hyperion Ave
Los Angeles CA 90027
Part of dublab's Weekly Sound Expansion series at the Hyperion Tavern.
Flyer design by the amazing j.mendez.
EVERY THIRD SATURDAY of the month
HUNGRY BEAT!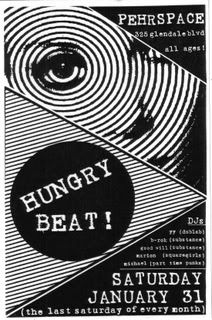 FREE / All Ages! / 10pm-2am
La Cita
336 S. Hill St.
Los Angeles, CA 90013
RADIO WAVES
tune into the turn on:
The Lab w/ Marion Hodges – Sundays 3am – 6am PST KCRW 89.9fm
tonalism with the dublab collective – Sundays 4-6am KPFK 90.7fm
Hip Hop Hooray with t-kay and Miss Manners – Sundays 2pm-3pm CST KOOP 91.7fm (Austin, TX)
Spaceways Radio w/ Carlos Niño – Sundays 10pm – Midnight PST KPFK 90.7fm
Anthony Valadez on KCRW – Mondays Midnight – 3am PST KCRW 89.9fm
She comes in Colours w/ the Minister Alvin X & Dr. Frederick Phases – Mondays 10pm – Midnight KXLU 88.9fm
The Kids are Alright w/ Professor Cantaloupe – Wednesdays 7pm – 8pm PST KXLU 88.9fm
Glossolalia w/ Glossolalia – Wednesdays 10-11pm KXLU 88.9fm
Part Time Punks w/ Michael Stock – Thursdays 3pm – 4pm PST KXLU 88.9fm
Headspace w/ Hoseh – Thursdsays 8pm – 10pm PST KXLU 88.9fm
Globetrotting w/ t-kay – 2nd Fridays 7-8:30pm CST KOOP 91.7fm (Austin, TX)
PEACE,
the Labrats