Ethiopian pianist and composer Girma Yifrashewa visited dublab to perform live and speak with Frosty about his music. His recent album, Love and Peace, on Unseen Worlds Records is one of our favorites. Girma's music is a joyful expression of natural beauty and an invocation of joyful serenity. Girma is in Los Angeles to perform live in concert on Wednesday, March 25th. Click here for more information.
Girma Yifrashewa in Conversation with Frosty
DOWNLOAD INTERVIEW
Girma blessed us with two solo piano pieces performed live on-air. Here are the songs in a standalone archive for you to enjoy. Many thanks to Roland for loaning us a an RD-800 piano for the session.
Girma Yifrashewa Live Solo Piano Performance
DOWNLOAD PERFORMANCE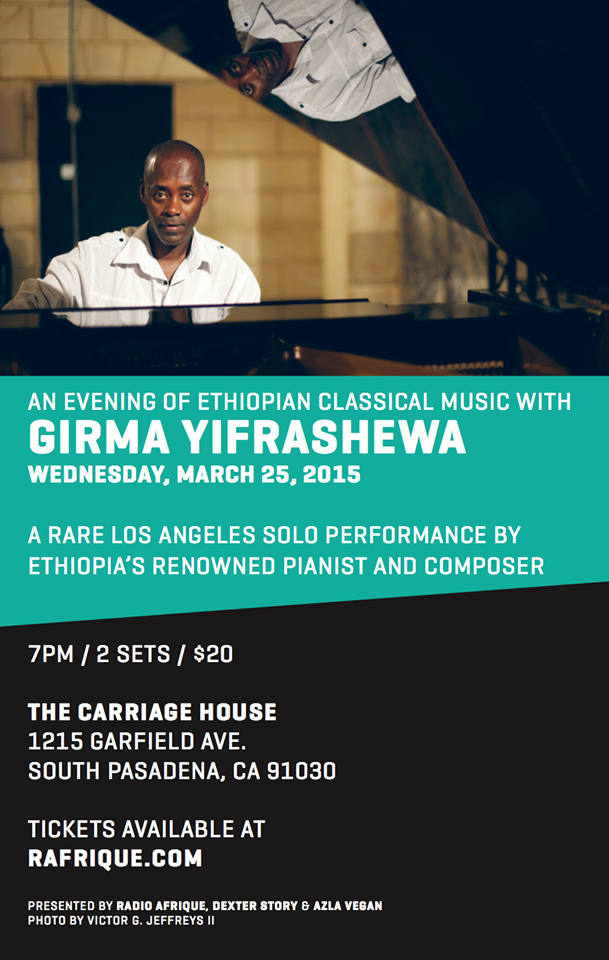 This intimate performance hosted at The Carriage House will be Yifrashewa's only Los Angeles appearance on this tour. We invite you to join us for this truly special occasion presented by Radio Afrique, Dexter Story and Azla Vegan.
Born in 1967 in Addis Ababa, Girma Yifrashewa combines the ecstasy of Ethiopian harmony with the grandeur of virtuoso piano technique. Yifrashewa has trained at renowned institutions including the Yared School of Music in Ethiopia, Sofia State Conservatory in Bulgaria, the Royal Academy of Music in London, and the Hochschule fur Music Und Theater in Germany. A highly accomplished performer of classical repertoire, Yifrashewa has chosen to remain in Ethiopia, helping to forge a classical tradition for his country. Currently, Yifrashewa works to promote Ethiopian and Classical Music through cultural commissions and tours throughout Africa, Europe and beyond.