dublab Presents Reeperbahn Festival Showcase at Zebulon
Thursday, November 1 2018
07:00 PM - 02:00 AM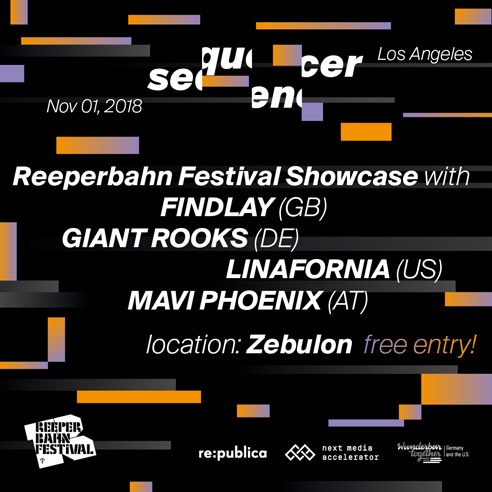 Reeperbahn Festival and dublab proudly present a line up of international newcomer acts on Nov 01 at Zebulon Café Concert, Los Angeles. Join us!
ENTRANCE IS FREE!
☐ LINE UP: https://www.facebook.com/events/1992797931010569/
Findlay (GB)
Findlay's reputation precedes her as one of Manchester's most inspiring acts in recent memory. Harkening back to the city's greats, Findlay has carved out her own space with her sharp flair. With a voice that cuts like a razor and burns with a nuclear heat, she has defied the mold for what a young female artist can aspire to be.
Giant Rooks (DE)
One of the most exciting and fearless new bands out of Europe is making its way to Los Angeles for this year's satellite festival. The five members of Giant Rooks have been able to create a dynamic sound, mature in its finesse, but youthful in its spirit.
Mavi Phoenix (AT)
Mavi Phoenix has always brought ferocity and tenacity to the mic and to the stage, and now she brings her international flare to Reeperbahn in Los Angeles. She uses her strong female voice to fuel her distinctive songwriting style, always underscored by tasty grooves and thumping drums of her own devising.
Linafornia  (US) The act of re-purposing defines the creative vision of Los Angeles beatsmith Linafornia. Her debut album YUNG, released on Dome of Doom Records in 2016, expertly merges her absorption of '60s and '70s soul music with '90s hip-hop roots, including everything from Brazilian samples to Afro-Funk flips, taking listeners on a worldly journey through sound that is a perfect bridge between gritty and soulful. 
Zebulon
2478 Fletcher Drive, Los Angeles
See more events at this location »
Get Directions: