DUBLAB Presents: Muse 'til Midnight | LACMA in 3D
Saturday, August 25 2018
08:00 PM - 11:59 PM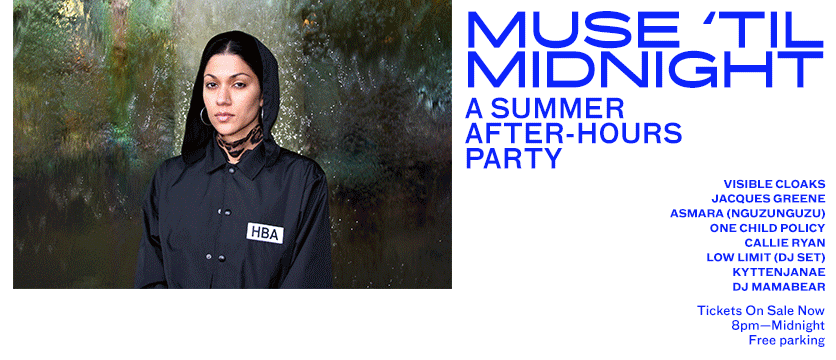 LACMA's annual Muse 'til Midnight continues on August 25 with online radio pioneer — DUBLAB — presenting emerging talent across the electronic spectrum while connecting guests with the sounds of the past, today, and tomorrow. Through a curated array of live performances and installations, DUBLAB will play off LACMA's showcase exhibit 3D: Double Vision, exploring a crossover of three-dimensionality within music and visual arts.
Montréal producer Jacques Greene will shine the floor with house-RnB fusions and his signature stylings of cerebral dance music. Critically acclaimed by Pitchfork, ambient-leaning duo, Visible Cloaks (of  RVNG Intl.) will immerse guests in a multi-sensual feast, exploring global headspace into a visceral reality. Asmara (NGUZUNGUZU), one of LA's most important DJs, will display club favorites — reworking hip-hop, eerie beats, and unexpected pop tracks into fresh, electrifying cuts. LA mainstay, Low Limit will focus on the driving pulse of rugged house, techno, and experimental atmospherics — mixing and fading whatever feels just right. Newcomer One Child Policy will join the bill with an A/V set inspired by his Chinese-American roots and what Mixmag calls, "exemplary techno." Female-empowering, Callie Ryan, to grace the Bing stage with a tender performance accompanied by live Sensory Percussion drumming and visual moods by 100% Silk founder Amanda Kramer.  Augmented reality artist kyttenjanae will present an imaginative screening for her live debut blending fantasy, vocaloid pop covers and far-out virtual-stars with a music-scoring assist from collaborator Philip Rugo. An Instagrammable installation will be on-site to complement this new work.  In the lobby of 3D: Double Vision, producer KamranV and DUBLAB co-founder Frosty will construct a Quadraphonic Sound Installation to transport guests via a 360-degree sonic journey from Sun Ra's timeless record, Space is the Place to the live Buchla recordings of electronic legend Suzanne Ciani. Quad installation gear and technical support generously provided by Teenage Engineering and United Recording. Floating in the main courtyard, Sweaterfunk DJ Mamabear will be keeping up the vibes with a heavy dose of funk, RnB, and sunny soul.

8pm-midnight | 18+
$20 LACMA Members; $30 general public. Purchase tickets here.
LACMA Los Angeles County Museum of Art
5905 Wilshire Blvd, Los Angeles
See more events at this location »
Get Directions: