Sleepless: The Music Center After Hours – Disco Lives
Friday, April 6 2018
11:30 PM - 03:00 AM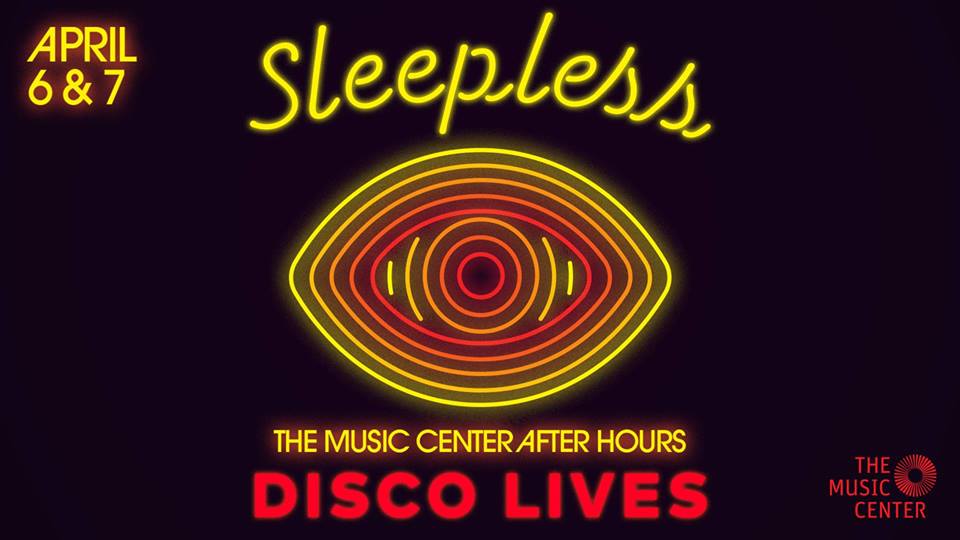 DISCO LIVES
UNPRECEDENTED 2-NIGHT EVENT!
APRIL 6 & 7
For two nights, The Music Center's Dorothy Chandler Pavilion transforms into a Disco wonderland clad in gold and mirrors. Flash back to the scene and the music that fueled the late-night experiences of party-goers with pulsating beats, ecstatic dancing and indulgent fashion. Experience the evolution of Disco from its underground club roots and the cultural explosion of the late 70s, to its undeniable influence on current dance music and aesthetics.
This edition of Sleepless: The Music Center After Hours celebrates the Disco era that burned bright and shines on. Tickets on sale March 26!
SLEEPLESS LINEUP:
> View iconic Disco images from the 70s and rare glimpses of underground club culture with enveloping, large-scale projections by Love Injection.
> Rub shoulders with roller skaters Indy Jamma Jones, Kim Manning  and Estro Jen as they welcome you to the event, skating to a mix tape by dublab's Daniel T blasting from an original Lasonic boombox. [Friday night]
> Find yourself dancing to obscure gems from corners of the Disco universe such as Latin, Cosmic, Italo and Gospel Disco at the Sleepless Underground Garage. Dublab brings Nicky Siano [Friday night], Dirty Dave, Bianca Lewis and Greg Belson [Saturday night], spinning classic sounds of the 70s to current tracks that keep Disco alive.
> Encounter pop-up dance happenings by Invertigo Dance Theatre, dropping a touch of Disco magic into the present.
> Immerse yourself in Disco culture at the Grand Cinema Salon, featuring rare trailers and seldom-seen clips curated by the Academy of Motion Picture Arts & Sciences along with screenings of full-length, Disco-inspired films. On Friday night, get down with Saturday Night Fever, and, on Saturday, go on a journey of self-discovery with Daft Punk's Electroma.
> Catch your reflection in Light Leaks, a larger-than-life mirror-ball installation by artists Kyle McDonald and Jonas Jongejan.
> Put on your best Disco face at the Before the Disco makeup stations where professional makeup artists dole out the glitter and glam.
> Take a piece of the disco home with a personalized mini disco ball [Friday night] or Spirograph art [Saturday night] from workshops led by artist Peggy Hasegawa. Tinker with vintage typewriters and create a typed memento with exercises guided by writer/poet Brian Sonia-Wallace and Linda Ravenswood of Melrose Poetry Bureau.
> Experience live Disco music! Luxxury, Secret Circuit and Heidi Lawden [Friday night] andDe Lux, Project Sandro and Arman Nafeei [Saturday night] DJ and play live sets at the Sleepless version of Studio 54. Boogie to the sounds of Disco from its halcyon days to its evolution into Funk, Pop and EDM, curated by dublab.
> Head to the 5th floor where Stephen Galloway curates the Sleepless After Dark Penthouse Lounge featuring performances by cast members of the documentary Werk of Art by director Abel Soto, Stephen Galloway's Disco Dance Revue, a fashion installation courtesy of Cameron Silver of Decades and Special Guest DJ Lady Bunny. [Friday night]
> Jump into the deep end of Disco with cosmic and experimental pre-recorded mixes by dublab's Cooper Saver and Jen Ferrer [Friday night] and Daddy Differently and Pinchy Don[Saturday night].
> Enjoy lighting by Sohail E. Najafil of Stories Illuminated, art direction by Katie Byron, sound design by Alejandro Cohen of dublab and projections by Michael Ohsann.
Cocktails and small bites available for purchase. Disco-inspired cocktails curated by Disco Dining Club.
NOTE: Information and artists subject to change.
Tickets are non-transferable and not exchangeable.
The Music Center: Performing Arts Center of Los Angeles
135 N Grand Avenue, Los Angeles
See more events at this location »
Get Directions: