Shelley Burgon // Derek Gaines // Small Drone Orchestra
Sunday, February 11 2018
08:00 PM - 10:00 PM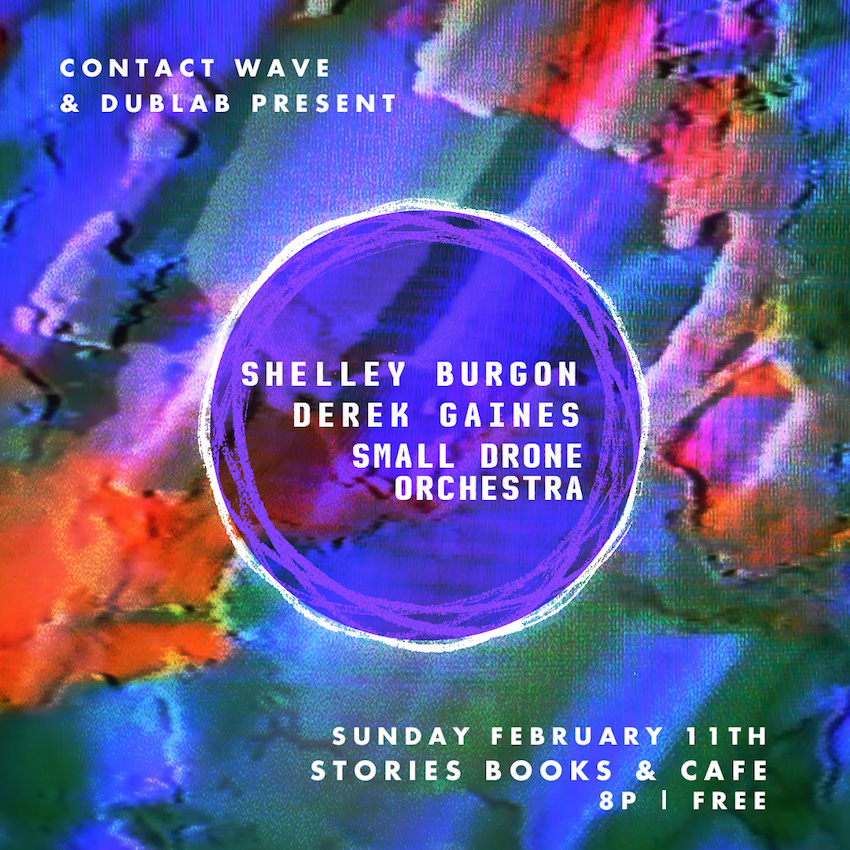 Contact Wave + dublab Present: An Experimental Sunday at Stories
(VOLUME IX)
A free evening of sublime and adventurous sounds, featuring the sonic explorations of
SHELLEY BURGON
DEREK GAINES
SMALL DRONE ORCHESTRA
///
Multi-instrumentalist Shelley Burgon is best known for her improvisational work using harp and laptop. Shelley is currently a member in the chamber group Ne(x)tworks featuring Joan La Barbara and in Anthony Braxton's Septet. As a soloist she performs ambient, ethereal, electronic music.
Read full bio here: http://shelleyburgon.com/cvbio/
Listen here: https://soundcloud.com/shelleyburgon
Look here: https://www.instagram.com/shelleyburgon/
New York City born, Los Angeles resident Derek Gaines is one half of the psych rock band Jerkagram. His solo material focuses on minimalist repetition and meditative yet engaged sound.
SMALL DRONE ORCHESTRA
Small Drone Orchestra is the solo project of sound artist Don Lewis.
He uses bowed bass guitar and analog synth tuned to a single fundamental pitch to create panoramas of shifting overtones that allow the listener to take extended mental excursions.
Collaborative partners have included Leticia Castaneda, Albert Ortega and Joe Potts. Don sees his practice as aligned with the seminal noise collective the Los Angeles Free Music Society, and the 60s New York trance group Dream Syndicate founded by LaMonte Young, Tony Conrad, and John Cale.
Small Drone Orchestra has played such festivals as Soundwalk in Long Beach, CA, Norcal Noisefest in Sacramento, Santa Ana Noisefest, and "Los Angeles Free Music Society: Beneath the Valley of the Lowest Form of Music" at The Box, Los Angeles, CA.
Small Drone Orchestra can be heard on the LAFMS Box Box compilation (The Box, 2016).
smalldroneorchestra.bandcamp.com
soundcloud.com/small-drone-orchestra
///
Stories Books and Cafe
1716 Sunset Blvd, Los Angeles
See more events at this location »
Get Directions: