George Jensen & Heavy Hymns w/guest Noel Meek, Patrick Shiroishi, Peter Kolovos – Quietdudes
Thursday, July 12 2018
06:00 PM - 08:00 PM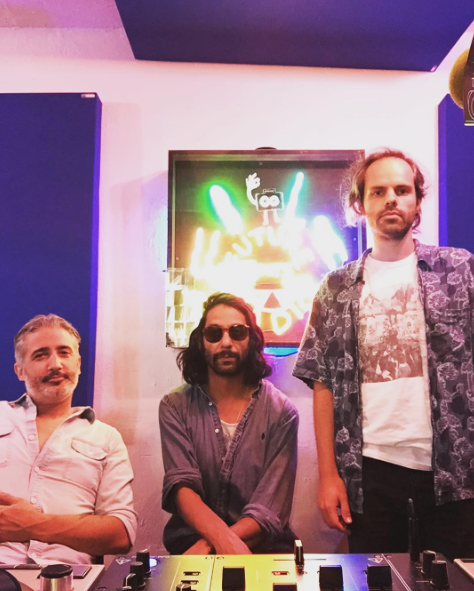 Noel Meek is visiting again from New Zealand to bring the skronk!!!
Re-joining broken-angel saxophonist Patrick Shiroishi and noise-guitar legend Peter Kolovos to reform their power improv trio and celebrate their upcoming album on Astral Spirits: "The Master Speaks Thrice".
Noel Meek + Peter Kolovos + Patrick Shiroishi
"The curse of contrived seriousness is often the Achilles heel of experimental music. Not in the hands of Noel Meek. Meek's joyous approach to music [is] evocative of a child joyously colouring with no regard for keeping within the lines." – The Wire
Noel Meek is an improvising electronic musician from Wellington, New Zealand. His solo work has been described as "sheer joy . . . unexpectedly bottled in analogue gizmo rituals." (The Wire), "chaotically playful noise music," (The Quietus) and "pretty whacked," by Byron Coley. He has played and recorded with the likes of Sun Araw, Lasse Marhaug, Richard Youngs, Mette Rasmussen, Neil Campbell, Alexander Tucker, Tetuzi Akiyama and Bruce Russell.
https://noel-meek.bandcamp.com/
Peter Kolovos has a distinct style of annihilating common notions of guitar playing. Bruce Russell once likened his playing to "Derek Bailey covering The Resident's Duck Stab," while David Keenan has described him as having the "dexterity of Bailey directed more towards Mars-style tonal confusion." Whichever take makes more sense, each Kolovos performance carries its own internal logic, a methodical and fervent approach to randomness that bleats pure emotion and raw skill.
https://thinwrist.bandcamp.com/album/black-colors
Patrick Shiroishi is a Japanese-American multi-instrumentalist based in Los Angeles. He explores solo saxophone in acoustic and electronic settings, as well as in several improvising units. He leads an instrumental quintet Black Sun Sutra and collaborates in brutal prog unit Upsilon Acrux, Zeuhl Band Corima as well as the sax-drum duos in the Womb & Oort Smog. He has toured the United States as well as Europe.
https://patrickshiroishi.bandcamp.com/
They will need two mics one for the guitar amp and one for the saxophone. Noel will just need a small mixer. Pretty simple set up.
They will be playing in the later part of our show. After 7pm.

,
See more events at this location »
Get Directions: