Aura T-09 w/guest Knightwerk Records – Radio T-09
Thursday, April 12 2018
10:00 PM - 02:00 AM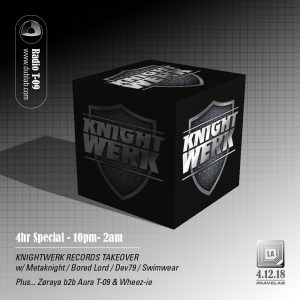 Radio T-09 is a monthly program occurring the 2nd Thursday of every month from 10pm to Midnight. The show is devoted to experimental dance music from a wide variety of electronic sub genres. The focus is on remaining undefined with an interest in exploring the hybrid/transitory spaces between already intrenched genres.
Radio T-09 is run and operated by Aura T-09, who will be djing, hosting guests and collecting mixes from underground artists from around the world.
Nightwerk is a record label established in 2013 by avid club enthusiast, Daniel Miller, in California. Miller's curation has always focused on the gritty and raw sounds of Club, Techno, Hip-Hop, Ballroom and other genres that derive from early House music. In the present day, electronic music encompasses a vast array of sounds and genres but Knightwerk carefully works with artists that they truly believe are timeless in nature. Often times these types of artists establish their sound through experimenting with under represented genres of music and they similarly come from under represented communities, so unity and growth have become strong core values to the Knightwerk imprint.

,
See more events at this location »
Get Directions: