Marshall Allen & Friends
Thursday, January 4 2018
08:00 PM - 01:00 AM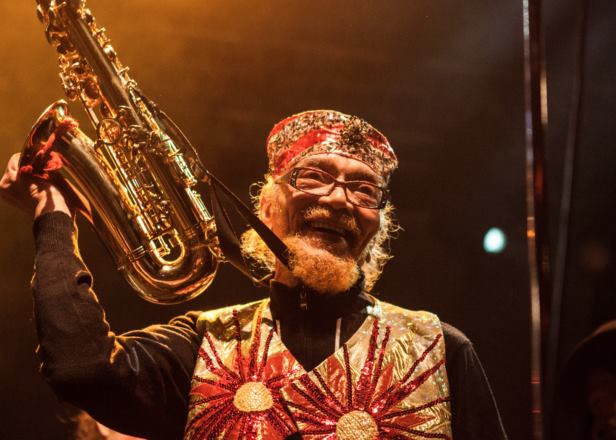 Please join us for this very special visit by Sun Ra Arkestra bandleader Marshall Allen, with Bobby Bradford (trumpet), Don Preston (keys), Elliott Levin (winds), JP Maramba (bass) & Ryan Sawyer (drums).
DJ Set By Uncle Power
2478 N Fletcher Dr
Los Angeles, CA, 90039
Doors 8:00 PM (event ends at 1:00 AM)
Marshall Allen
Marshall Belford Allen (born May 25, 1924 in Louisville, Kentucky) alto saxophonist, multi-instrumentalist (flute, clarinet, oboe, kora, and Electronic Valve Instrument), composer, bandleader, and arranger. Best known for his long association with Sun Ra, lasting from the late 1950s until Ra's death, after which Allen has continued to lead the Sun Ra Arkestra.
At 18, Marshall enlisted in the Army's 92nd Infantry (renowned as the Buffalo Soldiers), playing clarinet and alto saxophone in the 17th Division Special Service Band. Stationed in Paris during World War II, he played with pianist Art Simmons and saxophonist Don Byas, and he toured and recorded with James Moody during the late '40's. Upon honorable discharge, Mr. Allen enrolled in the Paris Conservatory of Music, studying clarinet with Delacluse. Returning to the States in 1951, Marshall settled in Chicago, where he led his own bands, playing in clubs and dance halls, while writing his own music and arrangements, as he continues to do today.
Zebulon Café Concert
2478 Fletcher Dr, Los Angeles
See more events at this location »
Get Directions: