DUBLAB 18th Anniversary Fundraiser
Saturday, October 7 2017
03:00 PM - 01:00 AM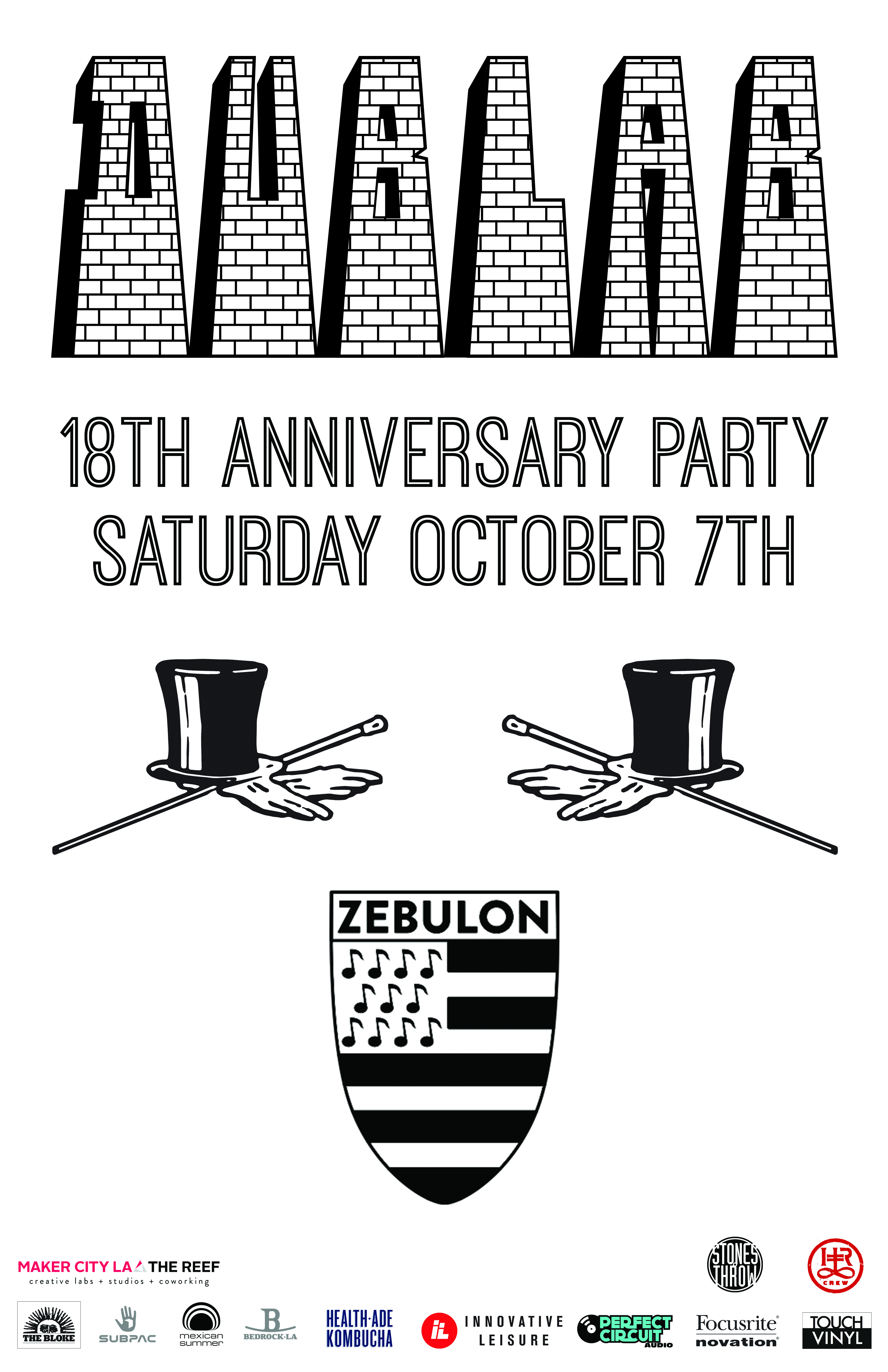 DUBLAB 18TH ANNIVERSARY PARTY
SATURDAY, OCTOBER 7, 2017
3 PM – 1 AM
Location:
Zebulon LA, Salazar, and Altamirano on the 2400 block of Fletcher Dr., LA 90039 in the Atwater Village neighborhood.
DUBLAB is hitting Frogtown, one of LA's most creative neighborhoods along the LA River.  The online radio pioneer will be celebrating 18 years of broadcasting freeform music and new independent voices from Los Angeles and worldwide.
On Saturday, October 7th, 2017, the creative collective will be throwing an all-day block party fundraiser featuring live music performances, DJ sets, and art visuals from an array of eclectic artists including Frankie Reyes, Jimmy Tamborello, Devendra Banhart, Julia Holter, Gary Garay, and not-to-be-missed surprise guests.
Dublab is partnering with contemporary music venue Zebulon, taco haven Salazar, and Altamirano records to host the multi-location shindig.
With main performances playing out of the indoor-outdoor concert space Zebulon, DJs will also be spinning in the colorful patio of Salazar restaurant. The multi-location shindig will have partygoers mingling to the worldly vibes in Zebulon's front-lounge, moving to the live sounds of the eclectic main room, and dancing to the beats and grooves of the sunset-lit patio. The block party experience continues next-door where they can drink+dine al-fresco, enjoy uptempo vibes and take in the deliciousness of Salazar.
The HIT+RUN team, known for activating events with wearable art, will also be on deck screenprinting one-of-a-kind designs from Dublab's community of underground artists.
In previous years, the annual fundraiser party has hosted Flying Lotus, Animal Collective, The Egyptian Lover, Gilles Peterson, Groudislava, Peanut Butter Wolf, Teebs, Gaslamp Killer, Daedelus and many others.
Get your TICKETS >> HERE!
For latest updates on the DUBLAB 18th Anniversary including the lineup, check back often, RSVP to our Facebook Event page and be sure to follow @dublab and #Dublab18!
Dublab gives huge thanks to the following sponsors for making this event possible:
Sub Pac
Perfect Circuit
Focusrite
Bedrock
Innovative Leisure
Maker City LA @ The Reef
Mexican Summer
Touch Vinyl
Health-Ade
HIT+RUN
Stones Throw Records
The Bloke
Zebulon
2478 Fletcher Drive, Los Angeles
See more events at this location »
Get Directions: