Dublab & Dutty Artz Present: Papago Warrior, Sonido La Cumbia, Rumbandela & Xandão
Thursday, August 17 2017
07:30 PM - 10:00 PM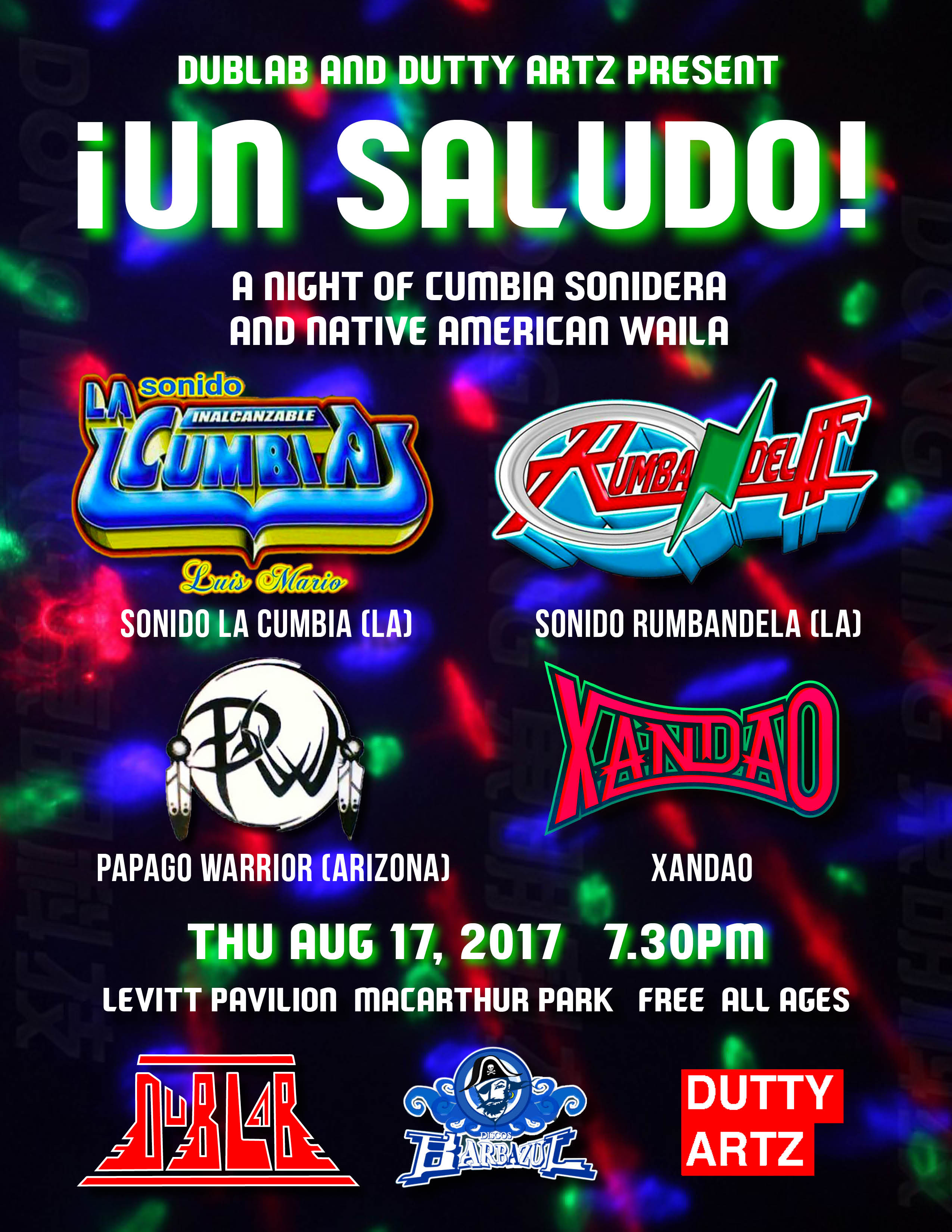 DUBLAB & DUTTY ARTZ PRESENT:
¡UN SALUDO!
A Night of Cumbia Sonidera and Native American Waila
Papago Warrior is an 8-member band from the Tohono O'odham Nation that plays waila, an indigenous social dance music from Arizona-Sonora, Mexico border which blends cumbia, mazurka, and norteña. Driven by accordion, electric guitar, and saxophone riffs, and a heavy rhythm section, Papago Warrior (P-Dub) infuses native waila (from bailar) with infectious reggae-tinged reinterpretions of cumbia. In addition to playing throughout the Tohono O'odham Nation, Papago Warrior has performed at the National Museum of the American Indian, the John F. Kennedy Performing Arts Center in Washington, D.C., and been featured at the Native American Music Awards (NAMA). Since 2005, they have released multiple albums.
Los Angeles-based, Sonido La Cumbia and Sonido Rumbandela are sound system sonidero DJs who mix bass-heavy Mexican cumbia while vocally delivering fans' dedications to absent loved-ones and family members. These saludos (shout-outs) create an auditory archive of feelings of longing and love for families separated by the border. They are renowned for their skillfulness on the mic and for their powerful, effects-heavy sound systems.
Xandão is a DJ, anthropologist, and dance-floor ethnographer. She recently produced and curated ¡Un Saludo! Mexican Soundsystem Cumbia in LA, a compilation which highlights how Discos Barba Azul, a small music shop and label in downtown LA, became a hub of border-crossing cumbia sonidera and the genre's most significant distributor in the United States.
This concert is FREE!!! and all ages
For more info VISIT
Levitt Pavilion at MacArthur Park
MacArthur Park, Los Angeles
See more events at this location »
Get Directions: