The Arts of Opposition: Art and Social Change in the Age of Trump
Monday, April 24 2017
07:30 PM - 09:00 PM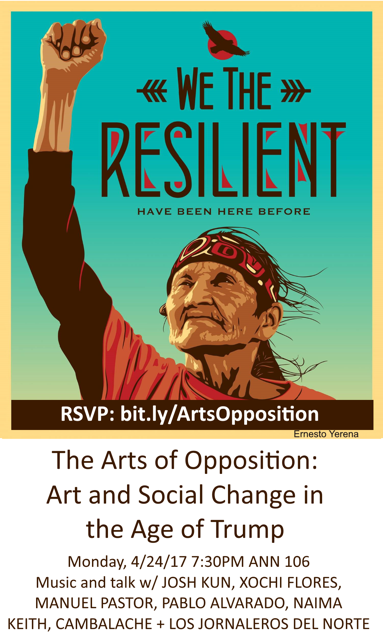 "The Arts of Opposition: Art and Social Change in the Age of Trump" features performances by bands Cambalache and Los Jornaleros del Norte, followed by a discussion with National Day Laborer Organizing Network leaders Xochi Flores and Pablo Alvarado, Naima Keith from the California African American Museum, USC professor Manuel Pastor and others, led by Professor Josh Kun. This event is a collaboration between the Popular Music Project at USC Annenberg's Norman Lear Center and USC Dornsife's Center for the Study of Immigrant Integration.
Monday, April 24, 2017 | 7:30-9:00PM
USC Annenberg School for Communication and Journalism, ANN 106
Refreshments will be served. RSVP required.
USC Annenberg School for Communication and Journalism, ANN 106
3502 Watt Way #304, Los Angeles, CA 90089,
See more events at this location »
Get Directions: