Andando: Erika Moreira
Saturday, March 4 2017
07:00 PM - 11:00 PM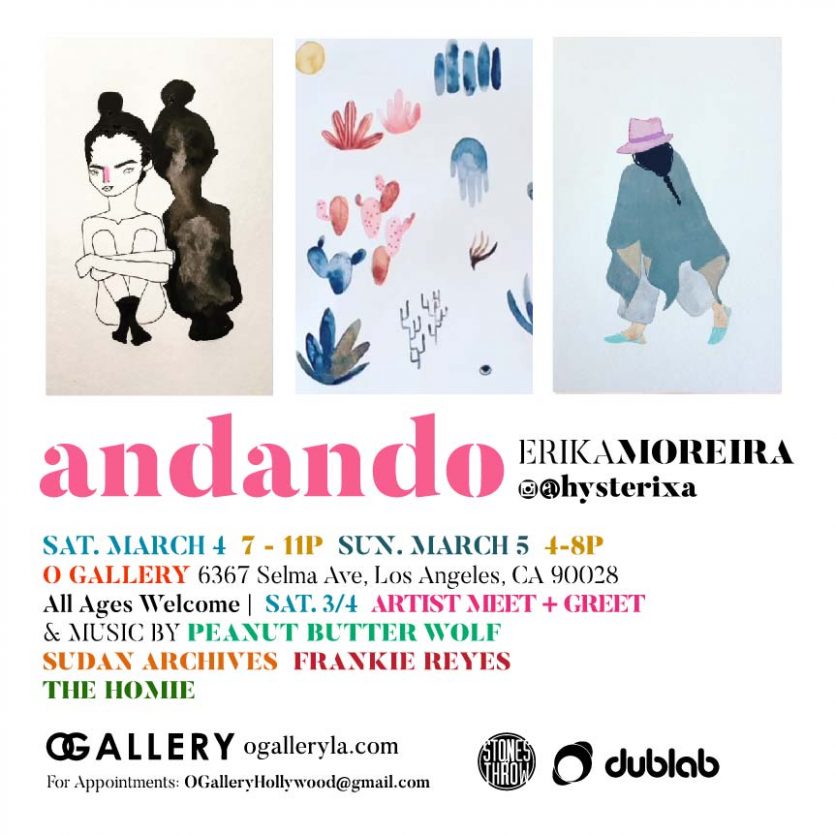 Artist Meet + Greet w/music by:
Peanut Butter Wold, Sudan Archives, Frankie Reyes & The Homie.
All Ages Welcome
ANDANDO in Spanish translates to the literal term of walking.
Travel across a collection of paintings by debut artist, Erika Moreira. Explore through images of heritage, culture, the whimsical and even darkness. Designed for all who embrace the ethereal and imagine in watercolors.
Erika Moreira is a Los Angeles based (born and raised) artist. She holds a dual BA from the University of California, Irvine and an MA at Loyola Marymount University in Clinical Art Therapy. In training to become a pyschotherapist, she often found herself putting brush to paper. After a series of IG posts this past Inktober, she was encouraged by friends and family to have a show. Erika's creations are often inspired by the Ecuadorian heritage of her parents, her personal Southern Californian upbringing, and her travel experiences around the globe.
O Gallery
6367 Selma Ave, Los Angeles 90028
See more events at this location »
Get Directions: