DJ Greg Belson vs Black Vibration DJ's- The Divine Chord Gospel Show "Soundclash Session"
Wednesday, September 27 2017
02:00 PM - 03:00 PM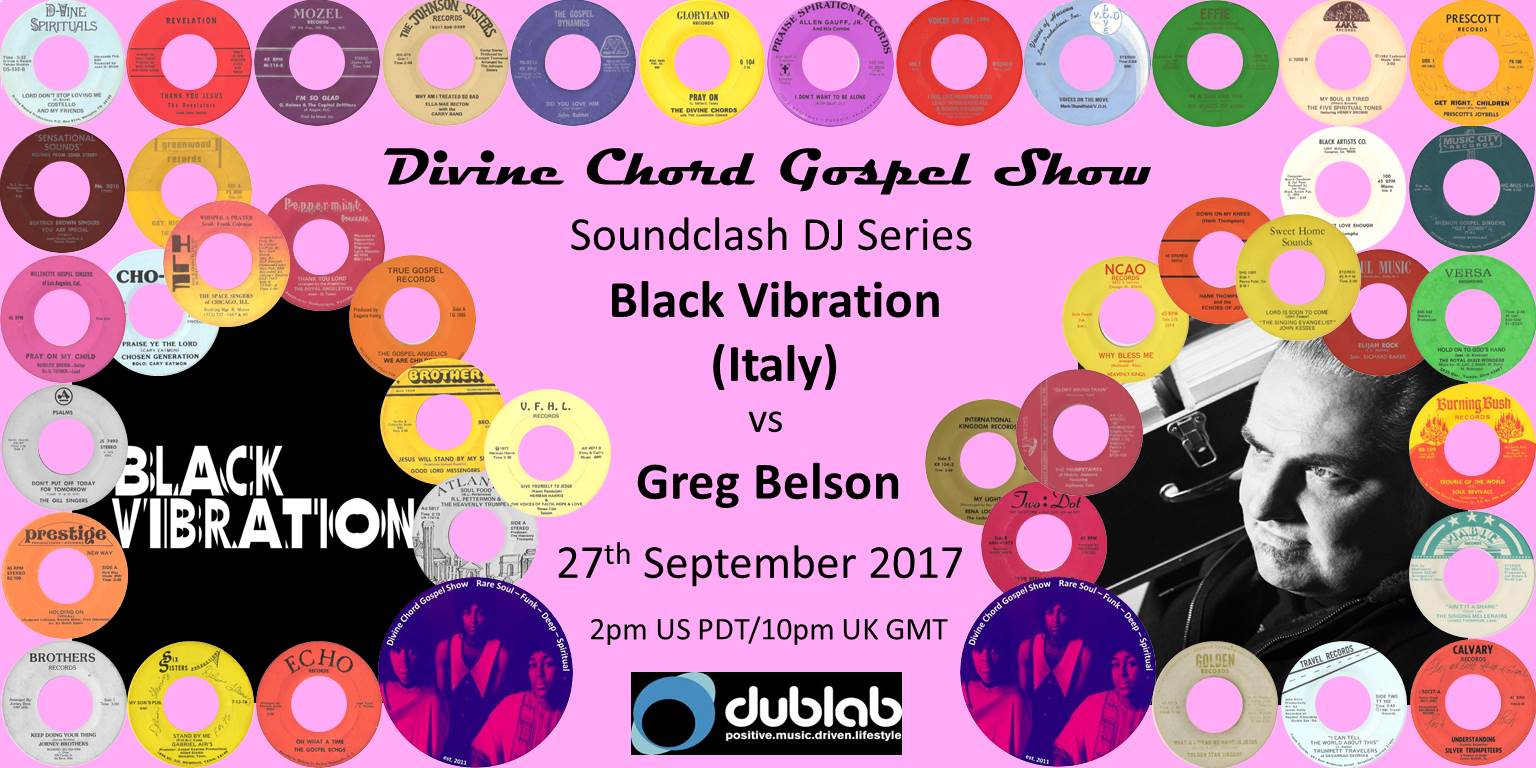 A series of monthly radio shows hosted by Greg Belson on dublab.com, dedicated to gospel soul, funk and spirituals from the 1960's thru to the 1980's.
The Divine Chord Gospel Show branches out into gospel influenced cuts and artists that crossed over to performing secular cuts too; so plenty of rarities all played from original vinyl, either on 45 or LP format. The Divine Chord Gospel Show Facebook Page
September rolls ahead once again, and we're windin' up the Soundclash Series….for one session only. Audio fightin' outta Salerno Italy, representin' the OG wax crew;
Black Vibration DJ's
Black Vibration is a fresh crew initiative and brainchild of several of Italy's heaviest collectors. Here, the 5 strong crew flex their gospelized muscles and floss the spiritually touched raers. Stepping up to the plate, we have;
Paolo Caravano
DJ Pio
Alfredo 'DJ Arnold' Maddaloni
Emiliano Fezza
DJ Kowu
They'll be coming correct in the second hour of the show….your host will handle the gauntlet for the first hour, as we continue this one-of-a-kind 'Soundclash' session, dedicated to gospel music.
Join us on 27th September @ 2pm US PDT (10pm UK GMT) for two hours of sweet sweet, modern soul rarities….the kinda stuff you won't have heard before.
If you're of a forward thinking nature about your soul music, best be advised to sit in and lend an ear….it's a modern soul special, people!
It's a two hour battle royal, as we share the diggers knowledge from the crate to your listening device…..right here…..via dublab.com.
dublab.com
,
See more events at this location »
Get Directions: