Jazz Band Masecki-Mlynarski concert
Wednesday, December 26 2018
07:00 PM - 09:00 PM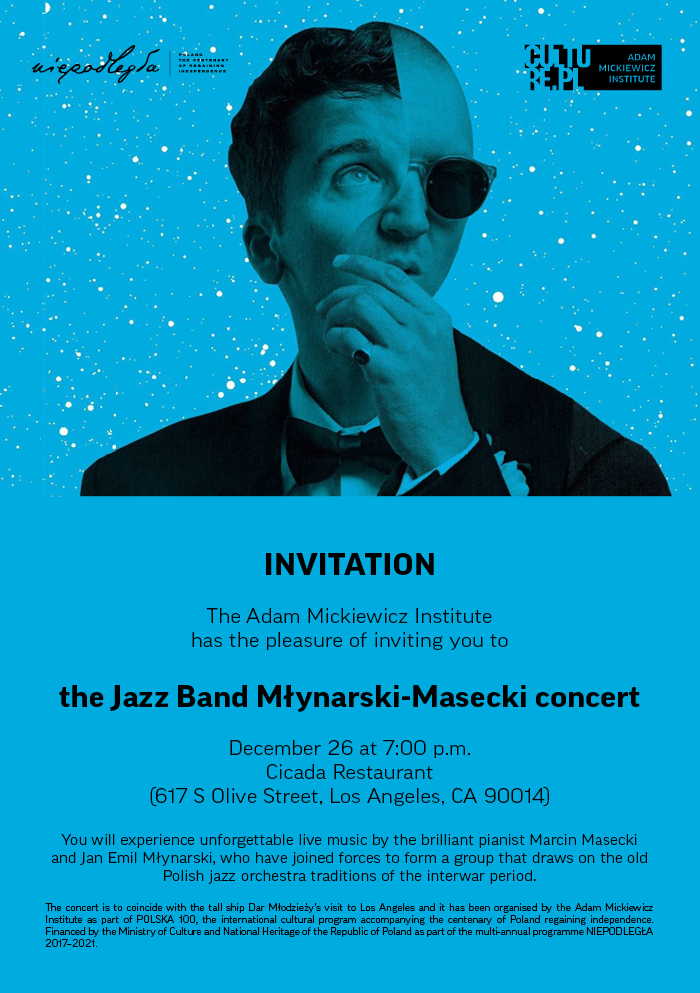 The Adam Mickiewicz Institute Presents the Jazz Band Masecki/Mlynarski Concert December 26 at the World Famous Cicada Restaurant & Club
Experience unforgettable live music by the brilliant pianist Marcin Masecki and Jan Emil Mlynarski, who have joined forces to form a group that draws on the old Polish jazz orchestra traditions of the interwar period, and at the same time using modern arrangements. Marcin Masecki and Jan Emil Mlynarski, will perform live on Wednesday, December 26, 2018 at the world famous Cicada Restaurant and Club presented by Adam Mickiewicz Institute.
Contrary to popular opinion, jazz did not make it to Poland on the waves of Radio Free Europe, heard in secret. The first Polish jazz songs were created at the end of the twenties of the last century. Prominent composers such as Henryk Wars, Jerzy Petersburski or brothers Artur and Henryk Gold, listened to overseas or Berlin albums, created hits for the needs of film, cabarets, theaters and revues, as well as for the order of more and more record labels such as Columbia or Syrena Record. In this way, until 1939, thousands of compositions and recordings were made with the participation of outstanding instrumentalists as well as singers and actors. The Second World War crossed out her life stories, interrupted continuity and ended the period of "prosperity" of the young Polish show business, but not irretrievably! The outstanding pianist Marcin Masecki together with Jan Emil Młynarski set up a band referring to the old tradition of Polish inter-orchestra jazz bands.
The Jazz-Band repertoire included swing pieces, mostly unknown. There will also be a few special tangas from which Polish composers were known around the world. The whole undertaking is focused on the spirit of Adam Aston – the most outstanding Polish pre-war singer and Henryk Wars – the most important Polish pre-war pianist, arranger and composer. Marcin and Janek somehow compensate for the lost chances of an entire generation of Polish entertainment artists who in the bloom of prosperity had to flee, fight, die, and emigrate orphaned Polish music in an irreplaceable way. Marcin's arrangements and Janek's voice gave a completely new breath, making this music current and utilitarian, to dance and thrill.
---
Event Info:
Doors Open at 7 pm | Band Starts at 7:30 (70-80 min set)
RSVP: maseckimlynarskiband1226@gmail.com
Cicada restaurant & Club
617 South Olive St., Los Angeles
See more events at this location »
Get Directions: