Ale w/guests Dos Feeliz and Francesca Ter-Berg – Elevation Through Sound
Wednesday, September 27 2017
10:00 AM - 12:00 PM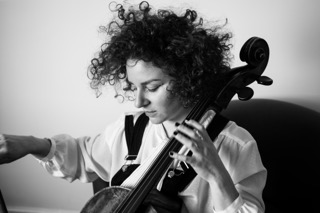 This episode will feature special guests Dos Feeliz
SF/LA duo Dos Feeliz wrote and recorded its debut EP, 'Most Realest' (Plug Research Records), over five trips to Downtown Las Vegas this past year. On each expedition, Dos Feeliz took up residence at the El Cortez, a casino owned in the 1940s by Bugsy Siegel. The duo converted their suites into makeshift recording studios by installing whatever lightweight gear they could cram into their carry-ons and by making use of found objects, like the packing foam from a hotel alcohol shipment, which became a reflection filter for an on-the-fly vocal booth.
In the second hour, Ale will be joined by:
Cellist, songwriter and composer Francesca Ter-Berg is an explorer of musical genres, from Klezmer to Indian classical music, free-improvisation to live electronics. She has been a vibrant and versatile member of the London music scene for over 10 years, and is an established collaborator and performer. She has worked with a wide range of award-winning artists, toured internationally, played on TV and radio, and is a sought-after creative session musician. Her extensive involvement in the UK and international musical landscape includes collaborations with Talvin Singh, Hejira, Lauren Kinsella, Sam Lee, Floating Points, Frank London (The Klezmatics), The London Klezmer Quartet, The Unthanks, Lisa Knapp, Gerry Diver, Portico Quartet, Riz MC, Tanita Tikaram, Roger O'Donnell (The Cure), London Klezmer Quartet, Laura Jurd and many more. From 2010 to 2014 she was Music Director, tour manager and band member in Mercury-nominated band Sam Lee & Friends, and from 2009 to 2013 she was Creative Programmer and Outreach Officer for the Jewish Music Institute at SOAS.
Francesca's current creative projects include the experimental folk duo Fran & Flora with violinist Flora Curzon, and her own solo performance project combining cello, voice and live electronics. Francesca's other interests include travel, food and nature. From 2010 to 2014 she was co-chef of the London based pop-up restaurant World Brunch Club, which included collaborations with Turner Prize-winning collective Assemble. She also regularly volunteers with the food waste fighting charities Food Cycle and Feedback. Francesca is a passionate educator and has coached ensembles at SOAS, Newcastle University, The Sage and The Roundhouse as well as KlezFest London.
In 2016 Francesca completed a Masters degree in Popular Music at Goldsmiths College. In 2017 she was awarded a scholarship to attend the Jazz & Creative Music Program at the Banff Centre, Canada under the direction of Vijay Iyer. Francesca is currently working on her first solo album.
Alejandro Cohen is a musician and composer from Los Angeles, California. He has written and performed music as part of numerous projects and groups, including Languis, Pharaohs and Psychic Powers. He is also a composer of music for TV shows, documentaries and educational materials. Ale works at dublab as part of the full time office team along with frosty and Lavenders.
dublab.com
,
See more events at this location »
Get Directions: