DUBLAB '14TH ANNIVERSARY' CELEBRATION
Saturday, September 21 2013
08:00 PM - 02:00 AM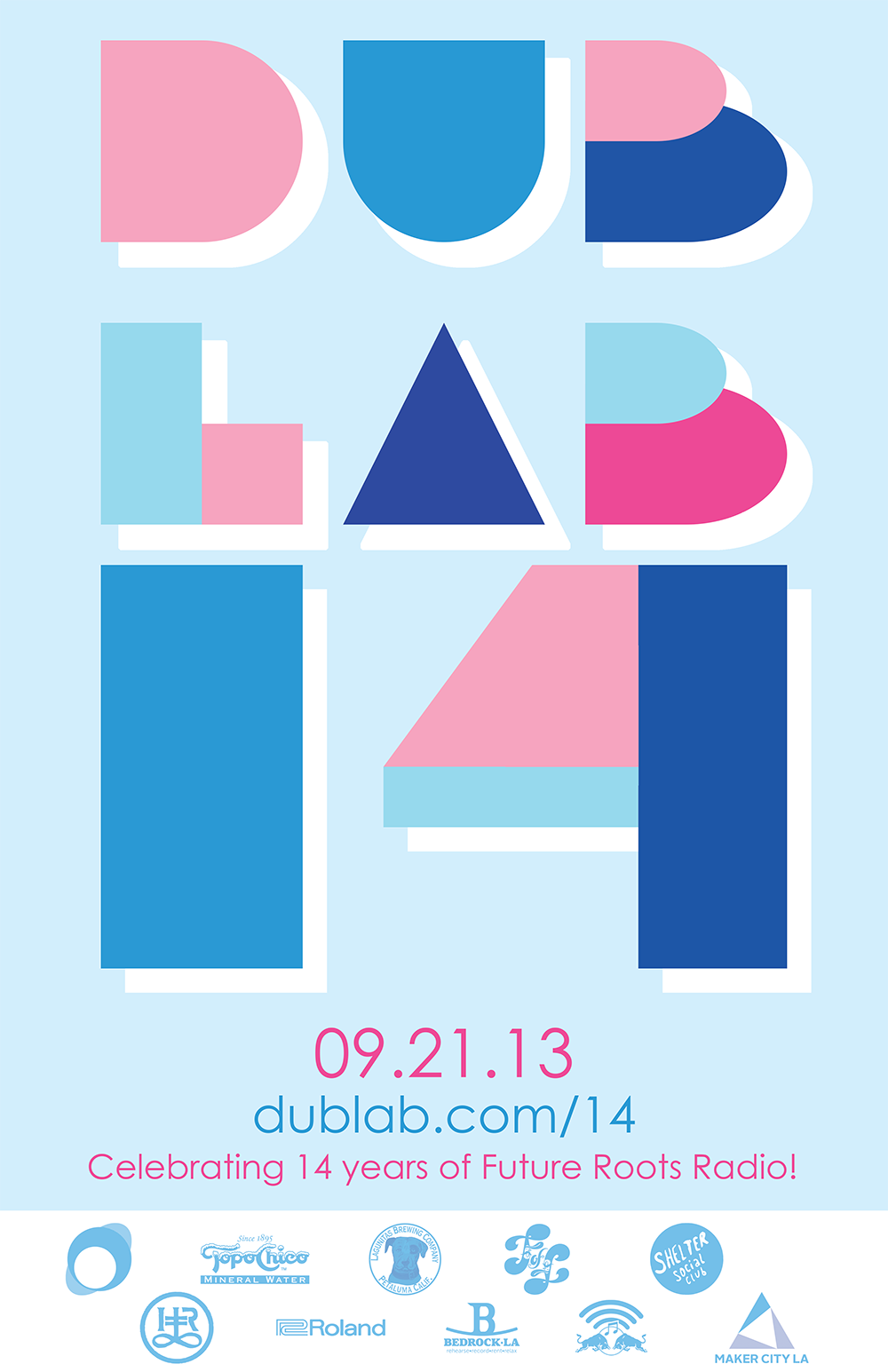 dublab.com is celebrating 14 years of sonic adventures with an epic happening on Saturday, September 21st at Maker City LA.
The anniversary celebration will feature musical performances, DJ sets, film projections, live screen-printing, food trucks, beer & wine bar, art activations and a gathering of LA's creative community.
This showcase of dublab's wide spectrum offerings will also serve as the public unveiling of Maker City LA, a new creative hub housed within the downtown design hub, LA Mart. All proceeds raised will benefit dublab's non-profit music mission.
** FREE ENTRY 8-10PM **
MUSIC ZONES:

BOOGIE ZOOGIE
08:00: Jake Jenkins
09:00: Nightchilde & Remy Marc (VSSL)
10:00: Sodapop & Low Limit
11:00: Ras G (rocking the new Roland HandSonic HPD-20)
11:30: DJ /Rupture
12:30: Mamabear (Sweater Funk)

COSMIC NOODLE
08:00: Carlos Niño
08:45: Cat 500
09:30: Nanny Cantaloupe
10:15: Dntel
11:00: DJ Lady C & DJ Egroeg
11:45: Sun Araw
12:30: Leaving Records Block: Matthewdavid, Trance Farmers & Salvia Plath

FUNKY FREAKS
08:00: Andres Renteria
09:00: Ruben Molina & Soulera (Southern Soul Spinners)
10:00: DJ Tom (Dub Club)
10:45: Slayron (Peaking Lights)
11:30: Awesome Tapes from Africa
12:00: Mas Exitos: Chico Sonido, DJ Lengua, Enorbito, Ganas, Hoseh & Tropicaza

WEIRDO DISCO
08:00: Deirdre Direktor
09:00: Austin H
09:45: Boo Aguirre
10:30: Pinchy Don
11:15: Nitedog
12:30: Thriftcotheque: Suzanne Kraft & Secret Circuit
* We will be broadcasting the night live on dublab.com & archiving highlights on Red Bull Music Academy Radio!
LIVE SCREEN PRINTING:
Choose your favorite designs and HIT+RUN will make a custom dublab t-shirt for you. Bring your own shirt to have it screen-printed for free or purchase one on the spot to help support dublab.
ART ACTION:
• Teebs: Live painting.
• Kozy Kitchens (Kozyndan): Caricature booth
• Austin Young: Open Studio for you.
• The Institute of Art & Olfaction: Custom scents reflecting sonic worlds by Alice Coltrane, Brian Eno & Kraftwerk.
• Machine Project: Institute for Experimental Table Tennis Research conducted by Raphael Arar in collaboration with master coach Steve Kunimoto. Gloves from EmazingLights will get your paddle swinging brightly as Jeepneys performs between rounds.
• Fallen Fruit: Get hands on in the Fallen Fruit Factory and help make custom works of art for an upcoming Hammer Museum project. Everyone who participates will earn credits toward acquiring someone else's object from the Hammer show.
• Photo Booth with original environment designed by Katie Byron.
VISUAL PROJECTIONS:
Alex Pelly
Animal Charm
Sun Araw's SSVR Viewing Center
LIBATIONS:
• Cash bar serving up Lagunitas Beer, Madria Sangria, Topo Chico Mineral Water, Red Bull & more!
• Japanese green tea brewed fresh in the tea room by Matcha Source.
• Complimentary snacks from KIND and 100% plant based gourmet franks for sale by The Franken Stand.
8pm-2am / FREE Before 10pm, $10 donation at the door after / 21+ to attend
Maker City LA
1933 S. Broadway
11th Floor of LA Mart
Los Angeles, CA
THANKS TO OUR GENEROUS SPONSORS:
Bedrock.LA
FoF Music
HIT+RUN
KIND
Lagunitas Brewing Company
Madria Sangria
Maker City LA
Matcha Source
Red Bull Music Academy Radio
Roland
Scion
search+resQ
Shelter Social Club
Topo Chico
dublab.com/14 / makercityla.com
Visit the Facebook Event Page for more info.
Maker City LA
1933 S. Broadway, Los Angeles
See more events at this location »
Get Directions: