PLEASURE TRIP w/ 40 THIEVES & PHARAOHS live
Saturday, January 19 2013
10:00 PM - 02:00 AM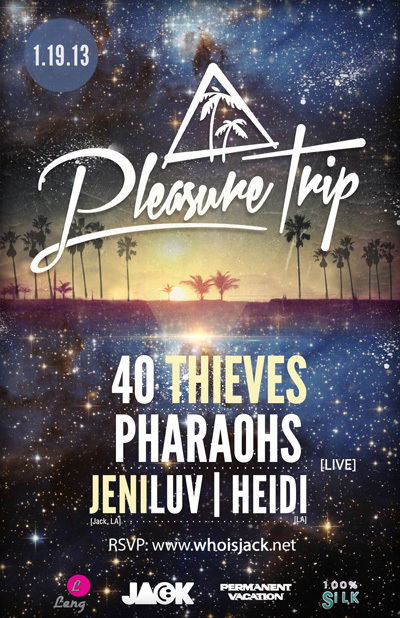 PLEASURE TRIP, LOS ANGELES – LIVE disco & dj's
with Jeniluv & Heidi
Pleasure Trip the party is a floating rolling rotating island in the stars of sound drifting between concrete warehouses on the industrial streets of LA and the shores of fancy hip hotel pools. Take a vacation in its reality.
RSVP MANDATORY: www.whoisjack.net
PRE SALE: http://www.residentadvisor.net/event.aspx?432314
PAYPAL PRE SALE: http://www.eventbrite.com/event/5043320708
40 THIEVES –
40 Thieves is a San Francisco based dance music collective with Corey Black, Layne Fox, Jay WIlliams (aka Jaswho?) at the helm.
Formed in 2005, 40 Thieves work slowly, and have only released a small handful worth of originals, and a handful of well selected remixes and edits to date. They have appeared on the labels Rong, Permanent Vacation, Chinatown, Tirk, Supersoul, and Strut, with new material for 2011 and beyond finding its way to the limited masses via Claremont 56′s sexy sister, Leng. Their remake of the obscure 70′s disco classic by Hot Chocolate, Don't Turn It Off (feat. Qzen) Brennan Green version was named #2 of 2009 year by DJHistory.com and landed at the top of Beatport's best of the decade in 2010.
Styles can range from psychedelic disco and blues to proto-house and acid, with influence stemming from years collecting records by artists like Larry Levan, Francois Kevorkian, Patrick Adams, Patrick Cowley, Arthur Russell, Sly & Robbie, Ron Hardy, Larry Heard, Kraftwerk, James Brown, Funkadelic, Chaz Jankel, Indeep and Liquid Liquid have all impacted the 40 Thieves sound.
PHARAOHS – live
'Uhh Uhh' is Pharaoh's debut single from this LIVE act…
Mesmerizing baggy bumps with an ounce of LA glamour, fresh in from the 100% Silk set. Paying tribute to the cement floors of the Haç and the sandy beaches of a phantasy Balaeria circa 1987. On the front you've got the swaggering title track, full of electric pianos, slow-motion strobe synths and urging acid bass arranged with an eye-fluttering psychedelic subtlety, while 'What ???' pushes the tempo up and unloads some swirling, honking sax-work like some stray Members Only edit. Rotate her for 'Flutter & Moan', a proto-prog-House jacker with entrancing arpeggios and memories of twinkle-eyed moments in the throng, before checking out to the "liquid sax/velvet breath' jazz bleats of 'Sunblitz'.
http://pharaohms.blogspot.com/
JENILUV –
Jeni Erickson started playing records in 1996, she bought her first record from Doc Martin. Originally from the underground house music scene of Los Angeles. Jeni made the move to San Francisco in 1997 where she dj'd, threw parties and fine tuned her ear at the club the Top, Sunset events and Wicked parties.
Heard throughout the disco scenarios of San Francisco, Jeniluv became known for playing deep acidic disco house in the underground and club scene. She made the move back to LA in 2007.
facebook:
http://www.facebook.com/pages/Jeniluv
soundcloud:
https://soundcloud.com/jeniluv/jeniluv-sunset-campout-2012
HEIDI-
read interview with Heidi Lawden, DJ Harvey's manager, A&R booker, dj who resides in Venice, CA:
http://thepool-london.com/loop/heidi-the-interview.html
soundcloud:
https://soundcloud.com/heidski
HOSTED BY ANDREW RIVIERA !!
*ISLAND ATTIRE & SPACE ADVENTURER GEAR ENCOURAGED*
*Limited capacity event!! PRE SALE TICKET RECOMMENDED!!
*RSVP does NOT guarantee your entry, tickets released at door / if any – will be based on pre sale sales. All ticket prices are firm, thank you for your support.
MORE INFO: http://whoisjackla.wordpress.com/featured-event/
FB PAGE: http://www.facebook.com/darkdiscodeephouse
RSVP ONLY
,
See more events at this location »
Get Directions: