Top Tape (Dual Form release party) meet Future Roots Array
Wednesday, November 7 2012
09:00 PM - 02:00 AM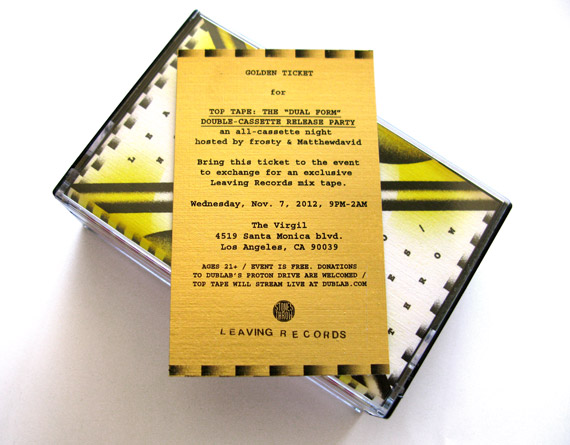 To celebrate the dublab Fall 2012 Proton Drive Fundraiser we will be presenting two rooms of dublab Future Roots music action at the Virgil. It will be broadcast live on the dub-stream. So please join us live or virtually!
STAGE SIDE: TOP TAPE
The dublab tape team have dug up their favorite cassingles, mixtapes, and cassette spooled albums for a night of magnetic music. Come enjoy the sounds of super saturation, hosted by Frosty + Matthewdavid and featuring an all-tape tag-team rotation of amazing djs. VHS visions mixed live on the big screen by Alex Pelly. Top Tape is co-presented by our brethren in sound, Leaving Records.
Special all-tape sets by Peanut Butter Wolf & MatthewdavidStones Throw and Leaving Records of DUAL FORM double cassette compilation.
Holders of the GOLDEN TICKET will receive a Leaving Records mix tape cassette by Matthewdavid. The GOLDEN TICKET is inserted into a few copies of Dual Form double cassette that's selling at these Los Angeles record stores –
Amoeba – 6400 Sunset Boulevard, L.A. 90028
Mount Analog – 5906 North Figueroa St, L.A. 90042
Poo-Bah – 2636 East Colorado Blvd, Pasadena 91107
Vacation Vinyl – 3815 West Sunset Blvd, L.A. 90026
Origami – 1816 West Sunset Blvd, L.A. 90026
LOUNGE SIDE: FUTURE ROOTS ARRAY
A non-stop wide-spectrum sound offering by DUBLAB DJS! Grab a drink and peruse the dublab Flash Pack table to pick up a holiday gift and support dublab.
FREE but donations to dublab appreciated / 21+ / 9pm – 2am
The Virgil
4519 Santa Monica blvd.
Los Angeles, CA 90039

The Virgil
4519 Santa Monica blvd, Los Angeles
See more events at this location »
Get Directions: