Light In The Attic 10 Year Anniversary Concert
Friday, September 28 2012
08:00 PM - 12:00 AM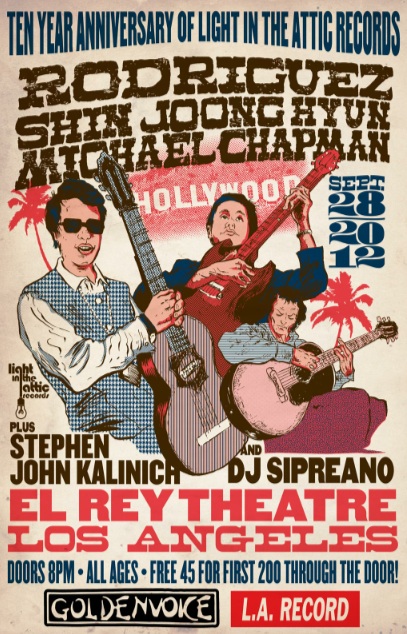 Buy tickets here!
09.28.12 | Doors @ 8pm | All Ages | $25.50
Light In The Attic Records is a Seattle & Los Angeles-based label specializing in reissues of obscure and over-looked sonic treasures, including renowned Detroit singer-songwriter Rodriguez, South Korean rock god Shin Joong Hyun, British psych-folk wizard Michael Chapman, and Beach Boys lyricist and poet Stephen John Kalinich. 2012 marks the 10-year anniversary of the label. To celebrate, these four legendary artists will be performing at the El Rey Theatre in Los Angeles on Friday, September 28th, 2012. A show not to be missed.
In the ten years since their inception, Light In The Attic has launched The Black Angels to the world and released rare treasures from funk-rock maverick Betty Davis, protopunk band The Monks, folk singers Karen Dalton, Jim Sullivan, and Michael Chapman, larger-than-life roubadours Serge Gainsbourg and Lee Hazlewood, Korean rock hero Shin Joong Hyun, and Memphis soul heavyweights Wendy Rene and Packy Axton.
The label has delved deep in to the history of their home town with vintage Seattle soul via the series Wheedle's Groove, reissued classics from country stalwarts Kris Kristofferson and the Louvin Brothers, brought rock-n-roll farmers Donnie & Joe Emerson to the public, expanded minds with the deeply vibrant Jamaica to Toronto series, and played a key role in the rediscovery of legendary singer-songwriter Sixto Rodriguez, recently celebrated in the Sony Pictures Classics critical hit film, Searching For Sugar Man (really, don't miss this!!). The list is long.
It's only right, then, that they're not letting an anniversary like this pass unmarked. Headlining this celebratory concert is Rodriguez, a man for whom rediscovery via Light In The Attic has taken him from obscurity to long-deserved fame. The line-up for this Los Angeles concert will also include the third ever U.S. performance by South Korea's 75-year old 'Godfather of Rock' Shin Joong Hyun, often described as "South Korea's answer to Brian Wilson, Jimi Hendrix and Simon Cowell." As only one of six guitarists to be the recipient of the Fender Custom Shop Tribute Series, joining the likes of Eric Clapton, Jeff Beck, Eddie Van Halen, Yngwie Malmsteen, and Stevie Ray Vaughan, Mr. Shin's influence cannot be understated. Also on the bill will be masterful British finger-picking wizard Michael Chapman who's released over thirty albums in his storied career, while recently touring with the likes of Will Oldham, Kurt Vile, and Thurston Moore. Renowned Beach Boys lyricist and poet Stephen John Kalinich will open the show.
In addition to the anniversary concert, Light In The Attic will be releasing a series of very special singles as colored vinyl 7"s and Digital downloads. The series features contemporary artists covering a track reissued by Light In The Attic on the A-side, plus the original version on the B-side. The series begins with Iggy Pop & Zig Zags covering Betty Davis, and the standard remains equally high.
The first 200 people through the door receive a free 45 single.  See you there!!
Buy tickets here!
09.28.12 | Doors @ 8pm | All Ages | $25.50
Poster art by Iron Forge Press
The El Rey
5515 Wilshire Blvd, Los Angeles
See more events at this location »
Get Directions: