dublab & LACMA Muse 'til Midnight present…LISTEN TO ART #2
Saturday, August 25 2012
08:30 PM - 12:30 AM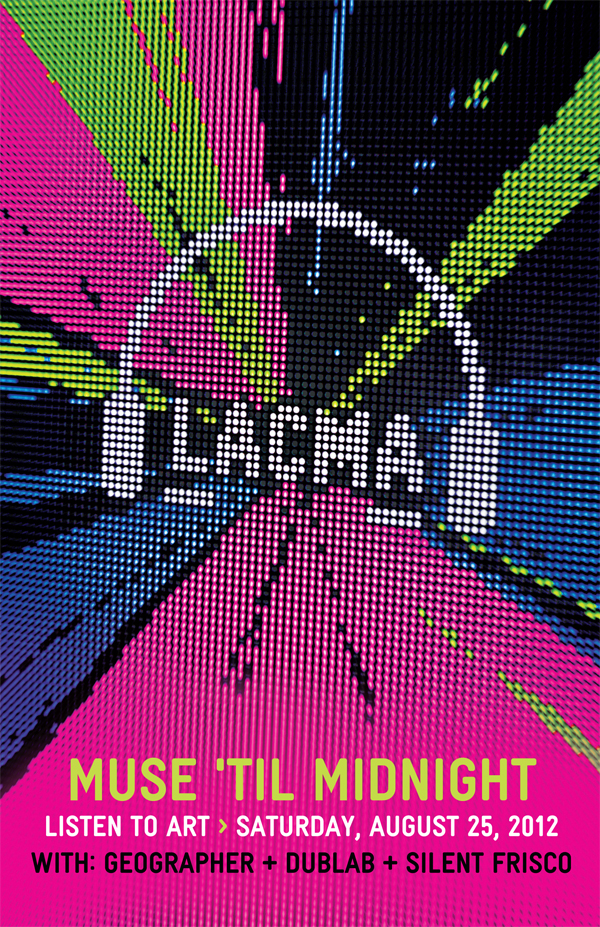 On 08.25.12 radio collective dublab again turns LACMA into a sonic adventure with this exclusive, after-hours event. Tour the museum's galleries with a tailor-made soundtrack featuring performances and interactive projects along the way. Then check out an exploration of sound, both amplified and silent, in front of LACMA's iconic Urban Light sculpture. This event is curated by dublab and presented by LACMA Muse, the museum's premier group for young art patrons.
——————–
BP GRAND ENTRANCE
CHRIS BURDEN "URBAN LIGHT"
SOUND ARTISTS: DUBLAB SOUNDSYSTEM & GEOGRAPHER
8:30-9m: Morpho (dj set)
dublab dj Morpho dials your ears into the right wavelength with an opening set on the Urban Light Stage.
9-10pm: GEOGRAPHER (live)
Called one of the "undiscovered bands you need to hear now" by SPIN, Geographer has risen from the ranks of the unknown with their incredible live shows filled with beautiful, haunting melodies. The backdrop of Chris Burden's Urban Light will make their LACMA set especially spectacular.
10pm-12:30am: DUBLAB SOUNDSYSTEM (dj sets)
The dublab soundsystem resonates in an expanded manner. A rotation of two djs at a time will perform simultaneous dance-focused sets. Using the two channel Silent Frisco headphone system you can choose the dj you want to listen to at any moment. Enjoy a wide spectrum of Future Roots music fine-tuned to get you moving.
10-10:30pm:
– Blue Channel DJ: Marion Hodges
– Green Channel DJ: Hoseh
10:30-11pm
– Blue Channel DJ: Thomas Klepper
– Green Channel DJ: Matthewdavid
11-11:30pm
– Blue Channel DJ: Hashim B.
– Green Channel DJ: Mor Elian
11:30-12am
– Blue Channel DJ: Sodapop
– Green Channel DJ: Holloway
12-12:30am
– Blue Channel DJ: DJ Slayron (Peaking Lights)
– Green Channel DJ: Soft Soil Music Club
——————–
BCAM: LEVEL 1, EAST
INSTALLATION: RICHARD SERRA "BAND"
SOUND ARTISTS: JOSEPH HAMMER & NANNY CANTALOUPE

Richard Serra's "Band" sculpture is perfectly paired with masterful, live magnetic tape manipulation by Joseph Hammer & Nanny Cantaloupe.
——————–
BCAM: LEVEL 1, WEST
INSTALLATION: CHRIS BURDEN "METROPOLIS II"
SOUND ARTIST: DAEDELUS
PERFORMANCE TIME: 11pm-12am
Daedelus performs a live, action-oriented score for the energetic zoom and bustle of Metropolis II.
——————–
BCAM: ELEVATOR
INSTALLATION: BARBARA KRUGER "UNTITLED (SHAFTED)"
SOUND ARTIST: DIVA
Diva activates the BCAM elevator with a luminous, live sound experience. As you move up and down she will help you project far out.
——————–
BCAM – LEVEL 2, WEST
INSTALLATION: SHARON LOCKHART | NOA ESHKOL
SOUND ARTIST: SILENT SERVANT
Silent Servant is one of the most renowned sound-wave creators in the minimal techno scene. He will offer a mesmerizing re-scoring of this elegant video dance installation.
——————–
BCAM – LEVEL 2, EAST
INSTALLATION: CHARLIE WHITE "THE SUN AND OTHER STARS"
SOUND ARTIST: PURO INSTINCT
The sisters of Puro Instinct create a mixtape custom made for the pink blast of the tween scene presented in Charlie White's installation.
——————–
BCAM: LEVEL 3, WEST
INSTALLATION: MICHAEL HEIZER "ACTUAL SIZE"
SOUND ARTISTS: LUCKY DRAGONS
Lucky Dragons use their custom built "rock" instruments and electronics to create a spontaneous soundtrack for this majestic installation featuring monolithic rock formations.
——————–
AHMANSON: LEVEL 1, SOUTH
INSTALLATION: ART OF THE PACIFIC
SOUND ARTISTS: FROSTY & JAKE VIATOR
An interactive sound installation by Frosty and Jake Viator conjuring an Oceanic voyage though the South Pacific Islands.
——————–
AHMANSON: LEVEL 2, NORTH
INSTALLATION: MODERN ART
SOUND ARTISTS: MIGUEL ATWOOD-FERGUSON & MARK DE CLIVE-LOWE
PERFORMANCE TIME: 9:30-11pm
Miguel Atwood-Ferguson & Mark de Clive-Lowe bring their virtuosity to resonate beautifully in tune with LACMA's permanent modern art collection. Enjoy live performances of viola and keys winding their way through vivid fx chains.
——————–
AHMANSON: LEVEL 2, SOUTH
INSTALLATION: GERMAN EXPRESSIONISM
SOUND ARTISTS: TURQUOISE WISDOM & THE GOETHE-INSTITUT LOS ANGELES
dublab dj Turquoise Wisdom mixes selections from the Goethe-Institut Los Angeles Media Lounge to create a soundtrack for LACMA's German Expressionism Collection.
——————–
The event runs 8:30pm-12:30am. Enjoy late night access to LACMA's exhibition spaces.
LACMA | Tickets: $20 Muse members, $30 LACMA members, $40 general admission, Use dublab listener discount code "DUBLABMTM2012" for $25 tickets|Click here to purchase tickets.
Tickets include admission, parking, and two drink tickets redeemable for Omer Traditional Blond beer, Bunnamagoo Estate Wines, and Diabolo sparkling refreshments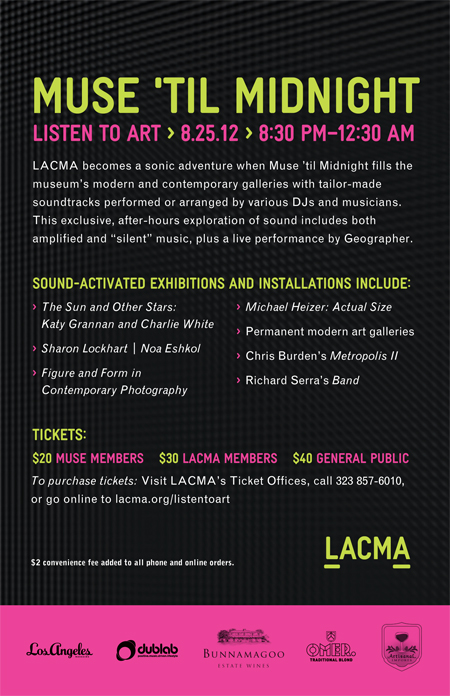 LACMA
5905 Wilshire Blvd, Los Angeles
See more events at this location »
Get Directions: