Prince Jazzbo, Tippa Lee & the Expanders at Dub Club
Wednesday, July 25 2012
09:00 PM - 02:00 AM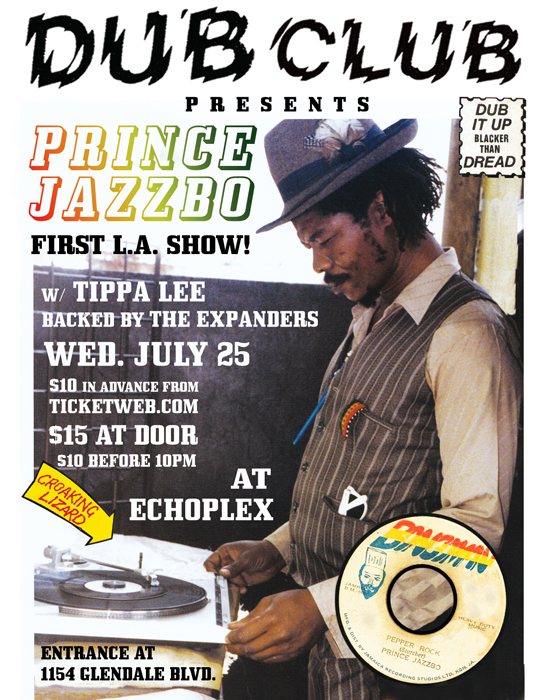 Dub Club presents…
PRINCE JAZZBO
Tippa Lee
backed by The Expanders
$10 advance from ticketweb.com
$15 at the door ($10 before 10pm)
Prince Jazzbo is a serious legend in reggae music and we are thrilled to present his first ever LA show in a 40+ year career! HIs toasts on late 60s Studio One rhythms, like "Crabwalking" over the Horace Andy tune "Skylarking", and "Pepper Rock", are gems of their era. HIs later 70s work with Lee Scratch Perry yielded the LP "Ital Corner", as well as the heavy duty cut "Croaking Lizard", off the "Super Ape" album. His DJ feud with rival toaster I-Roy (which was documented on the recent Pressure Sounds release "Once Upon a Time at King Tubbys", and includes tunes like "Straight to Jazzbos Head" and "Gal Boy I-Roy") is legendary and a hilarious precursor to todays Hip Hop feuds. Later in the 80s he started his own label Ujama and released some absolutely killer digital reggae, such as "Sensi Addict" by Horace Ferguson. The influential German crew Rhythm and Sound recently re-issued some instrumental dubs from Ujama on their Basic Replay label. Underground yardie productions still sounding fresh and baffling to a whole new generation of tech heads! Jazzbo has also been an influence on the punk scene as well, with LA punk legend Claude Bessy taking his name Kick Boy Face from a Jazzbo 45, and Mark E Smith of The Fall hailing Jazzbo as one of his favorite artists.
DJ, producer, one-of-a-kind voice, Prince Jazzbo is a truly unique, powerful artist and we can't wait for this show!
Tippa Lee is a long time favorite at the Dub Club and always does a great show. Ask any Jamaican if they know his tune "No Trouble We" , it was a ghetto anthem upon it's release in the late 80s.
The Expanders are one of LAs top reggae bands. They recently released their self titled debut album.
"The Expanders are among the very best you're going to hear in the larger picture of homegrown U.S.A. reggae." -Tom Orr (niceup.com)
"The Expanders are one of the best reggae bands to emerge from the L.A. area. This exciting young band has mastered the sound of classic roots" –Chuck Foster (KPFK LA)
Echoplex
1154 Glendale blvd, Los Angeles
See more events at this location »
Get Directions: