Sonoptik & Mahasukha Center present: Mid-Summer Mini Fest
Saturday, June 30 2012
08:00 PM - 12:00 PM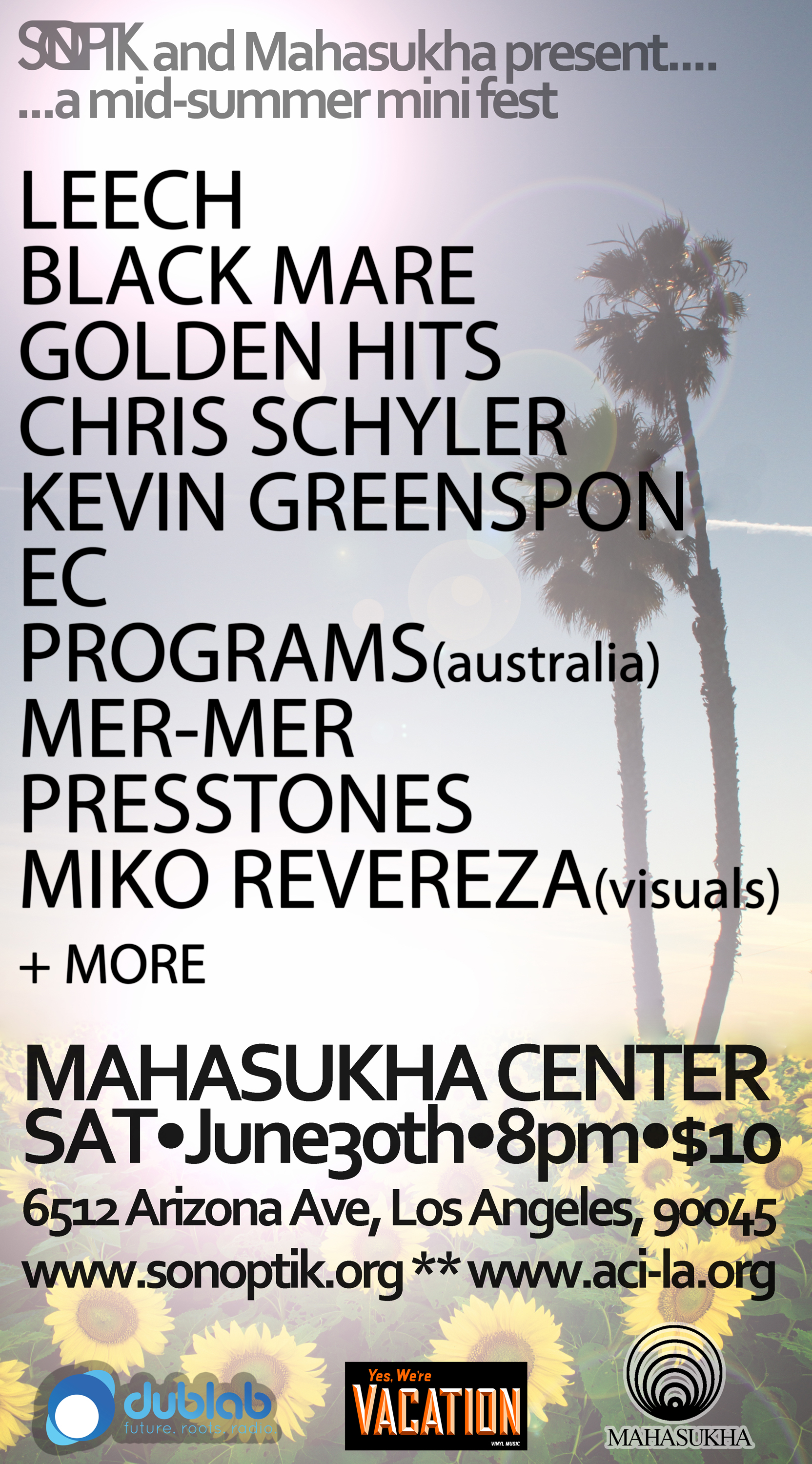 LEECH | BLACK MARE | GOLDEN HITS | CHRIS SCHYLER | KEVIN GREENSPON | EC | PROGRAMS (aust) | MER-MER | PRESSTONES | MIKO REVEREZA (visuals)
SONOPTIK and Mahasukha presents MID-SUMMER MINI FEST
Date: Saturday, June 30th
Doors: 8:00pm // $10
Venue: Mahasukha Center aci-la.org
Address: 6512 Arizona Ave., Los Angeles, 90045
Facebook Page
••A selection of tasty teas and snacks will be provided••
kindly supported by VACATION VINYL & DUBLAB
∆∆∆ LEECH ∆∆∆
Fresh off the back of a killer performance at the Silver Lake Jubilee, LEECH brings us his goods.
∆∆∆ BLACK MARE ∆∆∆
The solo project of Sera Timms, vocalist and bassist for the bands Black Math Horseman and Ides Of Gemini. With a focus on rhythmic repetition and atmospheric simplicity, Black Mare steps outside the collaborative dynamic to reveal a creative process that is all Sera's own. Her songs traverse hidden realms, fragments of dreams, submerged memories and mythical imagery. Where Black Math Horseman and Ides Of Gemini demand volume and collusion, Black Mare requires only quiet contemplation. If Black Math Horseman and Ides Of Gemini seek to summon the deafening roar of inevitability, Black Mare delivers its verdicts in solemn whispers. And yet each operates, in its own way, within the darkened spheres of hypnosis. To that end, Sera will unveil Black Mare's debut EP later this year…
∆∆∆ GOLDEN HITS ∆∆∆
Is a shining sound family formed by dublab drone dreamers > Ben Knight (the Tyde), frosty (Adventure Time), Jimmy Tamborello (Dntel), Katie Byron (LA Building Club) and Nanny Cantaloupe (Brainsucking Peanunanners). Together they create spontaneous soundscapes to elevate ears in unique environments. You can hear some archives of these moments on our blog > goldenhits.tumblr.com
∆∆∆ CHRIS SCHYLER ∆∆∆
A musician, performer and sound designer based out of Los Angeles, CA. He is heavily involved in the video game industry and has worked for companies such as Sony Computer Entertainment of America and Activision Blizzard, using Live as a tool for interactive audio development. Chris is also a multi-instrumentalist, having played woodwinds, guitar and synthesizers since childhood. He now specializes in producing various forms of electronic music.
∆∆∆ KEVIN GREENSPON ∆∆∆
A blend of ambient, electronics, field recording, tape collage and harsh noise composition styles condensed into short pop song form. KG has toured a number of times and have performed and arranged custom sound installations for the Berkeley Art Museum and various universities, played over 200 shows in all kinds of unconventional spaces like meat lockers, buses office spaces, factories, parking garages and a plethora of DIY/punk houses and art galleries across the country.
∆∆∆ EC ∆∆∆
Growing layers of sonic textures since 2006. Highly introspective and evolving tree hugging devil music. Plants and animals. Universal connectivity ans symbiosis. Self portraits painted on a mirror and then held up to the rest of the world.
∆∆∆ PROGRAMS (AUSTRALIA) ∆∆∆
Formed in 2011, PROGRAMS is an evolving project incorporating live sound and reactive visual, and while starting as a solo act aims toward an open collective effort.
∆∆∆ MER-MER ∆∆∆
In English, the term memoir comes directly from the French for memory, mémoire, a word that is derived from the Latin for the same, memoria. And yet more deeply rooted in the word memoir is a far less confident one. Embedded in Latin's memoria is the ancient Greek mermara, itself a derivative of the Indo-European for that which we think about but cannot grasp: mer-mer, 'to vividly wonder,' 'to be anxious,' 'to exhaustingly ponder.'
∆∆∆ PRESSTONES ∆∆∆
The pseudonym of Los Angeles native Preston Mendell's
solo sonic explorations. While attending Bennington College in 2008, his years of bedroom jamming culminated in an obsession with recording cassettes. These long-form improvisations with guitar, synthesiser, and pedals continued until 2010, when a broken looper caused him to
shift his focus to creating personalized musical software. This
pursuit led Preston to California Institute of the Arts, where he iscurrently pursuing a BFA in Music Technology. While school and other bands keep him busy, Presstones continues to develop his sound and record cassettes in his bedroom. Maybe he'll even put one of them on the internet soon.
∆∆∆ MIKO REVEREZA (visuals) ∆∆∆
An video artist / film maker residing in Los Angeles. His work varies from video feedback, to typographic experimentation, collage, fashion and traditional cinema forms. He composes his video pieces using analog mixers and colorizers from the 70s and 80s, which give them a dated early video art look of grainy filmic textures and static noise coming in and out of the frame. They tend to be colorful sometimes using the entire spectrum, though some are in stark black and white as well. Many of his collaborators are of the thriving underground music community in Los Angeles, frequently working with cassette label Leaving Records. Miko's experimental background can be traced back to Nam-June Paiks magnetized TV feedback to Jordan Belson's cosmic film meditations. He went to film school in San Francisco and was born in Manila in the late 20th century.
Mahasukha Center
6512 Arizona Ave, Los Angeles
See more events at this location »
Get Directions: