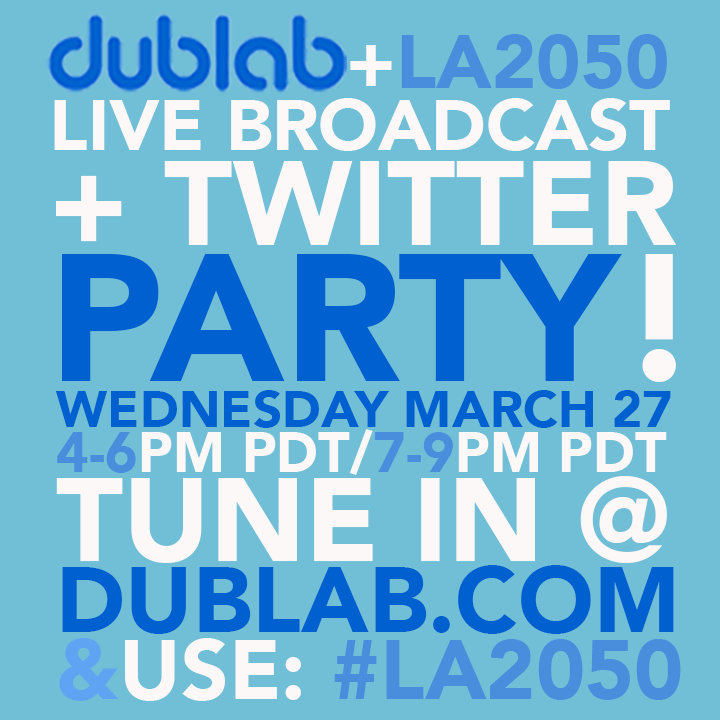 dublab + LA2050 = Live Broadcast + Twitter Party
The "LA2050 Arts & Cultural Vitality" Twitter Party, hosted in the dublab studio, was presented as a forum to explore LA's current creative landscape and to envision the future of arts in Los Angeles in the year 2050. To keep the discussion dynamic we simultaneously streamed a live webcast on dublab.com featuring a group of progressive cultural figures invested in the present and future of arts in LA. The participants included: Claire Peeps (The Durfee Foundation), Eric Kim (Human Resources), Mark Allen (Machine Project), Mark "Frosty" McNeill (dublab.com), Nara Hernandez (H.O.L.A.) and Shauna Nep (Goldhirsh Foundation ).
Thanks to everyone who added their voice to the conversation in studio and via Twitter. If you missed the live party you can check out a recap of the comments here. Also feel free to chime in anytime by Tweeting your thoughts with the hash tag #LA2050. We also encourage you to follow @dublab & @LA2050 on Twitter. $100,000,000 in grant money is being offered by the Goldhirsh Foundation to help shape and build the future of Los Angeles. Keep informed and vote for your favorite proposal by visiting clicking here.
03_27_13_la2050_broadcast
DISCUSSION:
DOWNLOAD