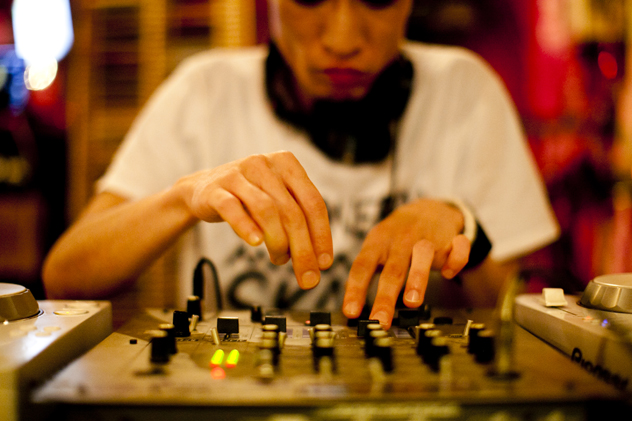 In this 4th session of polyphonik north was broadcasted from CAMCAM, Sapporo. Sapporo local cross-genre aetsts, KAZUYA a.k.a. PEE and DJ KEN came to play. KAZUYA a.k.a. PEE turned mix mostly by borderland music and ethnic music. DJ KEN played only Japanese artists/musicians tracks, themed "JAPAN MIX".
djpradio_sapporo_10_06_13
MIX:
DOWNLOAD
Following the Tokyo broadcast on May 12, the labrats in Sapporo started broadcasting too! It's called "polyphonik north" on Sunday night every month. The broadcast date is indefinite and the venue changes each session. It's like traveling around Sapporo to search for people and music and get together in a place.
Radio Test-Run #4 live from CAMCAM, Sapporo (10.06.13)
DJ KAZUYA a.k.a PEE:
1. Amr Ismail / Kaidda El-Ozaal (Dj Recording)
2. Vishal-Shekhar / Sajanji Vaari Vaari (T-Series)
3. Anu Malik / Jugni Jugni (T-Series)
4. Hakim / Nar (Zekra)
5. Sajid-Wajid / Pandeyjee Seeti (T-Series)
6. Panchan / Vojsziké (NarRator Records)
7. Solace / Blessings (Eventide Music Productions)
8. Die Vögel / Petardo ( Pampa Records)
9. Moğollar / Dinleyiverin Gayri (Ada Muzik)
10. Mahatma T / Jihad (Nation Records)
11. Genji Sawai / Cha-Brown
12. Toshinori Kondo / Taihen (Plexus Holland)
13. HOUSE MANNEQUIN / Good Caves (House Mannequin)
14. Airto / Peasant Dance(CTI Records)
15. Art.15 / Africaspagnaraiasiasalsasong (Berecords)
16. Khaled / Didi (Arabian Nightclub Mix) (mango)
17. Niyaz / Dilruba (Six Degrees)
18. Yomano + Meurer / T1(Music Mosaic)
19. East Of Eden / Jig-A-Jig
20. Tinariwen / Oualahila Ar Tesninam (world village)
21. Kalyanji Anandji / Disco Cammata (Fontana International)
22. Sneha Khanwalkar / Electric Piya (T-Series)
23. Amina / Ala Mein (Copeland International Arts)
24. Unknown / Mezdeke
DJ KEN "ALL JAPAN MIX":
01. 松岡きっこ / 夢は夜ひらく(ULTRA-VYBE)
02. 藤圭子 / 夢は夜ひらく (RCA)
03. 鏑木創 / 温泉みみず芸者 M-13 (ULTRA-VYBE)
04. 八木正生 / 女番長 M-6 (ULTRA-VYBE)
05. 池玲子 / さすらいのギター(ULTRA-VYBE)
06. 八木正生 / 女番長 M-4(ULTRA-VYBE)
07. 八木正生 / 女番長 M-15(ULTRA-VYBE)
08. 八木正生 / 恐怖女子高校 暴行リンチ教室 M-7(ULTRA-VYBE)
09. 八木正生 / 恐怖女子高校 女暴力教室 M-16(ULTRA-VYBE)
10. 八木正生 / 前科おんな 殺し節 M-12(ULTRA-VYBE)
11. 荒木一郎 / 恐怖女子高校 不良悶絶グループ M-23(ULTRA-VYBE)
12. 北原じゅん / 落日-口笛Ver. (ULTRA-VYBE)
13. 池玲子 / ふうてんぐらし Part.1(ULTRA-VYBE)
14. 池玲子 / ふうてんぐらし Part.2 (ULTRA-VYBE)
15. 樋口康雄 / Photograph(ULTRA-VYBE)
16. 広瀬健次郎 / 893愚連隊テーマ(ULTRA-VYBE)
17. 樋口康雄 / The City (ULTRA-VYBE)
18. 八木正生 / 女番長 M-1(ULTRA-VYBE)
19. 玉木宏 / Sympathy For The Rebel (POLYSTAR)
20. 平山三紀 / 他人の噂 (Columbia)
21. たかしまあきひこ / Wild & Honey (Columbia)
22. 八木正生 / 恐怖女子高校 女暴力教室 M-2 (ULTRA-VYBE)
23. 荒木一郎 / 女番長 感化院脱走 M-18,19(ULTRA-VYBE)
24. 八木正生 / 番格ロック M-4(ULTRA-VYBE)
25. 八木正生 / 恐怖女子高校 暴行リンチ教室 M-3
26. 平山三紀 / 20才の恋 (Columbia)
27. 津島利章 / ずべ公番長 はまぐれ数え唄 M-2(ULTRA-VYBE)
28. 津島利章 / 実録外伝 大阪電撃作戦テーマ(ULTRA-VYBE)
29. 坂田晃一 / 暴力団・乗り込み M-2(ULTRA-VYBE)
30. 荒木一郎 / 不良姐御伝 猪の鹿お蝶 M-4 (ULTRA-VYBE)
31. 荒木一郎 / 徳川セックス禁止令 色情大名 D(ULTRA-VYBE)
32. PRIMAL feat. O2 / 日本 (P-VINE)
33. 荒木一郎 / 徳川セックス禁止令 色情大名 D(ULTRA-VYBE)
34. O2 feat. メシアTHEフライ / 宵闇 (Libra Records.)
35. Shout Out from SHAKA DIGITAL a.k.a STICKO for FIRE BALL (LIFESTYLE RECORDS)
36.RZA & YOKO ONO / Greenfield Morning / Seed of Joy Life is a Struggle (Chimera Music)