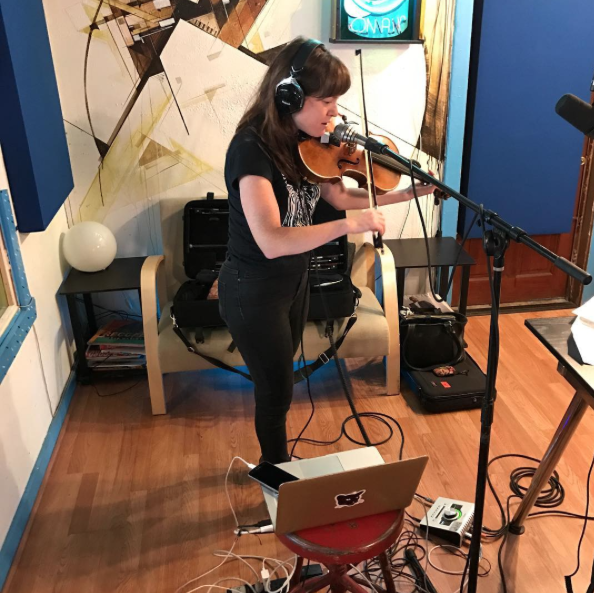 Violist, vocalist and songwriter Dina Maccabee's new album The World is in the Work was recorded in one day without overdubs, using viola, voice, looping, and digital effects to create lush textures and spacious soundscapes.
Dina's distinctive voice has been heard by worldwide audiences through touring as a member of Julia Holter's live band from 2015 – 2016. Featured on Holter's 2017 live album release, In the Same Room, her playing can also heard throughout Feist's 2011 album, Metals, as well as on countless other recordings. On The World is in the Work, her poignant, pared down songs are framed by her unique approach to viola, looping and electronic processing. With nods to maverick string players like Henry Flynt, Laurie Anderson, John Cale, and Arthur Russell, this album also shows the influence of her many years playing folk, pop, and classical music.
Dina was a founding member of Real Vocal String Quartet and the experimental songwriting duo Ramon & Jessica, and she has co-written a new musical premiering in May 2017 in St. Paul, Minnesota. Her previous solo albums include Who Do You Suppose You Are (2010, Contraphonic) and Songs 4 Violin + Voice (2012, self released.) She has also toured with Vienna Teng and Carla Bozulich, recorded with Vetiver, Thao and Mirah, and Beats Antique, and appeared with Sufjan Stevens, Donovan, Sharon Jones, Wilco, and many others. She studied composition at Wesleyan University from 2013 – 2015.
Dina Maccabee – Live Session (05.30.17)
MIX:
DOWNLOAD
ALBUM DOWNLOAD: http://dinamaccabee.bandcamp.com/
TOUR DATES
May 25, Red Poppy Art House, San Francisco
May 27, Ascendo Coffee, San Luis Obispo
May 28, FunZone, Santa Barbara
May 29, Title TK, San Diego
May 30, private show, Los Angeles
May 31, Genghis Cohen, Los Angeles
June 2, Gold Lion, Sacramento
June 27, The Chapel, San Francisco (support for EX EYE)
June 28, The Echo, Los Angeles (support for EX EYE)