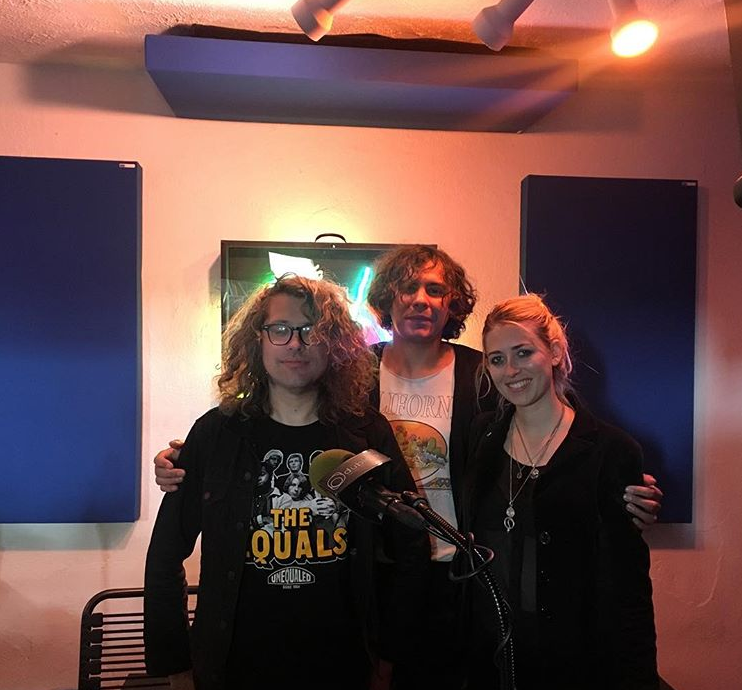 One Reporter's Opinion—named after Chris Ziegler's L.A. RECORD review column—is part lesson in lost history and part celebration of the new and the now in the city of Los Angeles, California, where everything happened at least once and anything could happen tomorrow. From demos to dead stock to new releases and the never-released—all genres and generations of musicians from the greater L.A. area are welcome.
Chris Ziegler is the co-founder and editor-in-chief of L.A. RECORD, Los Angeles' only dedicated music magazine. L.A. RECORD was founded in 2005 on Ziegler's bedroom floor and has grown into a colossal bimonthly print magazine dedicated to documenting music—in any form—across the greater Los Angeles area. Each issue is a smash-cut collection of famously in-depth interviews with music-makers of all kinds—from Kendrick Lamar to Cherry Glazerr, or Flying Lotus to Foxygen to Les McCann—put together by a team of local writers, illustrators and photographers, with guest contributors like Ty Segall, Kutmah, Tim Presley of White Fence and Nick Waterhouse. Ziegler is also a contributor to MOJO magazine and the local OC and LA Weeklys, as well as a resident DJ at the Ace Hotel's The Times of L.A. every Friday with dublab's Frosty and more.
Chris Ziegler w/guest The Mad Walls – One Reporter's Opinion (01.17.18)
MIX: 
DOWNLOAD
Here's the playlist from L.A. RECORD editor Chris Ziegler's monthly radio show "One Reporter's Opinion," aired on dublab on Wed., Jan. 17, with new music from Earth Girl Helen Brown, Olivia Kaplan, Healing Gems and more … plus a guest DJ set by L.A. psychedelicists Mad Walls! Listen to the show here! The next edition of "One Reporter's Opinion" will be at noon on Wed., Feb. 21. Send us music for consideration! Details on submitting at bottom.
Orgone 'Big Day" (from "Big Day" 45 out Feb. 2)
Almas Fronterizas "El Barrio" (from Rosa Tropical EP, premiered on L.A. RECORD)
Jesse Kivel "Dance Hall" (from Content EP out now, in residency this January at the Bootleg)
Kiefer "How R U" (just signed to Stones Throw)
Psychopop "Tears (Version)" (from The Devil's Drums and the Angelic Electronics, out now on Hit + Run)
MAD WALLS – GUEST DJ SET by CHRIS and NICOLE
The Kinks "So Tired Of Waiting"
Frank Zappa "Peaches En Regalia"
White Stripes "Jimmy The Exploder"
White Stripes "Stop Breaking Down"
Paul McCartney "Too Many People"
The Seeds "Pushin Too Hard"
B-52's "Dance This Mess Around"
The Byrds "Eight Miles High"
Frankie and the Witch Fingers "Primitive Delight"
Captain Beefheart and the Magic Band "Zig Zag Wanderer"
Grace Slick and the Great Society "White Rabbit"
The Velvet Underground "What Goes On"
13th Floor Elevators "Earthquake"
Love "My Little Red Book"
White Fence "Get That Heart"
MAD WALLS SOMEWHERE ANYWHERE EP (out now on BIRTH Records)
Mad Walls "Lily"
Mad Walls "She's So Wise"
Mad Walls "Really Think So"
Mad Walls "Somewhere Anywhere"
Mad Walls "Waiting For Tomorrow"
Mad Walls "Selfish Hands"
Healing Gems "Moon Tropics" (s/t EP available now)
Ras G "Strollin Up Degnan" (via SoundCloud)
Houdinne "Kuala Lumpur" (via SoundCloud)
Earth Girl Helen Brown "Chains Of Love" (from Venus EP out Feb. 14, premiered on L.A. RECORD)
Pearl Charles "Night Tides" (from Sleepless Dreamer out Jan. 19)
Ty Segall "Main Pretender" (from Freedom Goblin out Jan. 26)
Olivia Kaplan "In Pieces" (from At The Seams EP out now, premiered on L.A. RECORD)
God.Damn.Chan "To My Friends" (from SLUSH out Feb. 23)
NEXT SHOW AT 12 NOON ON WED., FEB. 21—LISTEN LIVE AT DUBLAB.COM! SUBMISSIONS: SEND LINKS TO TO CHRIS@LARECORD.COM SUBJ 'REPORTER' OR PHYSICAL TO L.A. RECORD c/o CHRIS ZIEGLER, P.O. BOX 21729, LONG BEACH, CA 90801!