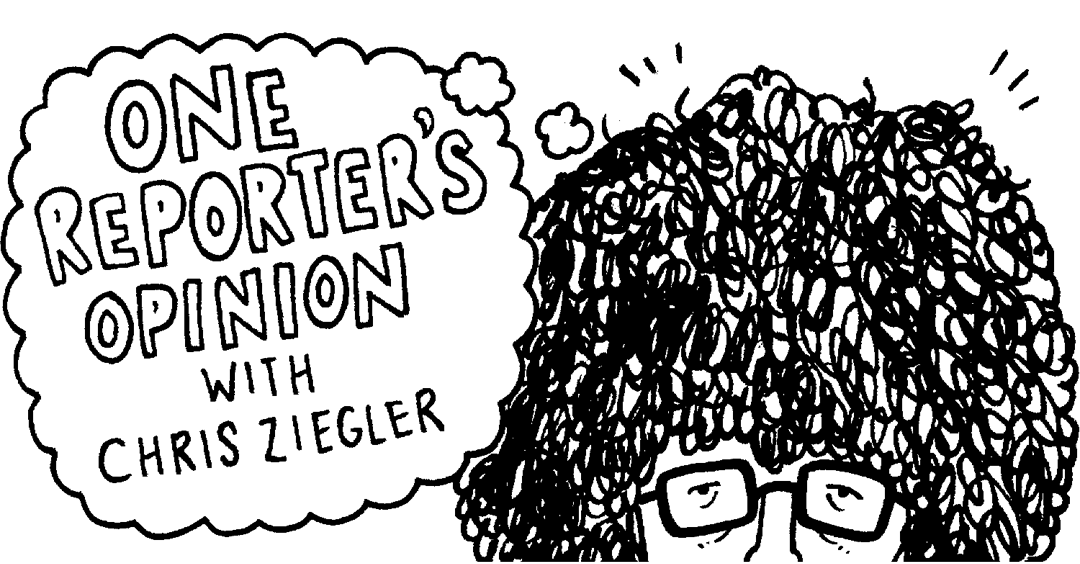 One Reporter's Opinion—named after Chris Ziegler's L.A. RECORD review column—is part lesson in lost history and part celebration of the new and the now in the city of Los Angeles, California, where everything happened at least once and anything could happen tomorrow. From demos to dead stock to new releases and the never-released—all genres and generations of musicians from the greater L.A. area are welcome.
Chris Ziegler is the co-founder and editor-in-chief of L.A. RECORD, Los Angeles' only dedicated music magazine. L.A. RECORD was founded in 2005 on Ziegler's bedroom floor and has grown into a colossal bimonthly print magazine dedicated to documenting music—in any form—across the greater Los Angeles area. Each issue is a smash-cut collection of famously in-depth interviews with music-makers of all kinds—from Kendrick Lamar to Cherry Glazerr, or Flying Lotus to Foxygen to Les McCann—put together by a team of local writers, illustrators and photographers, with guest contributors like Ty Segall, Kutmah, Tim Presley of White Fence and Nick Waterhouse. Ziegler is also a contributor to MOJO magazine and the local OC and LA Weeklys, as well as a resident DJ at the Ace Hotel's The Times of L.A. every Friday with dublab's Frosty and more.
Chris Ziegler - One Reporter's Opinion (09.20.17)
MIX: 
DOWNLOAD
Here's the playlist from L.A. RECORD editor Chris Ziegler's monthly radio show "One Reporter's Opinion," aired on dublab on Wed.,Sept. 20, with new music from the Dream Syndicate, Swarvy and Pink Siifu, Asal Hazel and MNDSGN and more … plus an exclusive live set by Shannon Lay! Listen to the show here! The next edition of "One Reporter's Opinion" will be at noon on Wed., Oct. 18. Send us music for consideration! Details on submitting at bottom.
Jesse Kivel "Endless" ' Content out Oct. 6 on New Feelings
Angels Dust "Tears" – The Great Depression EP out now on Hit + Run
Asal Hazel and MNDSGN "USAYUDO" – out now
Tairiq and Garfield "Ghost" – out now
Ducktails "Map To The Stars" – Jersey Devil out Oct. 6 on New Images
LIVE SET:
Shannon Lay recorded live at the Bootleg, Aug. 14, 2017
Living Water album out now on Mare
The Dream Syndicate "Glide" – How Did I Find Myself Here? out now on Anti-
Tracy Bryant "Velvet Kids" – A Place For Nothing And Everything In Its Place out Oct. 20 on Burger
Ariel Pink "Feels Like Heaven" – Dedicated To Bobby Jameson out now on Mexican Summer
Mad Walls "Somewhere Anywhere" – Somewhere Anywhere out now on BIRTH
Ojos Rojos "Sons of Love And Death" – Sons Of Love And Death EP out Sept. 25
The Entire Universe "Revolving Sun" – out now
Ty Segall "Big Man" – Fried Shallots out now, all proceeds to the ACLU
Wand "Blue Cloud" – Plum out now on Drag City
Annabel (lee) "Far" – The Cleansing out now on Youngbloods
John Carpenter "When Night Comes Knocking" – When Night Comes Knocking EP out now on Acid Bird
Bobby Blunders "Plummeting Further Still" – Loving Imposter EP coming soon
Swarvy and Pink Siifu "Halos" – "Halos" / "Bills" out now
Zackey Force Funk "Tucson Push" – This Is My Force Funk Sound out now on Hit + Run
XL Middleton "Paradise of Pavement" (f. Zackey Force Funk) – Things Are Happening out Oct. 6 on MoFunk
AshTreJinkins "But I Got You This Haunted House Babe" – Fruit In Failure EP out now on Apron
D33J "Black Ice" – Death Valley Oasis out now on anticon.
NEXT SHOW AT 12 NOON ON WED., OCT. 18—LISTEN LIVE AT DUBLAB.COM! SUBMISSIONS: SEND LINKS TO TO CHRIS@LARECORD.COM SUBJ 'REPORTER' OR PHYSICAL TO L.A. RECORD c/o CHRIS ZIEGLER, P.O. BOX 21729, LONG BEACH, CA 90801!