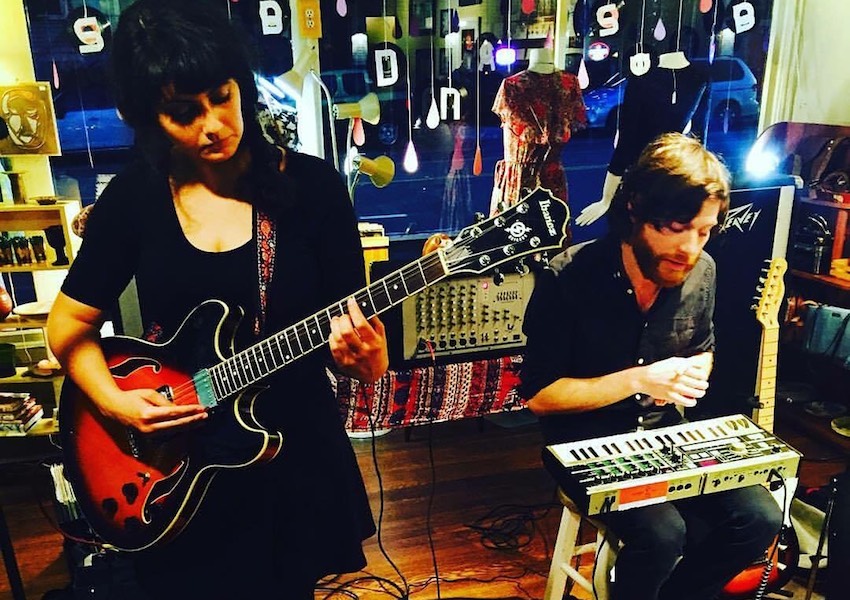 Hosted by Los Angeles DJ and journalist Chris Kissel, Contact Wave enthusiastically celebrates the best experimental, avant garde, psychedelic, and off-the-grid music crafted in L.A. and beyond.
This week's show featured special guests Josh Medina and Natasha El-Sergany of somesurprises, who have a fantastic new tape, Serious Dreams, out on Eiderdown Records. We had a conversation that, among other things, included a discussion on how Seattle's rainy skies and experimental outlook has influenced their sound. They also brought in a couple great tracks from Zen Mother and Amen Dunes. (More info on somesurprises below.)
Setlist:
Prana Crafter — Prajna Pines (Eiderdown)
Rahi AlHaj — Baghdad AlThania (Obsolete)
Swimming in Bengal — Apricot Haze (Lugubrious Audio)
former selves — flowing, blooming (Aural Canyon)
Jonas Reinhardt — Live at dublab
somesurprises — All My Failures (Eiderdown)
**somesurprises interview**
Zen Mother — Joanna
Amen Dunes — Everybody's Crazy (Sacred Bones)
Psychic Ills — I Don't Mind (Sacred Bones)
Sir Richard Bishop — Mirage (Drag City)
Orlando Kimber/John Keliehor — Garuda (Bruton)
Alva Noto & Ryuichi Sakamoto — Moon (Raster-Noton)
Visible Cloaks — Bloodstream (RVNG)
Bana Haffar — FG017 (A1) (Fatt Grabbers)
Tom Hall — Only the hunted know (Elli)
Phillips & Jensen — Monday's Forest (Holodeck)
Chris Kissel w/guests somesurprises - Contact Wave (04.02.17)
MIX:
DOWNLOAD
somesurprises started as El-Sergany's solo project in Charlottesville, Virginia in mid-2013, and was at first a Soundcloud page used for collecting the best or first takes of obsessive late-night spontaneous phone recordings of original and cover songs. The project draws inspiration from emotionally-resonant movie scores, lo-fi/shoegaze legends, and decades of heartbroken country, soul, pop, and folk music.
A move to Seattle in late 2013 introduced Natasha to kindhearted and talented folks in the underground experimental music community who counterintuitively gave her repeated opportunities to perform songs on the same bills as more abstract/"noise" musicians whose adventurous and egoless work consequently had a deep impact on her songwriting.
Throughout much of 2014 and 2015, she collaborated, performed, and recorded with harsh noise aficionado Samuel Henry (Plastic Boner Band) and gifted guitarist Dustin Williams (Mind Beams, ex-Stalebirth). In 2016 Natasha began performing with Josh Medina (Medina/Walsh), who adds warm atmospheric tones and effects on electric guitar. Later that year Nico Sophiea was added on drums and Andrew Scott Young on bass.
Natasha released a solo cassette called Voice Memos in 2016 via Happy Accident Records and teamed up with Josh to record a new album called Serious Dreams, released by Eiderdown Records in 2017.