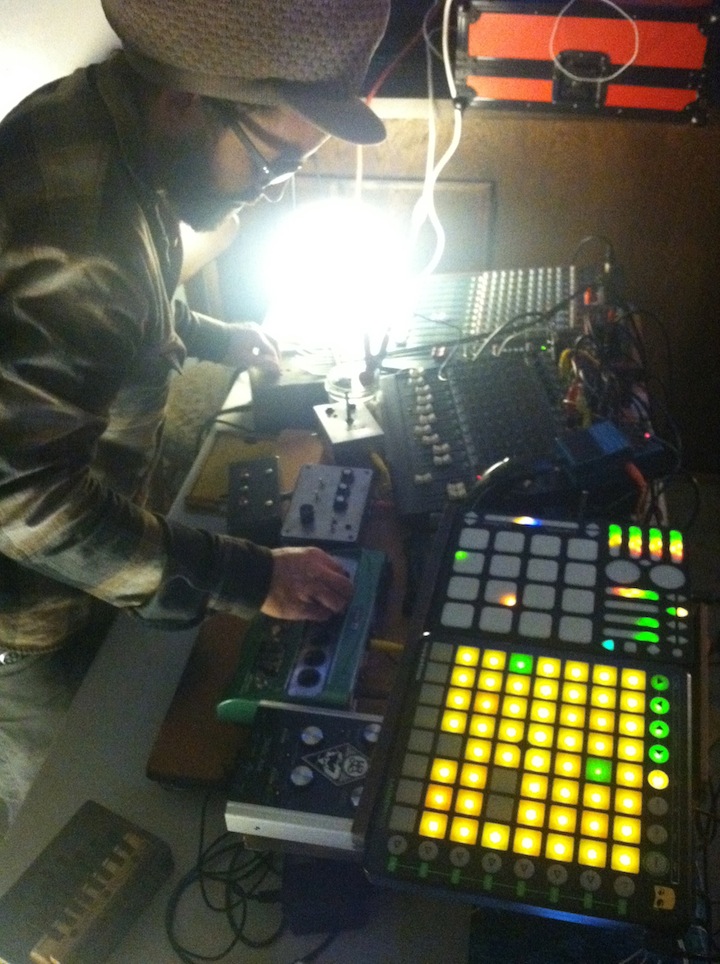 The audio action enablers at Ableton joined with dublab during our Fall 2012 "Proton Drive" Fundraiser to co-present a full day of live broadcasts featuring sets from some of our favorite, creative music makers. Enjoy these sets from Suzanne Kraft, San Gabriel, Matthewdavid & White Rainbow, Co.Fee, Sweatson Klank, Contact Field Orchestra, D33J & Alter all played on Ableton Live over the dublab airwaves.
11_12_12_suzanne_kraft_ableton_f12
SUZANNE KRAFT:
DOWNLOAD
11_12_12_san_gabriel_ableton_f12
SAN GABRIEL:
DOWNLOAD
11_12_12_matthewdavid_white_rainbow_ableton_f12
MATTHEWDAVID & WHITE RAINBOW:
DOWNLOAD
11_12_12_co_fee_ableton_f12
CO.FEE:
DOWNLOAD
11_12_12_sweatson_klank_ableton_f12
SWEATSON KLANK:
DOWNLOAD
11_12_12_contact_field_orchestra_ableton_f12
CONTACT FIELD ORCHESTRA:
DOWNLOAD
11_12_12_d33j_ableton_f12
D33J:
DOWNLOAD
11_12_12_alter_ableton_f12
ALTER:
DOWNLOAD
ABLETON LIVE "DEVICE PACKS"
Many of the artists performing on this special live broadcast created custom Ableton Live "Device Packs." You can download a zip file containing the full set by clicking here.
Download San Gabriel "Device Pack"
"This is a device I just made called 'San Gabriel General MIDI Percussion Bank Vol. 1.' It's a Drum Rack program with 47 original samples I created by sampling my own drums & percussion, layering them with electronic drum sounds & processing them a bit. The result is a usable, natural sounding sample bank with controls over pitch, decay & LFO of the samples."
Download Matthewdavid "Device Packs"
Laser Soundz: "This contains DJ drops and 'airhorns' taken from a variety of personal sources both sampled and originally recorded via vinyl & tape. For instance, 'soundboardtape' is derived from electronic blips 'n bloops cut & manipulated via tape machine."
Talkingdrumz: "A self-recorded Indian talking drum. My friend Butchy Fuego gave me a very special drum from India. I selected and spread the best sounds from a one-take recording into a drum rack, dividing my favorite moments into a three-octave range."
Download Sweatson Klank "Device Packs"
Tomorrow: "A multi layered Pad Synth with a range of expressive controls . Its vibe is dreamy, melancholic, and cinematic. Excellent for anything from Ambient Music, Film Scores, to House and Garage."
Sweatson Klank Kit 1: "This is the first in a series of drum racks to come. A nice multi purpose kit with some custom touches from my library. Features thick booms and cracks, rhythmic mini phrases and more. The macros in this Drum Rack are left open for you to color these drums with whatever effects you choose."
Download Contact Field Orchestra "Device Pack"
"This is a simple lo-fi percussion kit; recorded entirely with contact mics. Samples are taken from random CFO tracks. Good sprinked over cleaner drums, or whatever your fancy. Hope you like them."
Download D33J "Device Pack"
"This Drum Rack includes various sound samples that could be used to build up a potential song. it some features processed guitar clips, lo-fi drum recordings as well as some field recordings which i have arranged together especially for this drum rack, hope you enjoy!"
Download Alter "Device Pack"
"The 'ALTERED DRUM RACK' is made for big beats with dirty and sub tone kicks, layer claps for head nodding, analog snare and side stick in the Hip Hop tradition, and percussion stylized to add the accents and tones to compliment the beat."